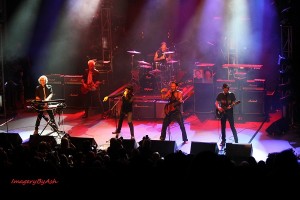 Mi-Sex – Computer Games, Blue Day, Castaway, But You Don't Care, Graffiti Crimes, People, Falling In & Out, Space Race, It Only Hurts When I'm Laughing……………..
The guys are planning to once again Honour the pact they made with each other a couple of years ago:
"We will get together and perform at least a few times each year."
Newcastle ~ Cambridge Hotel.   Thurs 14 Nov  (Always great rockin' out in the Steel City)
Dee Why RSL ~ Fri 15 Nov. (Mi-sex played their first gig in Oz on the Northern Beaches, can't wait to get back there!).
Balmain's Bridge Hotel ~ Sat 16 Nov   (Looking forward to see the inner-city punters at this famous bigtime rock'n'roll pub!)
Cronulla's Brass Monkey ~ Sun 17 Nov (Have a great dinner and enjoy an intimate up-close final night with the band)
Last May Mi-Sex stormed through a weekend of gigs, one at Lizottes Central Coast, the other at The Basement in Sydney's CBD. Both shows were a critical and commercial success – after the encores were over, the word was out: MI-SEX ARE BACK!
The band, with Noisework's Steve Balbi on vocals, proved they had lost none of the fire, passion and musicianship that propelled them to the top of the Oz music scene back in the day. They'd swept the annual Countdown awards, charted hit after hit, including #1 with the prescient 'Computer Games,' their albums had gone platinum and the 'HOUSE FULL' went up outside every venue they played. However, with the accidental death of former brilliant frontman Steve Gilpin in '92, Mi-Sex had been put to rest and the lights switched off. The band's resurrection only began after one of the Mi-Sex guys saw Balbi in the 'Ziggy Show' recently. Suddenly the lights clicked on and gradually came back up – now they're now dazzling bright again!
Here is an edited review of The Basement show by 'That Metal Man' :-
If you were a kid growing up during the late '70s early '80s, chances are you would have heard Mi-Sex hits, year after year. Who can forget their crowning glory, Computer Games? By the late 1980s. having disbanded and then being hit with the tragic death of frontman, Steve Gilpin in 1992, Mi-Sex seemed destined to remain a memory and nothing more.
Fast forward to 2013 and Mi-Sex are playing select live shows with new frontman and vocalist, Noiseworks songwriter/bass player Steve Balbi.
Before they hit the Basement's stage I was nervous about Balbi's ability to carry the Mi-Sex legacy. Although I never saw Steve Gilpin perform live, I admired his extraordinary vocal talent and the beautiful performances he always delivered on the Mi-Sex studio albums. The man possessed power.
But tonight, Balbi put any reservations to rest within moments of taking the stage. Dressed as the lead character from Stanley Kubrick's A Clockwork Orange, he took ownership of Mi-Sex as soon as he grabbed the microphone, muttering the opening iconic words from the band's 1979 hit, Graffiti Crimes, and laughing like a madman as the tune came to an end. Gilpin would have been proud. Judging by bassist Don Martin's smile throughout most of tonight's show, the rest of the band were proud, too.
As a longtime fan, tonight's setlist did not disappoint. Every radio song was on display, and each executed respectfully and accurately to its original studio counterpart. Tonight was not some karaoke performance or nostalgic cash-in, tonight's gig was a demonstration that passion for this band – by those both on and off the stage – is still at an all time high.
The smiles on the faces of original members Murray Burns (keyboards), Paul Dunningham (drums) and Don Martin (bass) said it all – Mi-Sex are back (even if just for the occasional special live show such as tonight's); the audience didn't want the band to leave and I doubt the band wanted to go home. A superb evening from one of New Zealand's greatest ever exports. One can only hope that tonight's gig reignited the fire in the bellies of those responsible for deciding whether this extraordinary group of talent performs live again. Here's hoping!
https://www.facebook.com/MiSexMusic
Tour dates and ticketing links:
Thursday November 14   Cambridge Hotel Newcastle  http://www.yourcambridge.com/
Friday November 15                  DY RSL http://www.deewhyrsl.com.au/
Saturday November 16    Bridge Hotel www.moshtix.com.au or www.ticketek.com.au
Sunday November 17      Brass Monkey http://brassmonkey.com.au/