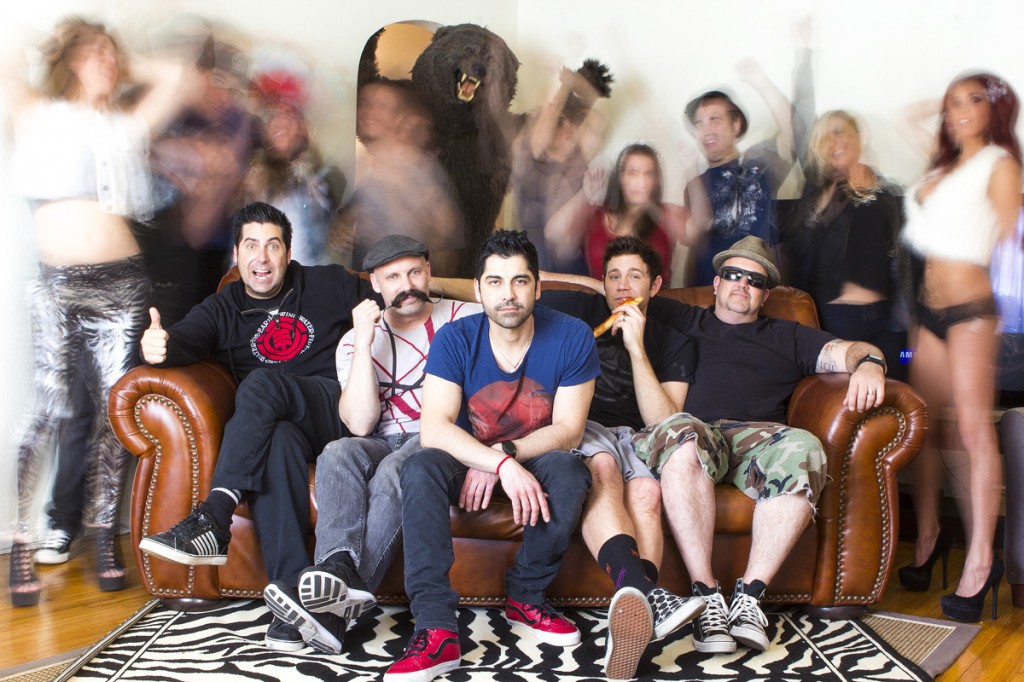 "Well we all basically like party and we don't like doom and gloom and there's a lot of bad shit going on in the world and we thought let's just make a record that's fun and have a big party while doing it and we like to call it a soundtrack to your next hangover, and it's a party in a record."
From release: Formed in the mist of the Orange County punk explosion the La Habra, CA-based punk inspired rock outfit Zebrahead is gearing up to once again bring the distinctive fun-filled sound to the masses with the upcoming worldwide release of Call Your Friends, the album is the bands tenth studio album since their incarnation and together they have shared highs and lows, sold over 2 million albums to date, survived label changes, garnered a Grammy nomination with Motorhead for best metal performance and toured the globe nonstop.
Calling in from his bed in Las Vegas, we had a fun chat with Matty from Zebrahead about the band's new album 'Call Your Friends' and how it all came together, the secret to being in a band for so long as well as Australia and his hunt for drop bears…
'Call Your Friends' has just been released, tell us about the feeling of finally getting the new album out, is there a sense of relief or do you shit yourself around release time?
Well you know what's funny is that we've been listening to and writing those songs for so long and you just get sick of them *laughs* you just get sick of them, not in a hate 'em hate 'em way but you don't listen to it, as soon as you're done recording I know me and the guys don't listen to it, and once the record comes out and you kind of re-listen to it you're like "This is AWESOME" and this is by far my favourite record we have done. A lot of bands say that but this for real is my favourite record that we've done.
Lyrically the songs are at times not only clever, but also catchy as fuck, who or what was the inspiration behind what has ended up on the album?
Well we all basically like party and we don't like doom and gloom and there's a lot of bad shit going on in the world and we thought let's just make a record that's fun and have a big party while doing it and we like to call it a soundtrack to your next hangover, and it's a party in a record. A lot of high energy songs and party songs and put it on and drink some beer and call your friends. I guess that's why we called it 'Call Your Friends' *laughs*
To me there's also a heavier element to some of the songs, was that intentional or did the songs just grow in this manner?
Right, no it was a part of the energy that we had, we had all this positive energy and it was like we were just drinking lots of soda and pure sugar, tonnes of it as we had all this energy and we were all like let's get it out, let's get it out and we did on every song and it was great.
Besides eating a lot of sugar, did you set out to do anything differently this time around compared to 'Get Nice!'
You know what, on 'Get Nice!' we tried to capture the energy of our live shows, our live shows have a lot of energy, because I always say what we lack in talent we make up for in enthusiasm, so our live shows have a lot of, a tonne of energy and we tried to incorporate that in 'Get Nice!' and I think we missed the mark on some of that with recording wise and capturing that live thing. I think on this record we had it as our motivation and we just let it rip I guess.
You worked with Cameron Webb again who you haven't worked with since Phoenix, what was the idea behind using him again and what is it that he brings to the band to get the best out of you?
I think that was one of the whole things about pop it open and let it rip, Cameron is really good at getting good vocal takes out of me and Ali, and he's great at definitely mixing and getting us to get more out of our shell and out of our comfort zone, say I do a solo or Dan does a solo and he'll say "That the best you got? You could do better!" He's a hard ass but he's great and he gets really good takes out of you.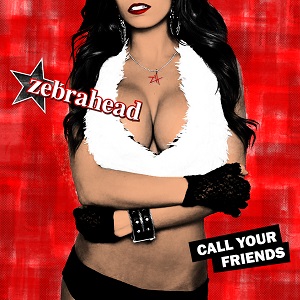 The album is called 'Call Your Friends' so let's say you're on Who Wants To Be A Millionaire, who is the friend you call to answer that pivotal question that could win you a million dollars?
Ooh… I would say Ed Udhus our drummer *laughs* he spends his day on his phone and the internet just researching random, weird facts, and he knows the most random things about anything, it's just so weird. Like what he knows about airports and UFO's, all this stupid stuff that not one person really cares about, but if there's a question like that on 'Who Wants To Be A Millionaire' he would probably know it.
And he's a drummer?
*laughs* I'm not saying he's really smart, he just knows a little bit of useless knowledge. *laughs*
What I love is you can hear on the album that you guys are having fun, so what is it that you specifically enjoy about being in Zebrahead?
I tell you what, we are really good friends and we have so much fun when we're together, we party and you know what, you're in a band and you're doing this for a living and we've done it for, shit, fifteen years and we're so fortunate that to do anything else you have to be in good spirits and shit, this is you basically living your dream and why be doom and gloom about it when you just have a good time and party and have fun, I mean life is short, have a party.
Touring wise, when do you think we'll see you back down here in the little ol land of Oz?
Definitely soon, we are definitely going to tour hard for this record, we haven't confirmed anything yet but we will be there soon and we cannot wait to come back.
Do you have any memories (ones you didn't drink away) of those last couple of trips that you can share with us?
Yeah, the Bondi Beach was awesome, I grew up in the Mid-West where there's no water except for lakes, and I hate deep water especially the ocean, but we were out there in ten foot water, and waves and clear water and it was awesome, the temperature was fantastic and was probably the best beach I've ever been on, it was really beautiful. Then the only other thing was and I know everyone says, was NOT drinking Fosters, you guys have great beer and why you don't get rid of Fosters and just not make it instead of sending it us, and saying it's the Australian for beer… no, that's not the Australian for beer… *laughs*
We don't drink it…
No, no one does, expect for Americans… oh we went to a zoo as well, that was another thing, we saw Kangaroos  and they were amazing, there was a Koala Bear just hanging out in a tree and people were saying he was all mean, he didn't look mean, he was all sleepy.
It's the eucalyptus leaves that make them high…
That's right, that's what they said and there was this other thing they said that was a joke where it comes out of the sky and gets ya…
Drop Bears…
Yeah Drop bears *laughs* I can't wait to see one of those.
You mentioned that you guys just have fun together, and bands these days struggle to make it to two years let alone fifteen together, is that the secret?
No, the secret is not taking yourself too serious, because we're not rocket scientists here, we're having a good time, were making music and don't be preaching about politics and religion, you're there to have a fun time at a rock and roll show and have fun and drink some beer and put a smile on your face. To me that's the key to a band sticking around, is once you take yourself too seriously, come on man, you've already lost, you're not rock star guy.
So in your time with the band, going on eight years now, what do you see as the biggest change that has taken place?
Well aside the fact from me joining the band that was a big change, and our original guitarist Greg left during the very early part of making this record and we got our good buddy Dan to join us and I think those are the two things, that's about it.
What about musically, have you seen a big change over the last eight years?
Absolutely, I think when I joined the band, as anyone who joins a band you bring your own thing, and the music went from a little bit have some funk in it, some hip hop and some kind of rock aspect and then it kind of progressively got a little harder and fully charged and I think that's what I think I brought in and with the addition of Dan brought his metal stuff and that's where we are today.
What does the rest of 2013 have in store for the band?
Well right now, September we're going to spend it with our families as we know we're going to be on tour for a while, and then October we head out to Europe to do our first headline club show for this new record which we're really, really excited about. We're gonna do that then something in November / December then kick it back after the Christmas break and then go full balls out.
Essential information
From: California, USA
Band members:  Ali Tabatabaee – vocals, Dan Palmer – guitar, Ben Osmundson – bass, Ed Udhus -drums/beer, Matty Lewis – vocals/guitar
Latest Release: Call Your Friends (3Wise Records) Out Now!
Website:  http://www.zebrahead.com