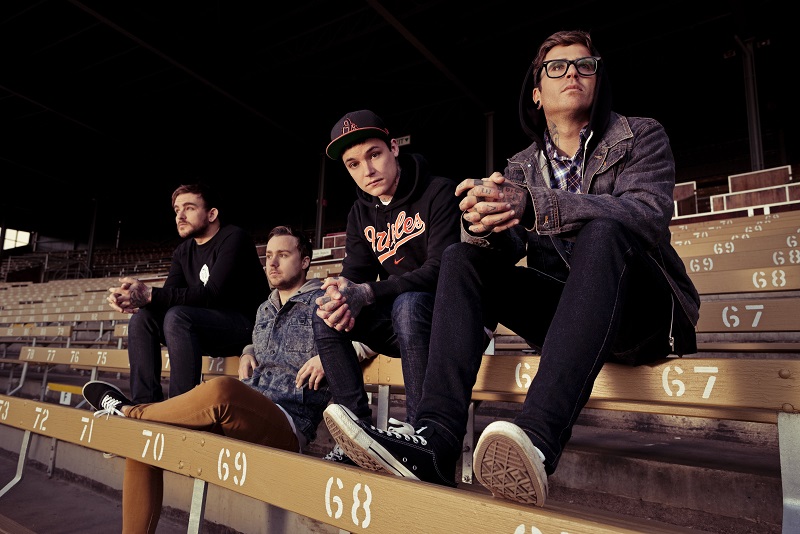 "There's definitely pressure, that's unavoidable but what do you do? You can't do anything about it, you've just got to suck it up and hope for the best, but every album we've written has been better than the last, so I'm not worried, it is stressful but I'm not concerned that we don't have it in us to write a better record."
From Tour Release: Over the last ten years, The Amity Affliction have become one of Australia's most respected and beloved bands. Armed with a party attitude and a staunch work ethic, they have emerged as leaders in the Australian hardcore scene.  Their last album Chasing Ghosts comfortably claimed #1 spot on the Australian ARIA album chart upon debut, is now certified gold and continuing to amass the adoration of the public as the band tour relentlessly in its honour. Amity will return to home shores this October to share the stage with Utah's metalcore guns Chelsea Grin, Orange County melodic hardcore gurus Stick To Your Guns, as well as local up-and-comers In Hearts Wake.
We had a chat with Joel from The Amity Affliction about touring, new music and what's next for the band…
2013 has been a busy one for you guys, have you had any time to stop and take a breath yet?
Yeah, funnily enough we have though it's been pretty relaxed, we've had a fair bit of time off as we've done the festival runs in Australia which are pretty easy because it's like weekend work, pretty cruisy for us, but next year already looks hectic.
It seems to have been Festival season for you, and such a varied bunch too… so looking back, can you give us one word to describe your time at:
Soundwave – Hectic.
Groovin' the Moo – ooh… different.
Vans Warped – I need two words, that was an emotional rollercoaster.
On Warped, how were the shows over there recently?
They were really good or they were really, really bad, but we didn't seem to have any inbetweeners. They were mostly good which is great of course.
Everyone OK now? I know Ryan had to come home and you were unwell, is everything cool now?
Yeah everything's fine as of now, I don't think Ryan has recovered full vision as of yet, but I mean other than that he's good *laughs* and I'm fine, I just had to stop drinking, which I've done, so it's fine. It had to happen one day didn't it.
How has your popularity grown as you continue to tour the States?
It grows fairy significantly each time we go back, can't complain, it was really tough the first few tours. The first tour was actually horrendous but funny, like really, really bad, but that's how it is over there. Those kids kinda need a little more drilling to get into things than Australian kids, they really need to spell it out. They either all jump on something instantly or it takes them a little while for them to pick up on it, but I feel like when it takes them a little while they appreciate it more as a lot of bands just come around for a year or two and they're out of there. We're lucky enough to not be in that bracket.
So did you notice a huge difference from this time compared to the first time, was there more people that actually knew your stuff or did they just come to check you out?
Yeah, we had cut outs in our songs where the whole crowd was singing along, it was pretty amazing, a good experience.
You're hitting the road back in Australia this October, what can fans expect this time around?
I think we're going to play some old songs and we're going to play a bit longer than we usually do, so that's good, and I'll be fit, so more energy from me. *laughs*
It's a pretty cool line-up too, have you toured with the bands that you're bringing on tour with you?
We've actually been kind of friends with the singer from Chelsea Grin since we did our first tour of America, just because he was super nice and we just got a long with them, so they've always been on our radar. Then Stick To Your Guns are a really good hardcore band and In Hearts Wake are friends of ours, so it all just came together pretty easily. Nice and diverse as well I think.
Chasing Ghosts has been out for almost a year now, have you had any time to write new material?
We're writing at the moment and we'll be heading into the studio in January.
When would you think we could expect to hear a new album?
I don't know, I think everyone will have to wait a bit. We're going to record and mix it and then just sit on it for a while, make some film clips and tour overseas and then come back and tour it over here.
Do you feel there's any pressure in following up 'Chasing Ghosts' or is it a case of fuck you everyone, we'll do what we want?
No *laughs* there's definitely pressure, that's unavoidable but what do you do? You can't do anything about it, you've just got to suck it up and hope for the best, but every album we've written has been better than the last, so I'm not worried, it is stressful but I'm not concerned that we don't have it in us to write a better record.
And it did go to number one so where do you go from there?
Well we can't go anywhere, I'd be surprised if we had another number one, but hey, I was surprised about the first one. *laughs*
At almost ten years with the band now, what stands out for you as a moment that can't be beaten in terms of being in the band?
That's a tough one, that keeps changing, currently I'd say Warped Tour, but I know that's going to get surpassed at some point, it's really, really tough to say that one. There's so many things, especially when you're lucky enough to do this as a job it's a pretty amazing life *laughs* so hard to pinpoint something like that.
What do you see then as being the biggest evolution within the band during this time?
I think we've just matured as far as musicianship goes, and our approach to writing is a lot more fluid now, I don't know how other bands do it but we've got a definite style that we're sticking to when we write our music and the way everyone approaches recording and stuff like that. So I think that's been something that has definitely grown, especially from the earlier days of 'High Hopes' and stuff like that. If we had that situation arise now that would be the end of us *laughs* as none of us could take it, it was just so amateurish I guess, but that's part of growing as a band, you can't just be professional from the get go.
What about inspiration wise, what's been hitting you over the last year or so?
Well geez, I don't know, nearly dying is going to get a bit of a mention on the next record, yeah music wise there's lots of new hardcore coming out, other than that I listen to old music, read books and watch documentaries, so I don't know.
There seems to be bands that come and go at the moment, so how have you seen the Australian hardcore scene change within the life of The Amity Affliction?
I guess that's the curse of bands doing it for the wrong reasons, I've seen a lot of bands come and go that have been like "We're going to be fuckin huge!" and that's not why you do it, and then they go on and that's that. As far as hardcore goes I'm still listening to the same bands that I've been listening to for ten years, so it's hard for me to say, I don't really keep my ear to the ground. If a friend tells me about a new band from over here I'll listen to it, but that's about it for me, I don't really go to shows any more as when you play over one hundred and fifty a year that kind of gets old. *laughs*I mean I watched Defeater every day at warped and letlive. and I watched Architects I did the watching there, I mean if I'm at a show I watch but I don't really go out of my way anymore to get to them.
Other than the Australian dates, what does the rest of the year have in store for the band?
We've got Europe then Australia and then we're getting really stuck into writing the next record. It's the longest period we've had to write a CD, so it should be good. We really don't want to fuck it up, it's a very important record for us.
Well we can't wait to hear it…
I can't wait to hear it *laughs* I'm probably my own biggest fan for two weeks after we finish recording and then I get over it, but it's always nice, it's like hearing a new band.
Essential information
From: Brisbane, Australia
Band members:  Joel Birch- Vocals, Ahren Stringer- Bass, Clean Vocals, Troy Brady- Guitar, Ryan Burt- Drums
Latest Release: Chasing Ghosts (out now – Roadrunner Records Australia)
Website:  http://www.theamityaffliction.net
Catch THE AMITY AFFLICTION on the BROTHERS IN ARMS TOUR this October
With special guests: CHELSEA GRIN, STICK TO YOUR GUNS, IN HEARTS WAKE
Friday October 18 – Riverstage, Brisbane (Lic/AA)
Tix from ticketmaster.com.au on 136 100 and Kill The Music
Saturday October 19 – Panthers, Newcastle (Lic/AA)
Tix from destroyalllines.oztix.com.au, moshtix.com.au 1300 762 545 or the Venue
Sunday October 20 – Big Top Luna Park, Sydney (Lic/AA)
Tix from Oztix on 1300 762 545 destroyalllines.oztix.com.au, Ticketek on 132 849 or ticketek.com.au or 1300 BIG TOP or bigtopsydney.com
Tuesday October 22 – Palace, Melbourne (U18)
Tix from destroyalllines.oztix.com.au 1300 762 54 or ticketek.com.au on 132 849
Wednesday October 23 – Palace, Melbourne (18+) – SOLD OUT
Tix from destroyalllines.oztix.com.au 1300 762 54 or ticketek.com.au on 132 849
Thursday October 24 – Palace, Melbourne (18+)
Tix from destroyalllines.oztix.com.au 1300 762 54 or ticketek.com.au on 132 849
Friday October 25 – Thebarton Theatre, Adelaide (Lic/AA)
Tix from Venuetix on (08) 8225 8888 or venuetix.com.au
Saturday October 26 – Metro, Perth (18+)
Tix from Heatseeker on 1300 762 545 destroyalllines.oztix.com.au, 78?s, Mills, Planet Video or Star Surf
Sunday October 27- Metro, Fremantle (U18)
Tix from Heatseeker on 1300 762 545 destroyalllines.oztix.com.au, 78?s, Mills, Planet Video or Star Surf