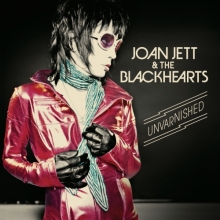 'Unvarnished' is the brand new album by legendary rocker, Joan Jett & The Blackhearts. The first album of all new music released in almost a decade, 'Unvarnished' is Jett's 14th studio album and includes 14 tracks.
The first single, 'Any Weather', which was recorded, produced by and features Dave Grohl on "100 different instruments" made its television debut on Jimmy Kimmel Live! in August.
Hot on the heels of being honoured at this year's Sunset Strip Music Festival and the City of West Hollywood's official proclamation of August 1 as "Joan Jett Day," the rock n roll icon is back!
Jett has said that 'Unvarnished' is the most introspective album she's ever done. While still keeping to her signature sound, Jett observes her own life as well as life around her. From applauding the determination of Hurricane Sandy's victims to lighthearted commentary on today's trend of over-sharing, the album touches a variety of subjects. Jett expanded her creative process to work with musicians Dave Grohl and Against Me!'s Laura Jane Grace, as well as Blackhearts guitarist, Dougie Needles and drummer, Thommy Price. In addition, Jett has continued her work with longtime writing partner/producer, Kenny Laguna. "It's a real band album. Everybody was involved," she says.
Joan Jett needs no introduction. Since co-founding the pioneering all-girl punk quintet at age 15, The Runaways, she has been a force in pop culture. She is an originator, an innovator, a leader and a visionary. As the leader of the hard-rocking Blackhearts, she's had a combined eight platinum & gold certified albums and nine Top 40 singles, including the classics 'Bad Reputation,' 'I Love Rock N' Roll,' 'I Hate Myself For Loving You,' and 'Crimson and Clover.' To add to all that, she sits at the head of her own independent label, Blackheart Records. Jett's also acted in movies, including 1987's Light Of Day, and in a Tony-nominated Broadway musical, 'The Rocky Horror Show' and served as an executive producer on the film 'The Runaways'.
Jett was one of only two women named on Rolling Stone magazine's list of the 100 greatest guitar players of all time. Her music has become a permanent force in mainstream culture, providing music to television shows such as True Blood, LA Ink, and Two Broke Girls. Faith Hill sang 'I Hate Myself for Loving You' as the theme for NBC's Sunday Night Football, and 'Bad Reputation' was the theme song for Hit-Girl, the heroine of the 2010 hit film, 'Kick-Ass'.
joanjett.com | facebook.com/joanjettandtheblackhearts | twitter.com/joanjett
'UNVARNISHED' IS OUT ON FRIDAY 4TH OCTOBER, 2013