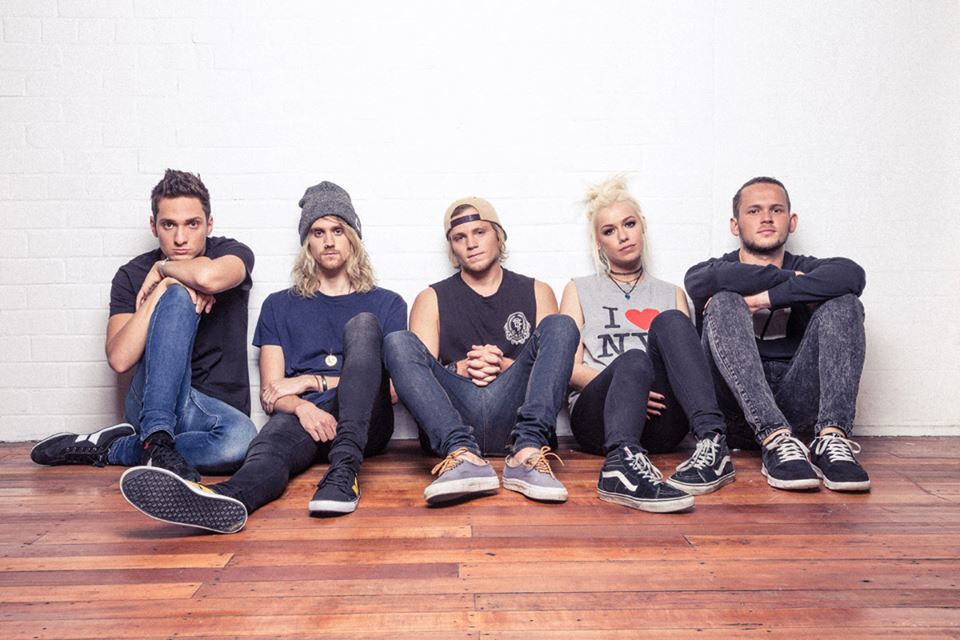 "So it's just little things like that that we've taken on board and made sure that this whole album is going to be good live, and we wanted to write something explosive and hit hard physically and sonically but also emotionally."
From Release:  After recording their 2011 debut album What Are You So Scared Of? in Los Angeles with Mark Trombino,  Australian pop-punk icons, TONIGHT ALIVE, decided to make their sophomore album closer to home. After finding a stunning remote house near Coffs Harbour, NSW, on a property surrounded by acres of forest, they took it over and reinvented it as their own epic recording studio. They were joined in by long-time collaborator, Dave Petrovic, and combined forces to create the masterpiece that is THE OTHER SIDE, which was then mixed by Dan Korneff (Pierce The Veil, Paramore, Sleeping With Sirens).
Since their debut release, TONIGHT ALIVE has relentlessly toured the world including Europe, Asia, Japan, the US and the UK. In 2012 alone, the band played to in excess of a quarter of a million fans that included wowed crowds on the US Vans Warped Tour and the Kerrang! Tour in the UK and now just back from Vans Warped Tour in 2013…
On a day off from their current Australian tour, we sat down with Jenna and Whakaio (Whak) from Tonight Alive for a great chat to talk about their new album 'The Other Side' and its creation, as well as touring and how much they've done in only their short time together.
First thing's first, congratulations on the new album.
Both: Thank you
Is there a sense of relief when you finally get an album out?
Jenna: Yes
Whak: 100%
Jenna: And excitement, that's the best part as it feels like we've been waiting for it all year and the year hasn't started until now. It feels like January, a brand new leaf.
The album itself is a monster, when we spoke in March Jenna you were talking about the song writing, and how you felt you'd become better as writers, so what was the inspiration for you for this release?
Jenna: It was super personal influenced and we were on the road for two years, so I guess everything we wrote was spontaneous and candid, it wasn't like 'ok we need to write the record it's coming up so let's sit down and write' it was 'ok I've got an idea quickly, get a guitar' so that really affected that I think.
Whak: We've never been a band that says ok let's set aside this three months to write. I don't know how people just switch it off? We're always writing and for the past two years, ever since we finished the first album we've been writing. I think 'The Ocean' was the first song that we wrote two years ago. I guess our major influence has been touring and growing up and seeing other bands that we look up to and respect and what they're doing right…
Jenna: And how we can apply that to ourselves…
Whak: And also there's a lot of fans that come to us with their stories as well and it kind of paved the way for Jenna to be able to tell her experiences and kind of make it a lot more relatable I think. It's a super, I feel like it's a really… emotional album…
Jenna: Emotional *laughs* yeah it is…
Whak: And we're so happy about that as the albums we loved were the most emotional and that's what we connected to and that's why you can listen to them every day as they mean so much to you. This is definitely something, this was the album that we wanted to be like that.
Jenna: Well said.
What was the biggest thing you think you had learned in between records that you were then able to use on the making of The Other Side as to me it sounds like almost a totally different band?
Jenna: Oh that's great. I think mostly what kind of music translates to live. Just because we're surrounded by music every day of the year, we got to experience which ones of our songs were kind of duds live even if we put them out as a single, 'Breakdown' for example, cool song…
Whak: Sucks live…
Jenna: It's really boring to play live and the tempo is too slow to do any type of crowd interaction and it doesn't feel good on stage. So it's just little things like that that we've taken on board and made sure that this whole album is going to be good live, and we wanted to write something explosive and hit hard physically and sonically but also emotionally.
So it's fair to say that you set out to do something differently this time around?
Jenna: Well it was in the back of our mind, it was natural, the songs that we came up with it wasn't like 'it needs this' or 'it has to be like this', it was natural in a sense, but in the back of my mind there was that's a bit boring or that's a bit slow, you know what would be better and it was influenced by live.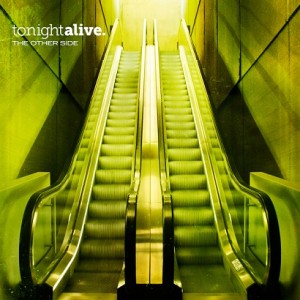 I'm always intrigued by the naming of an album, why was 'The Other Side' the right choice and what does it represent to you?
Whak: This was a hard album to name I remember…
Jenna: In the back of our mind the whole time we were like 'Black and White', 'Light and Dark' it was all about progression and perspective and gaining that knowledge of what's on the other side.
Whak: Black and White was what I wanted it to be but I think Michael Jackson got that *laughs*
Jenna: We wanted Black and White for a while and wanted to represent the difference between one life and the next and sort of come out of a dark time and going into another chapter of your life. The Other Side, we didn't name it after the song, so much as the concept of the progression and gaining perspective and respecting the past and looking forward to the future. It was something to go through in those past two years.
You're currently out on tour, how have the shows been so far?
Whak: It's amazing…
Jenna: They're on a new level, it feels completely different to the past, Sydney especially, we were so nervous, we were like 'oh my god, I hope we pack the room out' and we did, but on the night because we were anticipating that we were like is this going to be full, and it was, and the energy was there and nothing went wrong. As I said, I'm repeating myself, it was natural, a lot of the time on stage I'm like, what are you going to say? Don't stutter, how am I going to be commanding over the crowd? How am I going to run the show? Just as a front man obviously it's a five person effort, but as a front man I get so nervous over commanding the crowd and making it feel…
Whak: Like a show…
Jenna: Yeah, like a show, not just a gig. It just came out of us…
Whak: It was awesome, it feels like everyone in the crowd is so proud of everyone and we're proud to be there…
Jenna: Just to all be on the same team, vibing for the same thing.
Whak: Everyone knows all the songs, and to get to that point is just so amazing for us and just such a rewarding thing after how hard things have been, it is definitely the reason we do everything is for moments like that.
What about the new material, is that going down well?
Jenna: Yes…
Whak: Awesome…
Jenna: Better than the old *laughs* there's such a groove when the choruses hit and the verses drive and the bridges are some emotional thing or whatever they are, it just seems the structures of the songs are working live.
Whak: They already know the lyrics, it's crazy…
Jenna: We streamed the album a week leading up, we did two new songs every day leading up and that was the best thing we could've done because the Sydney show was the day before album release but there were already people singing it, it was amazing.
So, let's jump back though, how was the recent experience of Warped Tour?
Jenna: It was different this time than the last. Last time we were like 'Oh my God Warped Tour!'…
Whak: We went as wide eyed…
Jenna: I mean it was enjoyable but it was so hard work, I don't know what it was at that time?
Whak: I think we had progressed as a band and we were on a bigger stage and the crowds were bigger and I guess there were more expectations. Where the first year we were kind of on a smaller stage and were the underdogs and going well, but this time there was more attention and it was expected that we do well, but it's honestly, it's just so great to be on Warped Tour…
Jenna: It is a dream come true…
Whak: It really is…
Jenna: It is the peak of pop punk culture and stuff.
What about Warped Tour here? You're back here in December for that…
Whak: We're pumped about that…
Jenna: Because we don't know what to expect, we don't understand it, we don't know it, it's not familiar to us…
Whak: It's just going to be great to be a part of that, to be a part of Australian Warped Tour, it feels like that we're part of the music scene here.
Jenna: It's like eleven years ago the last Warped tour and it's coming back and we're one of the few Australian bands on the line-up.
Whak: I guess we feel so proud, I mean we're taking Australia overseas in our eyes, not that other bands aren't, but it's so good to come back and that's our reward that we can be recognized and be on Australian Warped Tour, that's really cool for us.
How have you seen your international appeal grow as you continue to travel abroad?
Whak: We've seen it do what Australia has done. When we first started touring Australia it was definitely really hard for us, then there were a couple of club shows that were really memorable to us. The first one was Trash, we played there as a support and that was the first time ever that we had people sing our lyrics back and I will always, always remember that.
Jenna: It was when we put out our first single 'Wasting Away' it was like 2010…
Whak: So now we're definitely seeing the same build. We're playing the same rooms as we are here in the UK at the moment…
Jenna: They just grabbed onto us and ran with it, there's something in the water over there, their culture and their music scene is just like 'give me, give me more' they're hungry for music.
Whak: It's like all the hard work we've done in Australia has translated to the UK and they've picked it up. America is a harder one to crack but we're actually doing our first ever headline tour there. It's not like massive or anything, but we're doing our first headline tour there, so that's really rewarding to finally get to that point.
In only a few short years on paper it looks like you've done pretty much everything a band would ever dream to do, but is there anything specific that you still haven't done that you're aiming for?
Whak: Play an arena *laughs* that sounds selfish, but we've never opened an arena tour at all, and we haven't played the Hordern yet…
Jenna: Which is something I want to do. My first show was at the Hordern and my second show was at The Roundhouse, we've played the Roundhouse maybe three times… The Hordern I saw Status Quo and Deep Purple there with my Dad when I was fourteen, and would love to play there and Allphones arena is somewhere I really want to play, I don't know if that's realistic, maybe I'll give myself a ten year thing, and if we haven't done it then fine…
Whak: Then we're giving up *laughs*
So has there been one moment that stands out about all the rest as can't be beaten?
Jenna: Yeah there's a bunch of them but let me think of a recent one so it's relevant.
Whak: What about New York on Warped Tour?… That show was massive…
Jenna: I don't remember it…
Whak: Well, not so memorable then… *laughs*
Jenna: Oh my gosh, yes, I just had to put myself back in that position. New York Warped was unreal, such a contrast to last year, we played two years in a row, so you can just gauge the complete difference between a year's made…
Whak: We just didn't expect it, and when the into music was played it was like the biggest scream and I was like 'What the fuck?' as we never look out to what the crowd is going to be and the music started and I was like 'Holy Shit that sounds big'. You know it's going to be big when there's people waiting back stage to come up on stage…
Jenna: That's right…
Whak: And I was like 'What the fuck are you doing here? Get out there' so we go on stage and…
Jenna: It was like a sea of people, it was really weird…
Whak: I was like, do they know we're playing? *laughs*
Jenna: Weird things going on right now *laughs*
Whak: But that was surreal, that was awesome and it's moments like that on Warped tour that is why I do three Florida dates that rain. Every one of the dates had to stop because the rain was so intense. There were hurricanes, I think seven times on the whole run they had to stop the festival for a couple of hours.
That's all the time we've got guys, so thanks so much for your time
Jenna: Aww, so enjoyable!  Thank you, was great to meet you and chat.
Essential Information
From: Sydney, Australia
Band members:  Jenna McDougall – Vocals, Jake Hardy – Guitar, Whakaio Taahi  – Guitar / Vocals, Cam Adler- Bass, Matt Best- Drums
Website:  http://www.tonightaliveofficial.com
Latest release: The Other Side (Sony Music Australia) Out Now!
Catch Tonight Alive on the remainder of their Australian headlining dates here:
Wednesday September 11 – Melbourne – The Hi-Fi – Under 18s
Friday September 13 – Melbourne – Billboard – Over 18s
Saturday September 14 – Perth – Astor Theatre – Licensed All Ages
Sunday September 15 – Adelaide – Hq – Over 18s
Then on the Warped Tour:
Friday 29th November  – Brisbane – RNA Showgrounds
Saturday 30th November – Coffs Harbour – Coffs Harbour Showground
Sunday 1st December – Sydney – Barangaroo *subject to council approval
Friday 6th December – Canberra – Exhibition Park
Saturday 7th December – Melbourne – TBA
Sunday 8th December – Adelaide – TBA