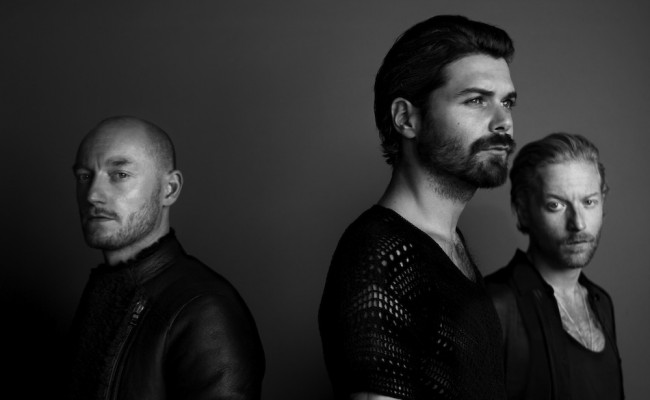 "Things have been so natural as we've gone along, we've never really had to force many changes, it's always been, whether there's been harmony or not it's always kind of created a good sort of relationship together and we're really strong after all this time together."
From Bio: The story of Biffy Clyro is as romantic as it is archetypal. Three childhood friends from Ayrshire formed a band, delivered three albums of abrasive youthful exuberance and finally cracked the big time when their fourth hit the charts at #2. By the time the promotion of their fifth album Only Revolutions had ceased, they were bona fide stars who could headline festivals, fill arenas and deliver hit singles in an era in which rock bands rarely trouble the charts. With well over a million album sales to their name, no-one would've been too surprised to see complacency set in. Such thoughts, however, certainly weren't going to cramp the creativity of Biffy Clyro vocalist, guitarist and songwriter Simon Neil who instead proposed the idea of a career-defining double-album, which was subsequently titled Opposites…
We had a great chat with James from Biffy Clyro about their forthcoming return to Australia for the Soundwave festival in 2014, as well as their newest album opposites and moments that make it all worthwhile…
You're heading back to Australia as part of the massive Soundwave festival, what can people expect should they come and watch your set?
Always an energetic performance, we always give it everything we've got and I think there are so many great bands out there and people are spending so much money to go and see a band so you've got to put on a great show, and we don't leave anything on the stage, we give it every bit of passion that we have. We've been a band for a long time now and we get into the show more and more and we just give it everything we've got.
All but familiar with large crowds, especially after your run with the Foo Fighters and playing places like Leeds & Reading festival, do you have to prepare any differently playing in front of the larger audiences compared to your own club shows?
I think ultimately it's pretty similar you've still got to play the songs as well as you can, when playing a big stage, you want a slightly larger performance if that's not too obvious, you don't want to be facing your amplifiers, you want to try and project a little more, but I mean ultimately, it's a second nature, it's in your subconscious, you just kind of get up there and let the music do its thing and it sort of seems to take over.
As I mentioned, the Soundwave bill is huge, is there anyone you're excited to be sharing the tour with?
Bands from the UK, like Pulled Apart By Horses, we've toured with them before, so that will be fun to play with them again, Trash Talk are always really good fun, Rocket From The Crypt should be a great band to see, I've never had a chance to see them live, so I'm looking forward to that.
You have toured here before; do you have an amazing memory of Australia you can share with us?
Really just being so hot and so beautiful, and I think one of our favourite memories is being in Perth and we played a show with Muse and I think we played in a cricket ground and it was just the most beautiful setting, and coming from Scotland which looks very different but has a similar attitude in the way that people are friendly and we just felt really right at home and it's always an amazing place to visit.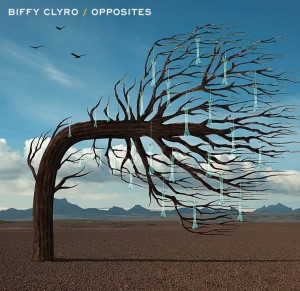 'Opposites' has been out for a while now, are you happy with the way it's been received?
Really happy, yeah, really happy, some people suggested it was a bit of a leap to make a second album and it might have been a bit of a risky manoeuvre, we didn't really think about that too much it was just what we wanted to do. We all started to get a bit nervous when an album comes out, how people are going to take to it, thankfully it's gone down really well, people are getting into the songs and you can hear them singing along when we play live so yeah, it's been fantastic.
It's a big ask to make essentially a double album these days, what was the idea behind releasing the twenty tracks?
Yeah… Simon had written so many songs that we couldn't decide which ones to leave out, as the lyrics started to ferment they started to reveal they were almost in two camps, two different outlooks on life and two different ways of looking at your life, it just seemed like a good idea to put them on two separate albums and have that theme running through each album. It's not a double album where one side is rock and heavy and the second side is just guitars and ballads, it's not like that. Musically they're equal but lyrically they are kind of opposites.
What was the decision behind also releasing a somewhat regular single disc edition of the album and how hard was it to pick which ones made it on the single disc?
*laughs* Almost impossible really, we conceived the album as a twenty track album and to cut that down to fourteen it really killed our heart and was a difficult thing to do, we couldn't understand the reasons for it and it was so people would be able to get it, some retailers or music outlets wouldn't stock a twenty track version, which I found a little sickening to be honest, but it was just one of those things, at least people are going to get to hear some of the music.
Although, it was four years between albums, a long time between releases for you, obviously with the amount of touring you were doing, do you think that experience helped shape the record into what you wanted it to be?
I think so, the records have always been very personal about Simon's life and the way he looks at his life and I think the experiences you have are always going to shape that. I think as you said spending a lot of time on the road it kind of left us a little burnt out and it took us a while to have a little bit of break, and there were changes in our lives that have all been for the good, all really positive. It kind of left us after making this album a cathartic process in a way of that isn't a deliberate stance, but when your music is so linked to your life then it certainly makes you sort of look at your life.
So when you went in to make the album did you go in to specifically do something different that you hadn't done on previous albums?
Yeah I think with twenty songs we had to try really hard to experiment with sounds really, we've got all the music written before we go in, but then you to try and match the sounds to what's in your head, so right from the offset with the drum kits for example, we'd have lots of different drums and lots of different rooms and try to match the sound to the song. We tried a Spanish mariachi band on a song called 'Spanish Radio' and we had bagpipes on there and harp and we just tried to mix the sound up the best we could and try and keep it interesting for what you said is quite a long album.
Can we expect some bagpipes and a harp down here in Australia?
*laughs* bagpipers are pretty expensive, but I know there's a lot of great bagpipers in Australia, so maybe we should put the word out and get someone to learn the song.
How has the band grown though if you look back to your debut in 2002, what do you see as the biggest change that has taken place?
That's a good question and a tough one to answer, as you just tend to live your life, and certainly the way we live our life and get the attention, you tend to just get on with it and not really notice what's happening, I mean through that period we've all kind of grown up and we should've become men by now. The biggest change is a very difficult one, I guess we've kind of grown together, so you don't notice the change as it happens, I don't even know if I have an answer for you Troy. *laughs*
So let's say it's been a natural evolution of the band…
Exactly. Things have been so natural as we've gone along, we've never really had to force many changes, it's always been, whether there's been harmony or not it's always kind of created a good sort of relationship together and we're really strong after all this time together.
At over ten years as a band now, has there been a moment you've experienced that stands out above all the rest?
Oh that's probably quite easy as it's the freshest in our memory, and that's headlining Reading & Leeds festival just a couple of weeks ago, it's a huge festival in the UK, it's a place we've played eight times in previous years and has been a big part of us as a band. So to go back there and headline was just a real dream come true, a real reward for us and it feels great to have had the support of all the people that have been going to the festival for years.
That must be such a buzz for you guys…
Oh it's incredible, it's never something you'd be expecting to happen, it's the things we dreamed about when we're very young and once you get on the road and start to become and actual band, you realise it's tough and you have to work really hard, so some of those dreams you have maybe start to fade and you think they'll never happen. So just to get there was incredible, it was unexpected but rewarding.
It must be great as you would've played festivals as you were coming up, but to get to the point where everyone is there just to see you must make you proud…
We feel proud, it gives us a sense of achievement, the first time we played at Leeds & Reading in 2002 or 2001 we played first on the smallest stage they had, so just really proud and feels like such an achievement, and maybe also some younger bands if they're prepared to play at 12 o'clock and maybe work their way up to mid-afternoon and then maybe then eventually they'll get the chance to headline as well.
I have to mention Frank Turner as we love that guy, he's just gone and covered one of your songs in 'Who's Got a Match?' how cool was that for you?
That was really cool, I think Frank had been in contact with Simon, but Simon had kept it quiet as a bit of a surprise and then one day it just popped up. I think he's done a really good version, we love Frank, he's someone that has toured with us before and I think of him as a mate, so really, really cool. It seems that people are enjoying it as much as we are. He means what he says and he definitely puts his heart on his sleeve.
What does the remainder of the year have in store for the band?
Well we've got some more touring, we're going around Europe, and we're going to The States before that, so we're doing a tour of the East Coast of The States and it starts to get really fucking cold up there, maybe just as your summer starts we'll be freezing our balls off going around Estonia and Helsinki and all around Europe really, so it's going to be a fun trip.
Lastly, I should ask about side shows, any plans for anything while you're here?
Nothing I can actually reveal, but we'll definitely be able to get into a club and have a real sweaty experience, but we'll definitely get that announced as soon as we can.
Essential information
From: Glasgow, UK
Band members:  Simon Neil – guitars / vocals, James Johnston – bass / vocals, Ben Johnston – drums / vocals
Latest Release: Opposites (Warner Music Australia) Out Now!
Website:  http://www.biffyclyro.com
Catch Biffy Clyro on SOUNDWAVE FESTIVAL 2014 
SATURDAY 22 FEBRUARY – BRISBANE, RNA SHOWGROUNDS
SUNDAY 23 FEBRUARY – SYDNEY, OLYMPIC PARK
FRIDAY 28 FEBRUARY – MELBOURNE, FLEMINGTON RACECOURSE
SATURDAY 1 MARCH – ADELAIDE, BONYTHON PARK
MONDAY 3 MARCH – PERTH, CLAREMONT SHOWGROUNDS