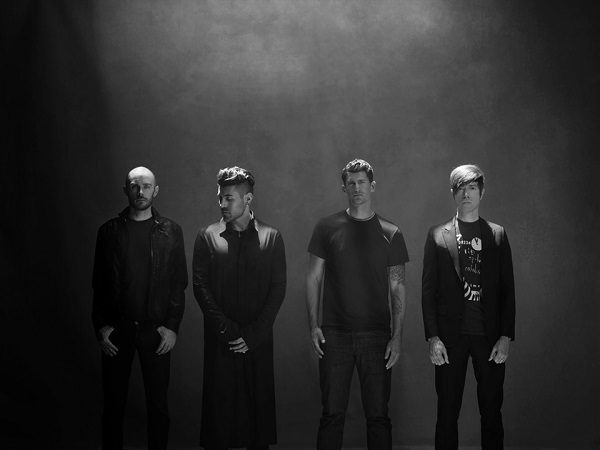 "Well, I mean physically we try to give 100% during our shows, that includes any festival shows, we don't cut corners, we don't usually have anything too crazy like lasers, or motorcycles on stage or anything, it's pretty much music, that's what people come for."
Four years after their last album, AFI are back, and if the first two releases from their new album are anything to go by, they have definitely lit A Fire Inside themselves as their new album 'Burials' due in October sounds like it will be nothing less than huge. With a live show that showcases who they are, they have built a fan base that is beyond devoted and it only continues to grow.
We chatted to Hunter from AFI about their forthcoming album 'Burials', their live show and of course their upcoming return to Australia for Soundwave in 2014…
You're heading back to Australia as part of the massive Soundwave festival, what can people expect should they come and watch your set?
Well, I mean physically we try to give 100% during our shows, that includes any festival shows, we don't cut corners, we don't usually have anything too crazy like lasers, or motorcycles on stage or anything, it's pretty much music, that's what people come for.
Your live show is one I have seen before and it blew me away, what is it that you bring to the stage that makes your performance so captivating?
You know, I think my goal every night when I go out on stage is to bring the intensity of the music to the crowd, the intensity that I hear, that I feel in the music I try to show that to the audience and often the audience will show that back to us and then it gets regenerated. I don't know, that's been the secret, the trade secret of sort of what we've done all these years.
As I mentioned, the Soundwave bill is huge, is there anyone you're excited to be sharing the tour with?
Strangely enough we're good friends with Green Day and we've played with them before and that's awesome, but one of the bands that sort of caught my eye that I'm really excited to play with is Living Colour. We're really, really excited about that.
It's your second time on this festival, do you have any great memories of your first Soundwave?
The last time that we did it was right as soon as we got off stage Jane's Addiction played every day, and of course this is when Eric Avery was playing with them and he's one of my favourite bass players of all time, so it was kind of a treat as we got off stage. It was pretty toasty, it was pretty warm, so we were drenched in sweat and instead of going back to the dressing room to go change, every single show I'd just go and watch Jane's addiction.
It's been four years since 'Crash Love', are you excited to unleash 'Burials' on the world?
Definitely, I think it's a great collection of songs and we worked really hard on it, generally its stuff that I want to play love so I'm excited to have the album out and have people hear it and see what people think, and just to be able to play those songs live.
What would you say has been the biggest inspiration in the last four years for what has ended up on the album?
Nothing specific, we all sort of draw inspiration from different places, different areas and overall there's a little more of a darkness on the album and from each of us it comes from a little more of a personal place, and it's going to be different for each but sometimes it's difficult to take more darker moments of your life and express them musically and I think this is one of those times where it actually worked out really well.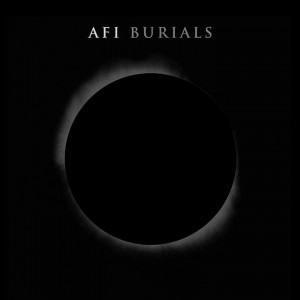 So, what does the title represent to you?
For me, and you'll get a different answer depending on who you ask, as for everyone it means something a little different to everyone else, but for me it definitely marks a turning point, a milestone of you will, putting the past to rest and looking to the future.
Listening to 'I Hope You Suffer' and then '17 Crimes' there is a difference between the two, is it fair to say that the album will be somewhat varied musically?
Yeah, there are definitely threads that connect the two that run through the whole album, those two tracks certainly show a little bit of the range that we cover on the album and it even goes a little bit further depending on the songs you are referring to, none of the ones you've heard yet of course, but there's a little bit of diversity there.
You worked with Gil Norton as producer on Burials, what was he able to bring to the band and album that you feel may have been missing in the past?
We actually almost worked with him in the past, and we're really happy to be able to work with him on this record. He had kind of an incredible task in front of him as we were attempting to make this record in shorter than we've made a record since the 90's, so not only did he have to help us focus on the music and try and pull out the important things which he's really good at, but he also was cracking the whip and getting us to do everything faster than we've ever done it before. *laughs*
Was that challenging?
Yeah *laughs*
Did you set out to do anything differently in making this album, was there a vision when you headed in or did it just evolve into what it's become?
Well I mean, we had extensive demoing and rehearsing to sort of have an idea of where the songs were going to go musically, but I think in the studio one of the things we focused on was using off-beat tones and sounds. In the past it would have been totally fine for us to just throw up a drum kit and throw some mics on it and get that sort of acoustic sound, but this time we used a lot of compression, overdriven compression, distortion and just try and give things a more aggressive, darker sound than we've done in the past. It wasn't through all the instruments; it was really just a way of articulating the songs.
What do you see as the biggest change between AFI now compared to AFI in 1997?
We're older *laughs* we're the same people which is great, I think we have all taken a lot and brought a lot to us musically in terms of inspiration and also just the experiences we have had together have just brought us closer as a unit.
Your fans here seem to absolutely adore the band, what do you think it is about AFI and Australia that work so well together?
You know, I don't really know, I'm not going to question it, it's great, we love going there and we seem to be received really well so let's just do it. *laughs*
I have to ask, what about the chance of some side shows while you're here?
I'm pretty sure, yeah, that's what we're planning…
Essential information
From: Ukiah, California, USA
Band members:  Davey Havok – Vocals, Jade Puget – Guitar, Hunter Burgan – Bass, Adam Carson – Drums
Forthcoming Release: Burials (Republic) October 22nd
Website:  http://www.afireinside.net

Catch AFI at SOUNDWAVE FESTIVAL 2014 
SATURDAY 22 FEBRUARY – BRISBANE, RNA SHOWGROUNDS
SUNDAY 23 FEBRUARY – SYDNEY, OLYMPIC PARK
FRIDAY 28 FEBRUARY – MELBOURNE, FLEMINGTON RACECOURSE
SATURDAY 1 MARCH – ADELAIDE, BONYTHON PARK
MONDAY 3 MARCH – PERTH, CLAREMONT SHOWGROUNDS