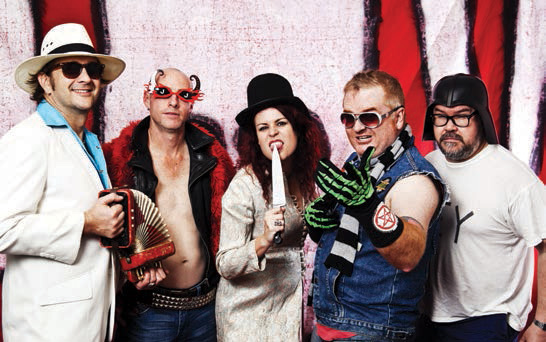 "The Frenzal tour we did in 2009 did come out of the blue a little bit and like I said before that perhaps showed that it wasn't all finished, but I can guarantee going forward we'll be playing less than we will be more and I don't know how much we have left in us."
From Bio: The year is 1993. A small group of what appear to be circus prostates step out of their Bat & Ball Hotel toilet dressing room and leap upon the stage. They thrill the assembled crowd with their trashy punk rock and roll stylings then pause briefly to perform a puppet show. The band is Nancy Vandal and within a few short years they will be tearing up stages all over the country and bringing a sense of whimsy to festivals including Homebake, Livid, Falls and The Pushover. During that time they would release five cult classic records and have anthems such as 'Rock and Roll Concert' and 'Move Over Satan' envelop the Triple J airwaves like a drunken cuddle.
The turn of the century saw their output decrease significantly due to fears the millennium bug would damage band equipment as well as severe outbreak of nits. they have since performed only occasionally based on tarot card readings and prevailing weather conditions, however to celebrate their 20 year anniversary team Vandal have decided to take things up a notch, hit the road and set the GPS to "rock".
We chatted to Fox about their upcoming surprising, well to them anyway, appearance at Soundwave, the return of the band and the future of Nancy Vandal…
For starters, you're on the massive Soundwave bill…
Yes… *laughs*
So, what can people expect should they come and watch your set?
Honestly we're not sure ourselves as we haven't played for a little while, so it's going to be a bit of a mystery to both them and us.
Maybe a few Justin Bieber covers?
You could probably rule out the Justin Bieber covers, but who knows, it's still a few months away so we might start rehearsing and think that the set needs a little extra bit of balls to put it over the top and maybe some Biebs might sort it out…
The bill as I just mentioned is huge, is there anyone you're excited to be sharing the tour with?
Yeah we're super excited about 'Rocket from the Crypt' actually, I know they're not one of the headline bands but we love them, and we saw them play a few times back in the 90's and we're stoked to see them. Personally I'm keen to see 'Clutch' I'm a big fan of those guys as well. There's a stack of bands I haven't even heard of, so I'll probably go through them all beforehand and check them out to work out to see what I can see on the day, but, yeah, I'm really keen to jump around and see what I can.
Were you super surprised to be asked to play on the tour?
Yes *laughs* that is an accurate way to describe it. Totally unplanned, no expectation of getting on there, we didn't even ask them, it was almost like we were asked which was, weird… awesome weird.
Since getting back together in 2009 was there a sense of renewed energy that you thought may have passed?
Yeah a little bit, that's a good way of putting it actually. I can't quite remember what lead up to that actually, we did the tour with Frenzal and we really liked it, and it did kind of rekindle, and I wasn't sure then if it'd be a Nancy Vandal rekindling, but I know shortly after that, Dean and I started playing music again with a couple of other bands and it's just been happening ever since. So yeah, it was the spark I guess.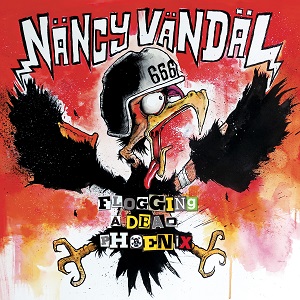 You've just released 'Flogging a Dead Phoenix' which was a partially fan funded release, how important was it for you to make this album and do it that way?
Yeah we did a Pozible campaign, it was pretty important, it gave us a good leg up to paying for it, we have no record label or anything, so it's basically just us forking out the money. I love the crowd sourcing model, it was perfect for us, we're at a small enough level that we can just target people that are still into the band, and there are enough of them to get involved and help pay for it. We've always done a lot of DIY type stuff, back in the day we were always screen printing our own T-shirts and I was doing the artwork and stuff in our little punk rock cottage industry and it just married really well with all the Pozible stuff as we had all these really specific little one off rewards people could get and the punters really went for it so it was good.
The name I love, who came up with that?
*laughs* I came up with the name, the Phoenix we've been using that a little bit in recent years it's an apt way of saying we keep popping up and then crashing and burning shortly after, so yeah I like the phoenix, and it's also a play on words of the Sex Pistols compilation 'Flogging a Dead Horse' of many years ago.
What were you able to do on this album that you may have not thought to do on previous releases?
That's a good question, I guess back in the old days, we would record everything super quickly, we would get in there over two or three days and record, mix, everything, whereas this time around we did it over a few months, not that we spent a hell of a lot more time on it, but we could kind of do it in parts, digital recording you can fart around with it. I did a bit of it at home, we did a bit of it with Jay from Frenzal in a little set up there, so we have a little tinker with it and listen along the way which is a different way of doing it from the older days. That was through necessity, not through design, we all live in different places these days and we're not rehearsing every day like we were back in the 90's so we had to learn it as we were going along and bang it into shape over the duration.
Twenty years as a band this year (other than a break in the middle) is a good time to celebrate, other than Soundwave can we expect any other celebrations to take place?
Well we're doing some of our own shows before Soundwave which initially was the extent of the celebration, so we're doing the Brisbane to Melbourne kind of East coast thing in October / November this year. Other than that we probably need to do something around Soundwave, we don't like to just turn up and go through the motions kind of thing, like this album was going to be for this tour, so for Soundwave you probably could expect something else to happen, not sure what that will be or what form that will take at this stage.
In the eight years apart, was there a time you thought that Nancy Vandal would never see the light of day again?
Yeah pretty much all those eight years *laughs* not that we ever did break up officially, we always stayed in touch, we're all still friends, so we were doing different things and we kind of thought it was dormant rather than dead. The Frenzal tour we did in 2009 did come out of the blue a little bit and like I said before that perhaps showed that it wasn't all finished, but I can guarantee going forward we'll be playing less than we will be more and I don't know how much we have left in us.
Really?
That needn't mean nothing, but yeah… special events *laughs* Christmas specials and that sort of thing.
How have you personally seen the punk genre change over your time together?
To this point right now, I guess like any music in general, I mean back when we first started it was all the rage and we were kind of riding a wave there, now it's gone back to being a bit more niche I guess and music in general seems to be quite fragmented these days, there's not kind of a defining genre you could say that is dominating at the moment which is kind of cool I reckon, the way you can kind of obsess about a certain genre of music and you can have access to it as there's lots of bands doing it but it's not like grunge or punk or whatever where it was one sort of style dominating over all others, you kind of have to be more of an enthusiast. Having said that, all the bands I loved leading up to playing in a band, like Frenzal, The Hard Ons and The Meanies are still kind of around in one way or another and still doing really good stuff. In my mind it hasn't ended but different people have different takes on that. *laughs*
You did say less than more, but can we expect Nancy Vandal to be sticking around?
Um… I don't know what to say, if you were to ask me this thirteen years ago I'd say this is the end, but since then we've played a reunion show and then the Frenzal tour, now this, so I guess I would like to wait and see how this went before I could give you a definitive answer, but never say never is my new mantra.
There's Justin Bieber again…
*laughs* he's so influential *laughs*
Flogging a Dead Bieber…
*laughs* That's the next album…
Lastly, do you have a message for your fans that may have missed you and are looking forward to seeing you?
I'm glad that you're still interested and we will endeavour to not embarrass ourselves, and deliver something approximating what you hope for.
Essential information
From: Sydney, Australia
Band members:  Fox Trotsky – Guitar / Vocals, JJ La Moore – Guitar / Bass, Tommy Lee Turnip – Drums, Gilli Pepper – Sax / Vocals, T Force – Trombone / Keys
Latest Release: Flogging A Dead Phoenix – Out Now! – Buy the album from bandcamp or Download from iTunes
Website:  http://www.nancyvandal.com
Catch Nancy Vandal on SOUNDWAVE FESTIVAL 2014 
Tickets on sale NOW
SATURDAY 22 FEBRUARY – BRISBANE, RNA SHOWGROUNDS
SUNDAY 23 FEBRUARY – SYDNEY, OLYMPIC PARK
FRIDAY 28 FEBRUARY – MELBOURNE, FLEMINGTON RACECOURSE
SATURDAY 1 MARCH – ADELAIDE, BONYTHON PARK
MONDAY 3 MARCH – PERTH, CLAREMONT SHOWGROUNDS