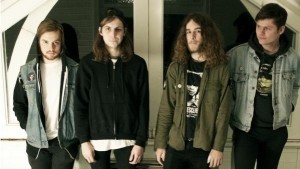 Melbourne's punk rock chaos merchants
CLOWNS
will release their debut album
'I'm Not Right'
via Poison City Records this October. The title is a surprisingly poignant observation of the band itself; the rampant punk rock within promises to offend, motivate and stimulate. Clowns are also readying themselves to leave a trail of hungover, exhausted and satisfied bodies in their wake as they traipse across the nation on their longest, most audacious tour to date.
These four kids hail from the sunny bayside suburbs of Melbourne, and blast their brand of hardcore punk rock with a proudly old school style and approach. There's sonic nods to OFF!, Massappeal, The Bronx and the Hard-Ons, and their 'nothin' better to do' attitude has seen them embrace a true DIY spirit, touring relentlessly off their own bat and self-releasing a series of sold out 7"s. Produced by Lindsay Gravina (Cosmic Psychos, Magic Dirt, The Living End) at Melbourne's infamous Birdland Studios, 'I'm Not Right' is an imposing debut long-player; full of piss and vinegar, wrapped in radical artwork by legendary Sydney surf/skate artist Ben Brown.
Whenever and whenever bands can play, Clowns have been there; water parks, filthy dive bars, festivals, car parks, skate parks and flea markets. A 2012 South-East Asian outing and recent dates with Guttermouth, M.D.C and The Smith Street Band has Clowns in gig fit, face melting form, ready for 21 shows across three months. Every single show will be full of wild bravado and hell-for-leather punk rock. Brace yourselves.
STREAM BRAND NEW TRACK 'YOU'VE GOT THE CURSE' HERE.
CLOWNS – 'I'M NOT RIGHT' TOUR
Fri Oct 11 – Karova Lounge, Ballarat
Sat Oct 12 – Crown & Anchor, Adelaide
Fri Oct 18 – The Public Bar, Melbourne
Fri Oct 25 – Yahoo Bar, Shepparton
Sat Oct 26 – Dive Bar, Geelong
Thu Oct 31 – Phoenix Bar, Canberra
Fri Nov 1 – The Lab, Wollongong
Sat Nov 2 – Riverfest, Moruya (AA)
Wed Nov 6 – Prince of Wales, Bunbury
Thu Nov 7 – Newport Hotel, Fremantle
Fri Nov 8 – Amplifier Bar, Perth
Sun Nov 9 – Blood Rock Festival, Perth
Fri Nov 14 – The Royal Oak, Launceston
Sat Nov 15 – The Brisbane Hotel, Hobart
Sun Nov 16 – House Show, Hobart (AA)
Fri Nov 22 – Hamilton Station Hotel, Newcastle
Sat Nov 23 – Blackwire Records, Sydney (AA)
Fri Nov 29 – Crowbar, Brisbane
Sun Dec 1 – 4ZZZ  Car Park, Brisbane (AA)
Pre-orders for 'I'm Not Right' LP/ CD available Monday September 2nd via Poison City E-Store
www.facebook.com/clownsband
www.fuckenclowns.com
www.poisoncityrecords.com