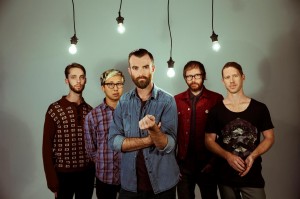 Due to popular demand, Birds of Tokyo have announced an additional run of live shows for fans in November and December.
As they make their way around Australia performing shows with Muse in capital cities, the band will also return to Coolangatta, Fremantle, Newcastle and Wollongong, with the full list of dates and venues listed below.
Tickets for all new shows will be available to Birds of Tokyo fans via a pre-sale commencing at 9am Thursday Sept 26, with the general public on sale set at 9am Friday Sept 27.
With their performance at the AFL Grand Final in Melbourne approaching this Sat Sept 28, the band has also been announced as the headlining act for the Homebake Festival, performing on the closing night Sunday Dec 8. This year, the newly located Homebake will take place at the Sydney Opera House Forecourt and surrounds with tickets on sale at 9am Wednesday Sept 25.
Having completed a national run of sell-out shows earlier this year, Birds of Tokyo received rave reviews for dates across their 'March Fires' album tour. The National Airplay Chart hit 'Lanterns' has exceeded triple-platinum sales and was the 'Most Played Australian Song on radio' for the first 6 months of this year. Their fourth studio album 'March Fires' debuted at No. 1 on the National ARIA Albums Chart and is scheduled for release in North America early 2014.
Supports for all new shows are to be announced shortly, so stay tuned for further details.
MARCH FIRES is a gem – **** Sydney Morning Herald
Stirring, anthemic and tailor-made for arenas – Rolling Stone
Epic and atmospheric … songs designed to fill a room with euphoric smiles and bolts of emotion – J Mag
A big record in every sense … stirring choruses, grand arrangement –  The Brag
BIRDS OF TOKYO NEW SHOWS
Fan Pre-sale: Thursday September 26 @ 9am
On Sale GP: Friday September 27 @ 9am
With special guests yet to be announced
All new shows 18+
Friday 29th November: Metropolis, Fremantle NEW SHOW
Tix: www.oztix.com.au  | Ph: 1300 762 545
Presented by Nova 93.7
Saturday 30th November: Perth Arena w/ Muse (All Ages)
Tix: www.Ticketek.com.au | Ph: 132 849
On sale now
Wednesday 4th December: Entertainment Centre, Adelaide w/ Muse (All Ages)
Tix: www.Ticketek.com.au | Ph: 132 849
On sale now
Friday 6th December: Rod Laver Arena, Melbourne w/ Muse (All Ages)
Tix: www.Ticketek.com.au | Ph: 132 849
On sale now
Saturday 7th December: Rod Laver Arena, Melbourne w/ Muse (All Ages)
Tix: www.Ticketek.com.au | Ph: 132 849
On sale now
Sunday 8th December: Homebake, Sydney
Tix: www.homebake.com or www.sydneyoperahouse.com | Ph: 02 9250 7777
On sale Wednesday Sept 25th
Tuesday 10th December: Entertainment Centre, Brisbane w/ Muse (All Ages)
Tix: www.Ticketek.com.au | Ph: 132 849
On sale now
Wednesday 11th December: Coolangatta Hotel, Gold Coast NEW SHOW
TIX: www.oztix.com.au  | 1300 762 545
Presented by Sea FM 90.9
Friday 13th December: Allphones Arena, Sydney w/ Muse (All Ages)
Tix: www.Ticketek.com.au | Ph: 132 849
On sale now
Saturday 14th December: Panthers, Newcastle NEW SHOW
TIX: www.moshtix.com.au | 1300 (GET TIX) 438 849
Supported by NXFM 106.9
Sunday 15th December: Waves, Wollongong NEW SHOW
TIX: www.moshtix.com.au  | 1300 (GET TIX) 438 849
Presented by i98
BIRDS OF TOKYO | 'MARCH FIRES' | OUT NOW
For further information check out:
www.birdsoftokyo.com
www.facebook.com/birdsoftokyomusic
www.twitter.com/birdsoftokyo
www.youtube.com/user/birdsoftokyo