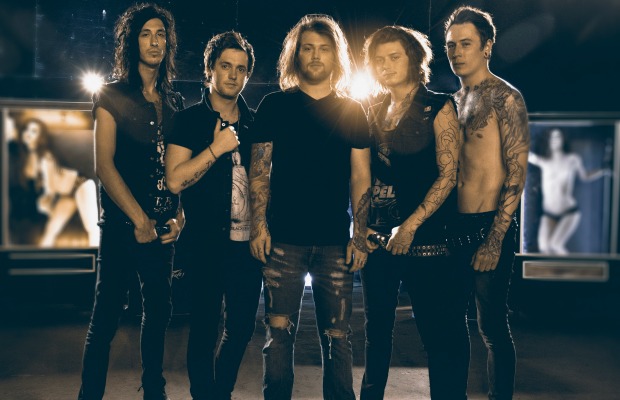 "It's nice to be able to land in a foreign country and know what's going on and have it all run smoothly, but yeah, we had a great time doing Soundwave last time, met a lot of bands and made friends and met up with a lot of our older friends, so yeah, looking forward to our second Soundwave trip."
From release: To say that 2012 was a breakout year for the UK's ASKING ALEXANDRIA would be a massive understatement as the group headlined massive, sold-out European and North American tours, which was capped off with a slot on the Rockstar Mayhem Festival emerging as one of the fest's most talked about artists.
Amidst a slew of recent speculation regarding their stability, ASKING ALEXANDRIA, undoubtedly proved to all naysayers that they are one of the genre's most exciting, ground-breaking and heralded artists as their critically acclaimed new album, From Death To Destiny, debuted at #5 on the Billboard Top 200. This monumental accomplishment also simultaneously marked the biggest first week sales for any artist in the history of Sumerian Records. This is controversial, unapologetic hard rock at its very finest and you ain't seen nothing yet.
We chatted to Ben from Asking Alexandria about the band's new album 'From Death To Destiny' as well as their impending return to Australia for the massive Soundwave Festival in 2014…
Thanks for your time today, Ben, how's everything going at the moment?
It's good, we just got off a headlining South American tour and we've got about a week and a half off before we get back into it again, actually good to have a little breather every now and again.
Obviously after an album release you must've been straight out on the ball?
I don't think we ever got off the ball that's the thing, we've been pretty much on the road now for four straight years with a few off days here and there but I'm twenty four years old coming on fifty.
Now, of course you are heading back to Australia for Soundwave in February, what can fans expect from a typical Asking Alexandria set?
Well this time we'll probably be sober when we play, because that's a thing we like to do now which is nice for the fans, we actually play a proper show now, we're professional, it's strange. We'll be playing obviously some of the older songs that we still have to play then a lot more of the new album we'll be playing live as it's a lot of fun for us and I'm hoping a lot of fun for the fans as well.
Having played the festival before in 2011, what do you remember from that tour and what makes Soundwave such a great festival to be a part of?
It's funny, it's actually one of my favourite festivals I've ever had the pleasure of playing, and this is going to sound like a boring response but a lot of that's down to the fact that it's run by people that know what the fuck they're doing, and it's actually organised which mikes our lives a hell of a lot easier. It's nice to be able to land in a foreign country and know what's going on and have it all run smoothly, but yeah, we had a great time doing Soundwave last time, met a lot of bands and made friends and met up with a lot of our older friends, so yeah, looking forward to our second Soundwave trip.
The line-up so far is huge, are there any bands you're pumped to be on the bill with?
I haven't seen the full line up yet as I just got off tour, but I was talking to Brian from Avenged Sevenfold the other day and they said that they are one of the headliners which is awesome. You've got Korn with Head in the band which is great.
So what are you looking forward most to coming back to in Australia?
I just love how laid back it is, everyone's chilled, everyone's happy, and being English, we love to drink and there's no other place in the world other than England that likes to drink as much as we do, so it's always a good time when we come to Australia and it's nice to be able to drink with people that can actually hold their liquor for once.
And cold beer…
Yeah, cold beer… why does everyone think that English people drink warm beer?
Don't you? *laughs*
No! *laughs* it's disgusting; I'll drink a warm beer if there's nothing else around…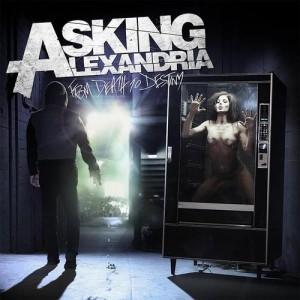 Now, 'From Death to Destiny' has been out for a month or so now, fair to say that the reaction has been killer, are you blown away with the reception it's been receiving?
I'm completely blown away, we were a little bit nervous before because it is quite a change, but I'd say 95% of our original and older fan base is in love with it, they love it, and we've managed to win over a lot of people that didn't like us before which is always great, and we've won over new audiences that have never even heard of us before which is one of your main goals when you're writing a record. So yeah, very overwhelming, we weren't expecting it to pick up this quickly but super wrapped that it has obviously.
Did you set out to do anything differently in the making of this album that you hadn't done previously or did it just evolve that way?
I think it just evolved that way, we're all huge fans of the 80's like Guns N Roses, Warrant and Ratt and stuff and over the last few years we've done many covers from Skid Row to Motley Crue to Whitesnake and I thought it was just a natural progression. I didn't sit down and think well let's write this style of music, it's just the way it's turned out which is awesome.
Now, I'm a sucker for a big power ballad, and 'Moving On' is a song and a half! So I want to ask about that one in particular, is there a story behind that one you can share with us?
Oh thank you, yeah, actually when we were in the studio recording, that song wasn't even written, I had written that song at all, I was talking to the guys and I said 'we need to do a ballad' the big snare, the big stadium rock ballad that no one sort of does anymore. Me and James just sat down there and then with Joey Sturgis and said 'let's make a power ballad' and hit record and see what we do. Then we kind of jammed it out, it was very natural, very organic, it was basically just me and James jamming and I guess that's one of the best ways to write a song.
You're out with Korn this month, any chance we might see some Korn and Asking Alexandria side shows down here?
I have no idea with what we're doing with sideshows this time, I remember last time we were with Bring Me The Horizon and The Amity Affliction, this time there's been talks of us headlining our own sidewave shows, and I've also heard Avenged Sevenfold want us on their sidewave shows. So it's all up in the air right now, but either way I'm sure they'll be a lot of fun, it's nice to get into a smaller club setting when you've been playing massive festivals for most of the week.
I did want to talk more to you about your love of 80's metal and one that I also share, not shy of a cover across a couple of EP's, what is it about those songs that made you want to release them?
I guess we wanted to pay homage and pay tribute to the bands that moved music to the point where it is now and it saddened us to see a lot of kids, whether they be at our age or younger than us weren't really familiar with a lot of the 80's bands that we grew up listening to and fell in love with and it kind of looked to us that rock and roll can't die, this can't be the end of it and we wanted to sort of introduce our younger audience to the bands we were in love with, it was important for us to share with, like I said, our younger audience that weren't too familiar with the Guns N Roses and the Whitesnake's and the Warrant's and stuff. So yeah, it started out as a bit of fun to try and show kids how badass the 80's was and the response for that was overwhelming and we just started doing covers and I'm sure we'll probably do more in the future.
Funnily enough that was my next question, any particular songs on your radar?
I think we actually want to record Twisted Sister's 'I Wanna Rock' because we just spent last summer in Europe, and Twisted Sister headlined a massive festival called 'Graspop' I believe, and we played the same festival and they came up to us and said 'you guys are one of the only bands keeping rock and roll alive at the moment and it would be an honour if you came up on stage with us and played 'I Wanna Rock' with us' so we got to go up on stage with Dee and the rest of them, there were four guitarists, two vocalists, two bassists and two drummers on one stage playing 'I Wanna Rock' and it was just an incredible experience. So it would be awesome if we could record that and put our own spin on it as well.
Maybe get Dee in to do some guest vocals too?
Definitely, definitely we've been discussing it, so it's looking like it might hopefully happen.
Any chance of throwing one into your set when down here?
It really depends, sometimes if we're not on a strict curfew and we're about half way through sometimes we just start jamming, sometimes like the other day we played 'I Wanna Rock' and sometimes we play some Skid Row covers '18 and Life' and 'Youth Gone Wild' and like I said, it just depends if you're in the mood, sometimes you've had a few beers and we just want to jam on stage a bit and we'll whack out a cover or two.
In only five years as a band you've made a name for yourself, what do you think it is about Asking Alexandria that stands out from all the other bands out there?
I think we're bringing a bit of excitement back to it, I think a lot of bands for a long time a lot started playing it really safe and I'm not saying there's anything wrong with religion or being straight edge or anything, but that seems to be the thing that cropped up for a while, then we sort of came along, five young British dudes with our middle fingers in the air, we brought back that element of danger that sort of got lost after the 80's and I think it's like a train wreck or a car crash on the road, you drive past it and you don't want to look but you can't help but look and see what's going on. I think that's how this band sort of started and left people guessing 'oh my god what are they going to do next? Are they sober, are they not sober, turn up to the show on time?' it brings back that excitement that the 80's offered everyone.
Maybe just don't start any riots like Guns N Roses did…
Oh we've started a fair few riots, had police coming in with their batons and stuff, had fences ripped down from people that couldn't get into our show that wanted to, so it was a good time.
So, today is twenty four years since Motley Crue released 'Dr Feelgood' so just for a bit of fun on this day, what's your favourite track from the album?
My favourite song probably is 'Dr Feelgood' that's actually one of my favourite songs of theirs from their whole discography actually.
Has there been one moment in your career so far that stands out as unbeatable?
So far, yeah, the release of our new album, we were number four on the Billboard top 200 which is a huge thing, we were just one step below Jay Z, and it's just incredible to see a band like us just so high up on the charts proving to people that fuck you, heavy music, rock and metal is still alive and kicking and it was just a great feeling to be a band that is part of that you know? Our last album 'Reckless & Relentless' made top ten on Billboard but to make top five is a whole new level that we weren't expecting, it was something we'd always hoped for but never really thought we would ever get that.
Lastly, do you have a message for your Australian fans who are eagerly waiting to see you guys again?
Just thank you for their patience, it's been a long time since we've been down there and it's not through lack of trying, but we've managed to get back over there and we're really looking forward to coming down and playing Australia again.
Well I'm looking forward to checking you guys out…
Alright, well hopefully we don't disappoint, we'll grab a few beers afterwards.
I'll warm them up for you…
Perfect *laughs* just the way I like it.
Essential information
From: England, UK
Band members:  Danny Worsnop-Vocals, Ben Bruce – Guitar, Cameron Liddell – Guitar, Sam Bettley – Bass, James Cassells – Drums
Latest Release: From Death To Destiny (Sumerian Records / Roadrunner Records australia) Out Now!
Website:  http://www.askingalexandriaofficial.com
Catch Asking Alexandria on SOUNDWAVE FESTIVAL 2014 
Tickets on sale NOW
SATURDAY 22 FEBRUARY – BRISBANE, RNA SHOWGROUNDS
SUNDAY 23 FEBRUARY – SYDNEY, OLYMPIC PARK
FRIDAY 28 FEBRUARY – MELBOURNE, FLEMINGTON RACECOURSE
SATURDAY 1 MARCH – ADELAIDE, BONYTHON PARK
MONDAY 3 MARCH – PERTH, CLAREMONT SHOWGROUNDS