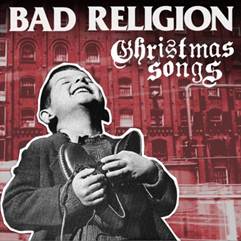 Bad Religion is set to release a Christmas album, Christmas Songs, on November 1. Who better to help you celebrate that most wonderful time of the year than holiday favourites Bad Religion?
Bad Religion have threatened to record an album of seasonal classics for years, and now they've gone and done it, tackling eight chestnuts in their classic punk rock style. From "White Christmas" with its nod to pioneers The Ramones, to the glorious choirboy intro to "Hark! The Herald Angels Sing," Christmas Songs is the record you need to get your holiday household's toes tapping.
Nothing says Christmas like Bad Religion.
CHRISTMAS SONGS TRACK LISTING:
01. Hark! The Herald Angels Sing
02. O Come All Ye Faithful
03. O Come, O Come Emmanuel
04. White Christmas
05. Little Drummer Boy
06. God Rest Ye Merry Gentlemen
07. What Child Is This?
08. Angels We Have Heard On High
09. American Jesus (Andy Wallace Mix)