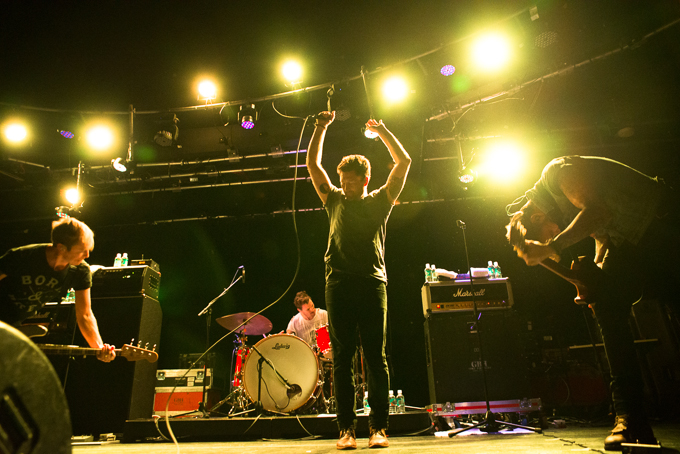 Happy double digits to Anberlin, as tonight marks the tenth visit to Australian shores for these Florida natives who may as well call Australia home as they are so loved here. Tonight is special as they have brought along some friends in the form of former The Academy Is… singer William Beckett and The Maine, both who have graced our shores before and also toured with Anberlin in the past. So tonight should be one pretty awesome night if I do say so myself.
Oh and judging by the age range of those already lined up ninety minutes before doors open I really wish I'd brought earplugs. Not because of the music but I'm envisioning deafening screams throughout the night…
Masketta Fall open the night to a moderately full Hi Fi, and what an opening indeed. Geez, these Melbourne boys can write and play a song, credit to 'Do You Want To Dance With Me?' as their stand out, if someone grabbed this song and ran with it they wouldn't ever stop. Oh man it has whoa ohs?! winner. Geez… And here I was thinking 'four bands tonight… Late night…' but I'm glad these guys are here. Oh… A cover of 'Teenage Dirtbag' is fun… Overall, a great band that just need to refine things a little, find themselves and they could do big things, maybe a few less backing tapes but overall, good songs and a good energy on stage.
William Beckett was last here as I said with his former band The Academy Is… But this is his first venture to Australia as a solo artist in support of his new solo album 'Genuine & Counterfeit'. Armed with only an acoustic guitar and a computer aka band in a box, he rips into (literally as he pulls the plug from his guitar mid song) into new solo track 'Hanging on a Honeymoon' and his voice sounds great. I won't explain his 'intro' after the first song but needless to say it was rather humourous.  'Cracks in the Ceiling' is a catchy number as is requested 'Dear Life' and then 'By Your Side' which is my favourite off the album and favourite here tonight, as it not only showcases his vocal range and talent but musically it is a standout and perfectly arranged. Kennedy from The Maine joins William for 'Just You Wait' which is just beautiful. A long story to set up 'Benny & Joon' which I was hoping he'd play as it's such a great track and truly shows where William is as an artist right now. Some crowd participation helps this one along and he leaves the stage happy as do many here who were quiet at the beginning but are now into it. Come back soon William.
It's time for 'The Maine' event… Well you know what I mean. The opener sets the scene with a rockin' outro and straight into 'Inside of You' which is so damned impressive and full of energy and every member up there is exuding the passion that these songs deserve. Throwing back into their catalogue they bust out a track which was extremely well received then to jump to a new one from recent release 'Forever Halloween' which they rock the hell out of tonight. Slowing it down a little for 'Into Your Arms' and I'm actually surprised how many people here know it. I'm impressed, even more impressed with a little Shawn Mullins thrown in for fun they just got a little cooler. Track after track is catchy and has those here loving every one of them, it helps that musically they are tight which is awesome! Another new one kills it, but unfortunately it's time for them to say goodbye and it's a very happy band leaving the stage after a killer set and great reception.
It's time for Anberlin, huzzah!! As the chants start, the lights dim and the roar is deafening. "Let's make this the best show of the tour…" singer Stephen Christian voices as they open with 'The Resistance' and it's on!! The pounding drums are making my clothes move like a summer breeze and the intensity is immediate, this is going to be an awesome set!! 'Paperthin Hymn' keeps the energy up and this crowd LOVES this band, like really loves them, they are going crazy. 'We Owe This To Ourselves' is the first time they've slowed down a little and it got a little 'Livin' on a Prayer' there… what I'm enjoying the fact there is no silence between songs, music keeps playing, there's no lulls here and I'm wondering when they'll stop to take a breath? 'Someone Anyone' is not that moment as this is heavy, on point and the mosh keeps up its energy.
Throwing one out to the old school fans 'Never Take Friendship Personal' and they played it like it was the first time they had, it was amazing. Onto newest album 'Vital' and 'Little Tyrants' fit into the set perfectly as did 'Other Side' which was somewhat epic. Ooh one they haven't played on the tour yet… What have we got here? 'Art Of War' was well received but the instaclap goodness of 'Take Me (as you found me)' was a winner.
Heading back to the 'Cities' album for a much quieter 'The Unwinding Cable Car' which had them all singing along. Volume gets a twist back up and stays up for the next couple, one if which is 'Impossible' and then 'A Day Late' which is easily the best song of the night, the aforementioned energy is still there from both the band and crowd and it's fun to watch and be a part of. Of course they can't come to Australia and not play 'Adelaide' and as per everything so far, guess what? You guessed it, they love this one too… Back to 'Vital' with 'Modern Age' and it's received like it's a classic. 'Reclusion' rocks out… Oh but 'Feel Good Drag' is the song that sums this night up, that was insane!! What a song that is and so heavy in this live environment, this is almost Anberlin's signature song and you could tell that many here had been waiting to hear it. Back to the new album Self Starter' and they leave us tonight with 'Godpseed' and I can almost hear the crowd over the band on this one. Stephen goes for a bit of a crowd surf and they're off. Or are they?
Nope. Well Stephen returns solo with a keyboard and 'Dismantle. Repair.' and what an awesome version and a beautiful song and even though the energy level dropped, the passion remained. The band rejoins him for an almost ten minute version of '(*Fin)' 'and wow, what a way to go… that's all I can say about that.
Australia loves Anberlin and Anberlin love Australia. If it were legal I'm sure the two would get married and live happily ever after. Maybe in a few years it may be legal… Until then, the affair will continue and it's one that we will continue to enjoy.
Essential Information
Venue: The Hi Fi – Sydney
Date: September 7, 2013
Supports: Masketta Fall, William Beckett, The Maine
Website: www.anberlin.com
Anberlin set list:
The Resistance
Paperthin Hymn
We Owe This to Ourselves
Someone Anyone
Never Take Friendship Personal
Little Tyrants
Other Side
Art of War
Take Me (As You Found Me)
The Unwinding Cable Car
Impossible
A Day Late
Adelaide
Modern Age
Reclusion
Feel Good Drag
Self-Starter
Godspeed
Dismantle.Repair. (Stephen solo on piano)
(*Fin)
For full photo gallery – Click HERE