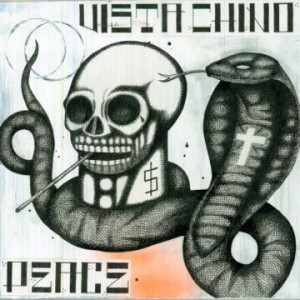 When Kyuss Lives! Were forced to change their name by a federal court judge in August of last year, there was only one option for a replacement – VISTA CHINO.
VISTA CHINO is the main arterial road leading to and through the band's home of Palm Springs, California, where Kyuss originated over 25 years ago. Drummer and producer Brant Bjork suggested it to long-time cohort, vocalist John Garcia, who immediately understood that the moniker represented the ultimate personification of their roots.
The road from Kyuss Lives! to the recording and release of VISTA CHINO's triumphant new album, Peace, has been a journey to hell and back for the reunified group featuring original members Bjork and Garcia alongside adopted Belgian-born guitarist Bruno Fevery.
Both staunch family men, Bjork and Garcia were pushed to the brink of bankruptcy fighting for their right to retain their name in a lawsuit brought against them by former bandmates. Sadly, as is too often the case, the side with the most money won. But Bjork and Garcia stuck solid through it all, writing and recording the 10 tracks that comprise Peace in Bjork's newly constructed studio in Joshua Tree, CA.
"It was a difficult time, and I think a lot of people expected us to fold," says Garcia. "But we didn't fold. We didn't fold because we have an amazing amount of trust and respect for one another, and there's a void that needed to be filled. There were quite a lot of hoops to jump through and hurdles to overcome, but we did it, and now we're right where we're supposed to be."
The resulting album is one that is sure to satisfy even the most diehard fan. Peace remains true to the groove-laden desert sound and indelible spirit that has made Kyuss one of the most revered heavy rock bands of the past two decades.
Garcia's vocals have lost none of their power, as he takes on a variety of material, from the classic hard-driven "Dargona Dragona" to the heavily melodic "Sweet Remain", from the moody and psychedelic "Planets 1 and 2" to the tender and stripped-back "Adara".
Meanwhile, main riff writers Bjork and Fevery lock into a tight groove. Bjork's drumming is as sharp and on-point as ever, while new guy Fevery delivers inspired gusts of hot fuzz and freaked-out solos. Bass duties on the album were shared between former Kyuss bassist Nick Oliveri, who features on the majority of tracks, recent live fill-in Mike Dean (Corrosion of Conformity), who played on one track, and multi-instrumentalist Bjork, who picked up the slack on a couple of songs.
"We understood that people around the world had come to really love and respect Kyuss and the music," Bjork says. "So we wanted to bring that music back to the people. But as musicians we want to evolve and challenge ourselves, and I feel we did both. We had a great run as Kyuss Lives!, now we're ready to launch this new album as VISTA CHINO – we're pretty stoked, man."
Set for release August 30th in Australia & NZ through 3Wise Records, Peace maintains the intensity and integrity that Kyuss have always been known for. It is a continuation of the band's incredible legacy, a testament to their refusal to throw in the towel, and proof positive that Shakespeare was on the money when he wrote: "A rose by any other name would sound as fucking awesome."