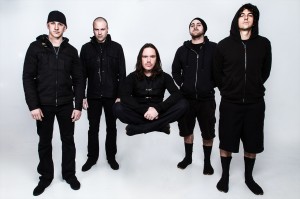 TWELVE FOOT NINJA's Shiruken tour kicks off on August 30 and smashes through all major capital cities as well as a couple of lucky regional cities. Today they announce which carefully selected Australian acts will accompany them on each performance – see below for the full list!
This will be Australia's last chance to catch the 'Ninja's critically acclaimed live show before they leave for Europe and the USA.
"The Ninja boys were flawless in the execution of their relatively brief, classy hour long set, a set that left the huge crowd gasping for more" – Beat Magazine
Look out for our interview with Kin of Twelve Foot Ninja soon!
TWELVE FOOT NINJA 'SHURIKEN' TOUR
Fri 30 Aug – Ferntree Gully Hotel
With Engine
Thu 5 Sep – Coffs Harbour Hotel
With Shepherd
Fri 6 Sep – Tempo Hotel, Brisbane
With Caligula's Horse + Humality
Sat 7 Sep – Parkwood Tavern, Gold Coast
With Caligula's Horse + Humality
Thu 12 Sept – Zierholz Uc, Canberra
With Meniscus
Fri 13 Sept – Waves, Wollongong
With Breaking Orbit + Meniscus
Sat 14 Sept – Manning Bar, Sydney
With Breaking Orbit + Meniscus
Thu 19 Sept – Small Ballroom, Newcastle
With Teal + Let The Number Be X
Fri 20 Sept – Entrances Leagues, The Entrance
With Teal + In Hydes Shadow + Bleeding Gasoline
Sat 21 Sept – Mona Vale Hotel
With Meniscus + Dividers
Thur 26 Sept – Prince Of Wales Hotel, Bunbury
With The Meaning Of
Fri 27 Sept – Rosemount Hotel, Perth
With The Meaning Of + Ron Pollard Quintet
Fri 4 Oct – Corner Hotel, Melbourne
With Caligula's Horse + Toehider
Sat 5 Oct – Fowlers Live, Adelaide
With Quiet Child + Red Light Sound
Tickets from www.twelvefootninja.com