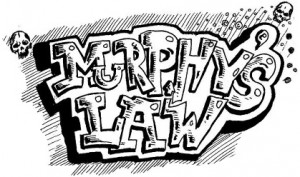 "Jimmy Gestapo was the life of the party, and made sure that everyone had a good time. As he pointed out during their set, it was really cool to see Hardcore heads, Punk kids and Metaleros, mixed together in the pit having a blast!" – www.hornsuprocks.com– 2011
New York Hardcore icons, Murphy's Law, are amped up for their first Australian tour in their 30 year career.
Murphy's Law were founded in Astoria, Queens, New York City in 1983. Over the past 30 years, they have become cornerstones of the American hardcore legacy. Murphy's Law ride the line between obnoxious skatepunk, grooving urban rock 'n roll and molten metal but while most of their contemporaries and followers aimed to be the most brutal, tough or politically conscious band around, Murphy's Law instead promoted an upbeat party attitude. The band enlisted John "Norwood" Fisher of Fishbone to produce their 1991 album, "The Best of Times", incorporating funk and ska elements into their sound way before skacore became popular. Murphy's Law pioneered what has become known as the sound of New York Hardcore back then and now represent what it stands for today.
Through countless line up changes, Murphy's Law's lone remaining founder is Jimmy Gestapo, always the life of the party, Gestapo has a reputation for making sure every punter in the crowd has a damn good time! At a recent show in New York, Spin.com reported "During "Panty Raid," someone brought a bucket of beers onstage, which Murphy's Law frontman Jimmy Gestapo distributed to the front row, along with shots of Jager." Many might recognize Gestapo from Grand Theft Auto IV where he played The DJ of Liberty City Hardcore. The game also featured the Murphy's Law track "A Day in the Life".
In 2013, Murphy's Law's line up once again includes journeyman guitarist, Todd Youth (ex-Danzig, ex-Agnostic Front, ex-D Generation) and is completed by Raven (Sax), Dug 'The Mouth' (Bass), Vincent Alva (drums) and Ian 'The Welshman'.
2013 will the first chance Australian hardcore heads will get to party on with one of the most revered bands in all of NYHC lore, Murphy's Law! Let the party begin!
MURPHEY'S LAW
September
Wed 18th – Zoo. Brisbane
w/ Mouth Guard / Plan Of Attack / Brazen
Thu 19th – Barwon Club. Geelong
w/ Declaration / Flowers For Cops
Fri 20th – The Tote. Melbourne
w/ Party Vibez / Cold Ground
Sat 21st – Hermann's Bar. Sydney
w/ Toe To Toe / Vigilante / Street War
Sun 22nd – Cambridge Hotel. Newcastle
w/ Family Values / Postal
Tickets for all shows from metropolistouring.com and the venues