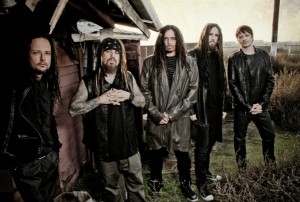 Grammy Award-winning multiplatinum hard rock innovators KORN have revealed that their 11th studio album, will be released on October 4. Titled 'The Paradigm Shift', it marks the emotional return of much-revered co-founding guitarist Brian 'Head' Welch for his first album with Korn since 2003's 'Take a Look in the Mirror'. This record serves as the follow-up to the band's critically acclaimed 2011 dubsteb-metal hybrid 'The Path of Totality', which entered the Top 10 in the US Billboard chart and was hailed by Revolver Magazine as their 'Album Of The Year'.
'The Paradigm Shift' is Korn's first time working with super-producer Don Gilmore, whose legacy also includes producing Linkin Park's legendary 'Hybrid Theory' album. Gilmore recorded the album at Buck Owens' studio in their original hometown Bakersfield, and at Los Angeles' famed NRG Recording Studios. Korn initially announced Head's return via a captivating clip on rollingstone.com, and went on to discuss the reunion in this in-depth interview with artistdirect.com, to much excitement from the band's dedicated fan base and the music community.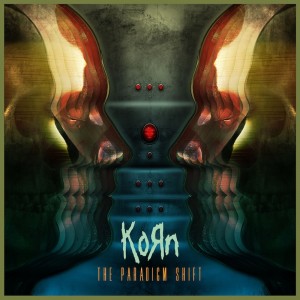 'The Paradigm Shift' holds special significance for the members of Korn as musicians. Guitarist James "Munky" Shaffer explains, "It's a term encompassing different perspectives. You can view a piece of art from one angle and it takes on a certain image. If you look from another angle, it's a completely different image. We liken that to Korn in 2013. With Head back in the fold, all of the elements fans have loved since day one are there, but we're interpreting them from a new perspective. It's a bigger, brighter, and bolder Korn."These rock luminaries recently embarked on their reunion live run stateside, headlining the SOLD OUT Rock on the Range Festival, which drew over 40,000 fans to Columbus, Ohio. Having just completed a festival run across Europe playing coveted main stage spots at Download, Rock am Ring, Rock im Park festivals, Australian fans are no doubt gagging for the live return of Korn to our shores following their monumental 2010 visit.
Listen to the new track 'Never Never' over at the band's Facebook page and get ready for another staggering, seismic offering from the legendary KORN!
WATCH: THE PARADIGM SHIFT ALBUM TRAILER

Korn – The Paradigm Shift
Out October 4 via Prospect Park/Caroline