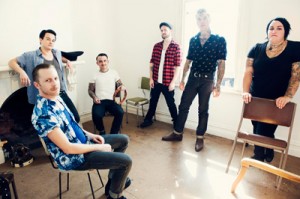 It is with sadness that we announce that KING CANNONS have decided to call it a day.
The last 6 years has been an incredible ride for the much loved Kiwi sextet. Born out of the New Zealand punk rock scene, KING CANNONS have been nothing if not ambitious since the start. Auckland, London, and Melbourne have been called home, the band signed major recording, publishing and management deals, and enjoyed the global release of their EP and album.
The release of KING CANNONS debut self titled EP and debut album "The Brightest Light" saw the band tour extensively throughout the world, with their last show at Bluesfest in March 2013.
Musical difference is a boring description for a bands breakup, but in this case it is the truth. KING CANNONS have always said they were a continuously evolving band, but behind the scenes these changes have been increasingly more dramatic and have split the passions internally.
The members are musical lifers and still remain inspired to create. All of the members are busy writing, recording, performing with new and old projects, the fruits of which will be with you shortly.
KING CANNONS are sad to say goodbye, but remain optimistic. It will come as no surprise to fans that whatever comes next for Luke, Lanae, Rob, Mikey, Jonno and Dan that it will come from the heart.
Quote from Luke Yeoward:
"A huge thanks to our loyal fans and people who have supported us along our journey. I am eternally grateful for you, and the experiences we had as a band. We gave 100% in everything we did, and always said we would allow ourselves the space to grow as creative individuals. In this case, the growth was positive for the individual's, but tough for the collective. The right thing to do was to grow apart. Even though it is sad to say goodbye, we hope it will lead to new beginnings for us all. I will continue my musical journey as a singer songwriter, aiming to record new material, and hit the stage over the southern hemisphere's summer."
Quote from Lanae, Jonno, Rob and Mikey:
"We are very grateful for the experience that was King Cannons. It sure has opened our eyes to not only the musical industry but the world wide fans that brave it all to show their support. It has been a pleasure playing for each and every one of you! Thanks.
Out of the ashes you'll see more growth, determination, passion and happiness as one ride ends, another begins.
Quote from Dan:
It's been a wonderful 18 months and I have enjoyed every minute of my time in King Cannons."