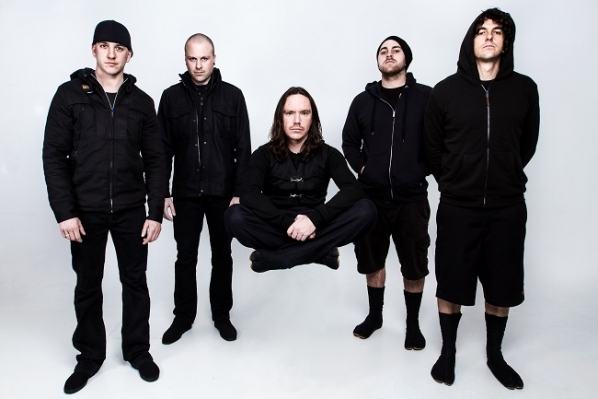 "It's amazing, and just to see that kind of support for a local band is incredible and it just shows me that there is hope from the music industry and the corporatized structure of it and it now becoming collaboration between your audience and the band, you know for me it's really exciting. It's still in its infancy, it's a business model that's just really started and bands are only just started to get into or utilise, but it was incredible"
From tour release: Twelve Foot Ninja bring their sharpened live show to Australian venues this August-September-October for their last Aussie tour before heading to Europe, USA, and Canada. Fresh from their national tour with the legendary Fear Factory and recent praise from the likes of Mike Portnoy (Dream Theater), Dino Cazares (Fear Factory), Wolf Van Halen (Van Halen/Tremonti), Misha Mansoor (Periphery) and the folks at Soundwave, the genre-bending five-piece have gone from strength to strength since the release of their critically acclaimed debut album 'Silent Machine' in late 2012.
We chatted to Kin from Twelve Foot Ninja about the last year and some highlights, as well as new material and the amazing show they have planned for their upcoming 'Shuriken Tour' dates, definitely not a show to miss…
You've been busy the last little while, let's run through some highlights… How was the Fear Factory run?
Oh it was unbelievable it was definitely a surreal experience and a teenage dream come true, be that a teenage wet dream, come true *laughs* they were such good guys, they were lovely guys and I looked up to them a lot when I was a teenager and I had posters of them on my wall, I basically had to keep pinching myself while we were on tour it was incredible, it was a lot of fun.
How was the reaction for you guys?
It was actually a lot better than we excepted, we didn't expect much, it's kind of better to come from that stand point, metal fans can be pretty open minded anyway musically anyway, some can be close minded, the majority of the people there really appreciated us, or appreciated the heavier end of our spectrum, so it kind of made the reggae and the latin a little bit more permissible, so yeah we got a really good reaction actually, better than we thought.
Now let's talk about the amazing response to the Pozible campaign; you broke a record for the highest amount ever crowd funded for a video, how chuffed does that make you feel?
Oh man, it's amazing, and just to see that kind of support for a local band is incredible and it just shows me that there is hope from the music industry and the corporatized structure of it and it now becoming collaboration between your audience and the band, you know for me it's really exciting. It's still in its infancy, it's a business model that's just really started and bands are only just started to get into or utilise, but it was incredible, we thought it was a pretty ambitious project from the start. We were asking for $45K which is a lot of money, I think it was the last week and we were talking to each other saying that this may not happen and we were already formulating a plan of damage control if it didn't happen and yeah then we had this injection of $10,000 from this guy in Singapore that he wanted us to play his birthday party, it was soon after that that people just started throwing in a few dollars here and there and we actually exceeded our funding target, we reached about $53K and it was just astounding. We never thought that was possible, but it is *laughs* and I feel very humbled by that.
So how about an update? We hear it's looking pretty epic, so what are we going to see in it?
You'll be seeing it soon, it's still being made at the moment, but we've shot the majority of it, but from my point of view it looks very, very cool so the fans are in for a treat. I can't exactly say when it's going to happen but I'm pretty sure we'll be making an announcement on our facebook page, so keep an eye on it.
For $53K you'd want to make it good… *laughs*
Absolutely, it better be bloody good *laughs*
I interviewed Spencer and Mark from Periphery in Feb when they were here for Soundwave and they were raving about you guys and being a part of the video, are there any other special guests you can fill us in on?
Yeah we've got a 7 or 8 foot Alaskan brown bear that makes an appearance, that's probably our biggest guest I'd say, and also a troll that our guitarist Steve Mackay does battle with as well. That's about the extent of the guest, also a Penthouse Pet as well, an Australian Penthouse Pet.
You left mentioning that until last?
*laughs* yes…
It's now time for your own headlining tour starting at the end of this month, what surprises have you got up your sleeve for this run?
Well, we've got quite a few actually, Russ our drummer is going to set my hair on fire, Stevic the guitarist is going to do a 43 minute maraca solo, our bass player Damon is going to do a one man solo tribute to Kanye West using only his glow in the dark sneakers. Rohan our other guitarist is going to be doing the entire gig on horseback, we'll be handing out apples at the door so you can feed him, Rohan that is, the horse will be well fed before the show *laughs* it's going to be a laser light show and pyrotechnics and all that sort of thing, but seriously it's going to be five guys giving it their all and just pumping out the hits. *laughs*
So for those who have never seen you live, and shamefully I must include myself in that list, aside from the above how would you describe a typical Twelve Foot Ninja show, to me the word that comes to mind is energy?
Yeah absolutely, I think that seems to be the feedback that we receive more than anything else, the energy of the show is high and dynamic, we put everything into the show, all that we've got, blood, sweat, tears, body and soul and that's our goal, we'd love for people to walk away with a smile on their face and at least give them some time away from their daily grind or whatever that is, and that is definitely our goal to give them as much energy as possible.
And free apples…
Absolutely, free apples and laser light spectaculars.
'Silent Machine' has been out for around eight months now, have you already been working on new ideas and new material?
We're constantly working on new material because we're a band relatively in our infancy, we're not afforded the luxury of taking several years between albums, so it's really important for us to keep working and developing our sound, but we're definitely in the process of working on the second one,  but it's like we're focusing more on the tour and also subsequent tours that are coming up.
With so much going on over the last little while, have you found inspiration?
There's so much inspiration to draw on, there's so much music coming out constantly that I myself seek out new music and new bands all the time, all of the bands I love have some sort of influence, we've also toured with a lot of bands that do things different and bring a different approach so that rubs off too.
Are there plans to take the Ninja overseas?
Yes we do, we're actually as an extension to our 'Shuriken Tour' the national tour, we're heading over to Germany for a couple of shows over there, we're playing Euroblast over there, and I think we're doing a sow in London as well and yeah it's amazing, it's the first time we're heading overseas, across the trenches so we're all really excited about it.
Have you had much feedback from overseas?
Yes we have, I think we're actually more popular overseas than we are in our own country *laughs* so we've had quite a lot of people contact us from Europe especially, and now we're getting more and more fans from The States as well, and so it definitely feels like there's a warm reception for us over there, so we can't wait to get over there and do our best to convert and convince people of what we do, and represent Australia.
I love that you guys seem to have fun with what you do. What is it about being in Twelve Foot Ninja that you enjoy the most?
I myself, I couldn't really speak for the band as I'm sure everyone has a different take on it, I enjoy every element from writing to recording to rehearsing to doing shows I think I get the most out of playing shows as the response between the audience and the band is kind of immediate. I just watch people having a great time and having a great time and singing along to the music is just the best feeling in the world, there's nothing like it. So I think the top of the pile for me would definitely be live shows, because of that interactivity.
As I shamefully mentioned before, I haven't seen you perform live yet, but do you throw in any covers by any chance?
Not any more, we have chucked in a couple of covers in the past but we've got enough material now to do our own stuff, but I wouldn't rule that out for the future, we've been speaking about perhaps bringing a couple of covers into the sets, but we'll see what happens.
In that case I do like to ask that if there was one song in the entire world that people may not expect you'd cover but really want to, what would it be?
Hmm… that's a really good question, I'd say and it would be for us, and it's been our theme songs for a very long time, it would be The Doobie Brothers 'What A Fool Believes' *laughs* we just may do that one day.
In the five years you've been together, what would you say was the biggest change you've seen as a band take place?
I'd say it would be the synergy within the band, I'd say we've grown not only with our skills but also our relationships we know each other a lot bete we did when we started out, that can definitely change the dynamic and brings a band closer, and I think that reflects in our performances as well and in the music we're writing, so the biggest shift we've experienced is getting closer to each other on an interpersonal level, enhance sort of a stronger chemistry a stronger chemical make-up.
You mentioned before that you think you're bigger overseas than you are here, what is it do you think about the Australian rock / metal scene that isn't really working over here at the moment?
It's just small, it's just really small and I don't think there's much commercial representation of that particular genre of music or that particular scene, at the moment it seems to be dance music, dance pop and hip hop really and indie, and I think there've very little exposure for that type of music. We've actually been watching it over the last five years and that tide seems to be shifting quite a bit which is a really encouraging thing, we're seeing more and more bands of sort of our ilk getting played on radio, especially on JJJ, so I think the tide is turning, I think the key is to expect to see a lot of the awesome bands that are a part of that scene in the future.
2013 is nearly over… So let's predict the future. In the next year Twelve Foot Ninja will…
Oh good question… more tours, definitely more tours, we're also planning on hopefully releasing our second album as well. We're also working on hopefully, not playing our shows but we're contacting the company that created the holographic Tupac that appeared at Coachella a couple of years ago, so I think most of our future shows will be holographic versions of us and hopefully there will be a bit more pyrotechnics and all of that stuff as well.
Worse comes to worse you could always have a holographic Doobie Brother…
Absolutely, why not? *laughs*
Essential Information
From:    Melbourne, Australia
Band members: Damon McKinnon – Bass, Kin Etik – Vox, Shane 'Russ' Russell – Drums, Steve 'Stevic' Mackay – Guitar, Rohan Hayes – Guitar/Vox
Website: http://www.twelvefootninja.com
Latest release: Silent Machine (out now – Volkanik/MGM)
Catch Twelve Foot Ninja out on their 'Shuriken Tour' at these dates:
Fri 30 Aug – Ferntree Gully Hotel
With Engine
Thu 5 Sep – Coffs Harbour Hotel
With Shepherd
Fri 6 Sep – Tempo Hotel, Brisbane
With Caligula's Horse + Humality
Sat 7 Sep – Parkwood Tavern, Gold Coast
With Caligula's Horse + Humality
Thu 12 Sept – Zierholz Uc, Canberra
With Meniscus
Fri 13 Sept – Waves, Wollongong
With Breaking Orbit + Meniscus
Sat 14 Sept – Manning Bar, Sydney
With Breaking Orbit + Meniscus
Thu 19 Sept – Small Ballroom, Newcastle
With Teal + Let The Number Be X
Fri 20 Sept – Entrances Leagues, The Entrance
With Teal + In Hydes Shadow + Bleeding Gasoline
Sat 21 Sept – Mona Vale Hotel
With Meniscus + Dividers
Thur 26 Sept – Prince Of Wales Hotel, Bunbury
With The Meaning Of
Fri 27 Sept – Rosemount Hotel, Perth
With The Meaning Of + Ron Pollard Quintet
Fri 4 Oct – Corner Hotel, Melbourne
With Caligula's Horse + Toehider
Sat 5 Oct – Fowlers Live, Adelaide
With Quiet Child + Red Light Sound
Tickets from www.twelvefootninja.com