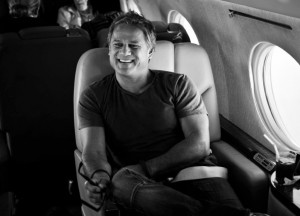 Jon Stevens' remarkable career as a singer, songwriter and performer continues to involve many exciting projects. Recently, sold out shows for Andrew Lloyd Webbers' Arena Spectacular 'Jesus Christ Superstar,' playing the part Pontius Pilate and now heading across the U.S. with the Dead Daisies. This 24-date Uproar tour, sponsored by Rockstar Energy drinks and Cold Cock Bourbon, is the first time the band has toured the United States.  Jon is featuring a broken leg and recovering from surgery on his hand from a recent boating incident.
Whilst he tours the U.S. the new Disney feature movie 'Planes' is hitting cinemas across the globe.  This new Disney film features the title track 'Fly' as performed by Jon, written and produced by Jon Stevens and John Field.
"As a huge fan of Disney animated films, it is just excellent to be involved in this action-packed comedic adventure – 'Planes.'   To have written and produced the lead song – 'Fly' is both a privilege and I am thrilled to be part of such an amazing project" – Jon Stevens
"Disney's Planes" is an action-packed 3D animated comedy adventure featuring Dusty (voice of Dane Cook), a plane with dreams of competing as a high-flying air racer. But Dusty's not exactly built for racing—and he happens to be afraid of heights. So he turns to a seasoned naval aviator who helps Dusty qualify to take on the defending champ of the race circuit. Dusty's courage is put to the ultimate test as he aims to reach heights he never dreamed possible, giving a spellbound world the inspiration to soar. "Disney's Planes" takes off in theatres on Aug. 9, 2013.
The Planes soundtrack is currently available for pre-order at both iTunes and Amazon.com and will be available nationwide August 6th.
Check out the song here!
Follow Jon at:
https://twitter.com/JonStevensMusic
http://www.facebook.com/jonstevensofficial