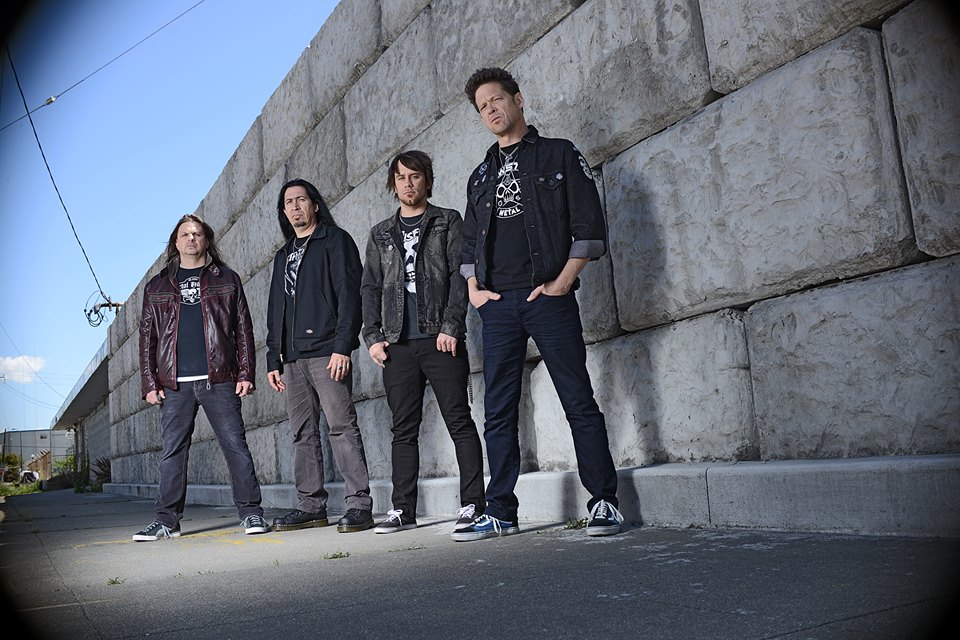 "No matter what language or dialect or whatever that you speak, Heavy Metal Music means Heavy Metal Music and I want to make sure that everybody's clear that if I'm going to do this again and go all the way in frickin neck deep, I want to make sure that there's question as to what style I'm playing."
Jason Newsted, many if not all of you would know from his time in that still up and coming band called Metallica, but after years in the industry playing music, through bands such as Echobrain, Voivod, Flotsam and Jetsam, and playing with the likes of Ozzy, the list goes on… he has seen it all. Now he has stepped out at the front and started Newsted taking on vocal duties and is sending the world a message.
We had a great chat with Jason Newsted about his new labour of love and the band that bears his name, timing, creation and intensity, oh and he may have let slip when we'll see him back in Australia with his band…
So why was now the right time to unleash Newsted on the world?
Destiny chose it, man. There was no plan, I swear to God. I just went in to make this little demo tape, and somebody heard 'Soldierhead' and it took off and the next thing you know we've got a world tour and managers and all that stuff, I swear to God. I never ever, ever, ever planned on having a big band again, or putting my name on it or anything, it just happened and people said go for it and kept encouraging me, and actually I went to play with the Metallica guys at the end of 2011 and I got all excited about playing again, I wrote some songs, gave them to my buddies, we turned them into something, next thing you know it's eighteen months later and I'm talking to you. I was never like 'here's going to be the logo and this is going to be the thing and we're gonna do this and gonna do that' there was never any of that. I've mostly just been playing catch up for the last eight months from the managers and agents that booked me a bunch of shows before I really even had a band together, before I even had the fourth member of the band they booked me a bunch of shows just because they knew I was coming back out and people were excited about it.
This is your first time fronting a band, what is it like being the singer after so many years of well, not…?
It's a little bit scary and it's also really fun, I think that even all the drummers in the world and even the guy on violin in the back, everybody wants to be the front man at some point, no matter what they say *laughs* I think they want that, we all crave it a little bit, because everybody wants to be a show off in this business, you've got to have that ego and want to show off and that's kind of what the deal is. Early days in Flotsam and Jetsam, I sang in Flotsam and Jetsam and fronted the band before we had a singer and through time and with Metallica, it was one verse of that song, another verse in that song, a couple of years later a few more verses and by the end of it I was singing a whole song, so I've built up that way little by little. As far as a vocalist playing bass and laying it all down like that it's a very new territory and there's a lot of new roles to assume, so I'm mostly taking it as a challenge, nervous excitement comes pretty quick when I know that the chips are down and I know that I've got to go and sing for everybody, but remembering the songs and getting to remember all the words again, getting to say what I want to between the songs to the people, I really like that part, I don't exactly thrash the way I used to because I have to keep my mind on remembering everything, but there's a lot of different things to it. We've got about fifty shows under our belt now, each time it's a challenge but each time it's getting better as well.
The album is called 'Heavy Metal Music' which screams the obvious, but what was the idea behind the name specifically?
For clarity for the fans around the world, in Metallica, and I was raised in that band and it was always instilled in me that it's a global view, it's a worldwide view, we play music for the world not just the United States, so it's kind of the way it's gotta be. I've played in a lot of countries in my life, so no matter what language or dialect or whatever that you speak, Heavy Metal Music means Heavy Metal Music and I want to make sure that everybody's clear that if I'm going to do this again and go all the way in frickin neck deep, I want to make sure that there's question as to what style I'm playing. It's not Echobrain, it's not Gov't Mule, not Sepultura, not DJ Shadow, not any of that stuff that I've messed with before, this is Heavy Metal Music.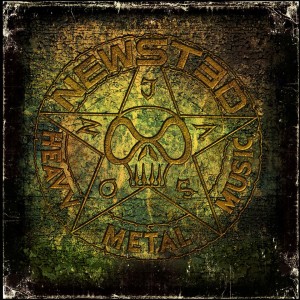 What do you feel is the one thing that you're able to do now that you never have been able to do before?
I think it's you know kind of like this obvious thing where the culmination of all my experiences of playing with those different bands that I just mentioned, and being in Metallica for fifteen years, and Flotsam for five and Voivod for eight, and all these different players that I have gotten to hang out with, it's just spitting out all those ideas and creative things and experiences and spitting them back up for the first time, along with the original teachers, Motorhead and Sabbath and Rush and all these bands that made me what I was to begin with and helped me invent my style. So it's kind of a culmination from all of those pieces put together, for the first time, me writing songs from top to bottom, all on the computer, programing the drums, all the guitar parts, bass and all that sort of skeletons of the songs and then I give them to my boys and they come in with their instruments and make them what they are, so it's the first time in my career that I've done that, it's pretty rewarding I didn't know that I had it in me really.
So what do you feel you're able to do now though that you feel you weren't able to do in any of those bands?
Having complete control and getting to call the shots on all the stuff, design album logos, being able to write all the words, and sing what I want, and say what I want and get the message across that I want and all those things I think is the best thing. I got to do some of it in Flotsam, and that was a really long time ago, not the same kind of message that I create now back then, that was more like fantasy like stuff and lyrics and now it's more I hope a real world message and things that maybe I learned along the way hopefully I can pass on or at least give a little back and show by example.
You've always been one of my favourite bass players to watch purely for the intensity I feel when hearing or seeing you play, what is it about music for you that demands this kind of intensity?
Authenticity, there's quite a few good players, the ones that we know the cream that rises to the top in all different genres, you pick them, let's say GaGa, let's say Prince, Angus, just grab a hold of… it can be any genre, it really can man… Richard Thompson, people that become the song every song, Michael Stipe… every song, every time, no matter what the style of the song, tuning, key, approach, whatever, that gift somehow I developed that gift over time and became every song, and so that is why that demands that kind of standard because it's already set from the people I got to hang around or Metallica instilled in me the standard that you have to reach before you even start really building on it, you know? It's kind of in there pretty deep, but the intensity is something you've either got to go all the way in or not at all.
You mentioned you've done around fifty shows already and you've been out on the Gigantour, how have the shows been going?
Very good man, the first ones were warm up shows and we were doing little clubs around California and then a little bit in the east and mid-west as well, Chicago, New York and stuff, and do regular full sets of the band, an hour and twenty minutes and kind of busting out rust off and really formulate our band in front of people and make the mistakes in front of smaller crowds and be kind of the real deal you know?  We did those for up through the end of May and then went right into Sonisphere, the end of May, back to back shows in Spain, Madrid and Barcelona opening for Iron Maiden at Sonisphere, so we went from a three hundred seat club to forty thousand *laughs* in about three days, and so I'm glad we did the warm up shows to get us ready, then as we started going through Europe the acceptance, the overwhelming positive response from the people and how happy everybody was to see us just really spurred us on of course and inspired us to do better each time, and so that's what happened.  The shows started honing, the band started getting better, I started figuring out my singing and breathing and approach and presentation and entertainment and production and tightness of the set, which songs work and which songs go together and which songs don't and all that thing started coming together, so by the time that we got to about mid-way through Gigantour I think we were setting a pretty good bar. We were the first band on the stage for Gigantour and we played pretty early in the afternoon to not many people, the first time in my career that I've ever played to empty seats and that was quite a little challenge, the first two or three shows of that got me a little bummed out, but we all looked at is a band as a challenge that whoever was there we were just going to crush them and that they went home and said 'Newsted was the fuckin band to see today' and so we set that standard high, and all the other guys, Vinnie and Zakk, Dave, all those guys had to come out and fire a little harder because of how we started out each night. So I would say that they were successful shows, and probably better received than I could have predicted.
I do have to ask if you have Australia on your radar to tour in the near future?
We're looking at the third week of February 2014 for Newsted's debut in Australia.
Hey, that sounds like Soundwave time…
It sure does… *laughs*
When was the last time you were here?
I think 99 or something…
98 I think it was…
*laughs* you tell me dude, I'm still spinning *laughs*
With 2013 half over, what does the remainder of the year have in store for Newsted?
Well so we got the record out about ten days ago and it's doing really well, so happy, happy, happy about that, and then we've had quite a few offers coming in, and they have to start making a little more sense for me to go with them. Hoping the record does even better and then I get a little leverage for offers for the band for live performances, obviously the Soundwave one was appropriate and we've already agreed to that. We got Japan shows I think are going to follow the Australian shows, then this final quarter we've got some videos to do, I've got a bunch of artwork and merchandise stuff I'm working on, live shows we have some offers for some UK stuff and a couple of European things that are in the works now but not confirmed. So a lot of stuff on the table, but like I said, they've gotta make a little more sense with it, it's important for me that you know that these first fifty shows I paid for us to play, like Voivod and Echobrain before it, the Newsted band is a labour of love, I do what I want with the money I've earned from Metallica, and what I want to do now is take the Newsted band out to the world, so these first fifty shows I paid for us to get around the world to do what we needed to do and now it's up to promoters to bring the right offers to us to continue, and so that's where we're at.
Thank you for doing that too and congratulations on the album too, it's killer.
Oh thank you, I appreciate that too. I know people that know better and the people that can see through the false shit, they know this is real, they can hear a little bit of attitude and shit, a couple of fucked up notes, voice cracks here and there, it's the real thing man, I didn't go in and make cheating auto tune and all that, not doing that, I want to be able to play it for you exactly what you hear the four of us play when you see us live, so fuckin' important to me, man.
Well I look forward to seeing that in February, it will be awesome!
It will be incredible…
Essential Information
From: USA
Band members: Jason Newsted – Vocals/Bass, Mike Mushok – Guitar, Jessie Farnsworth- Guitar, Jesus Mendez Jr. – Drums
Website: http://newstedheavymetal.com
Latest release: Heavy Metal Music (Sony Music Australia)