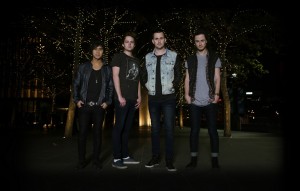 FOR OUR HERO are back with a brand new record, titled YOUNG WOLVES. This time around the boys are here with a more focused offering, closely nursing themes of intense and audacious hunger; whether that is for love, your dreams or simply wanting to survive.
Out now through MGM and produced by Matt Malpass (Train, Hey Monday), fans can expect driving beats and empowering sing-a-long choruses of the 6-track record, complete with the trademark elements that made fans fall in love with the melodic rockers to begin with.
Lead single and title track YOUNG WOLVES is a pop anthem with howling hooks and thrashing guitars; verses biting with a reckless and desperate love. "YOUNG WOLVES is a song for the almost primal urge to completely and utterly give yourself to somebody," says vocalist Jay Taplin.  "That insatiable young love that keeps wanting more."
The song is the brainchild of primary songwriters Dave Tran and Beau Taplin along with singer Alex DeLeon of US band The Cab who, whilst in the country on the Maroon 5 world tour, met up at a quiet studio in the South-East of Melbourne. From there they crafted YOUNG WOLVES with the aim of writing a song that connects with the frantic heartbeat of kids in love (lust) everywhere.
In August, the five-piece will embark on a national tour in support of YOUNG WOLVES taking in the capital cities and giving fans a rock show, a lot of noise and unabated fun.  "A stadium show squeezed into a sweaty room," describes bassist Geoffrey Taylor. But the show is not over until long after the last song is played, the guys make sure to talk to each and every fan that comes out to a show.
FOR OUR HERO have fast established a name for themselves albeit independently. Their 2012 debut album 'Strange Days' peaked at number two on the national iTunes rock charts and earned them the #3 position on the national AIR Charts.  2012 culminated with the single release of 'Take The Night' which features on the YOUNG WOLVES EP, the offering debuting at number five on the iTunes rock charts.  Moving to 2013, the band embarked on a national tour supporting Short Stack front man Shaun Diviney on his solo tour in January before landing a spot on Melbourne's Big Day Out.
For Our Hero are here to make an impact, and people can't help but feel that this is not just a band with an idea – this is a band creating a movement.
www.facebook.com/forourheroband | www.youtube.com/forourhero | www.twitter.com/forourhero

YOUNG WOLVES NATIONAL TOUR 2013
TICKETS ON SALE NOW
SUNDAY AUGUST 11: THE OLD MUSEUM, BRISBANE, QLD (ALL AGES)
Tickets from www.oldmuseum.org or (07) 3257 4089
SATURDAY AUGUST 17: HQ, LEEDERVILLE, WA (ALL AGES)
Tickets from www.moshtix.com.au
THURSDAY AUGUST 22: NEXT @ COLONIAL HOTEL, MELBOURNE, VIC (18+)
Tickets available on the door
SATURDAY AUGUST 24: WRANGLER STUDIOS, MELBOURNE, VIC (ALL AGES)
Tickets from www.oztix.com.au
SUNDAY AUGUST 25: THE PROM, ADELAIDE, SA (ALL AGES)
Tickets from
SATURDAY AUGUST 31: THE LAIR @ METRO THEATRE, SYDNEY, NSW (ALL AGES)
Tickets from www.metrotheatre.com.au or (02) 9550 3666
For Our Hero are:
Jay Taplin – Vocals
Leon Blair – Guitar
Dave Tran – Guitar
Geoffrey Mark Taylor – Bass