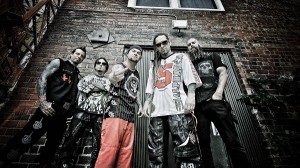 Today, acclaimed hard rock band, Five Finger Death Punch release their highly anticipated The Wrong Side Of Heaven And The Righteous Side Of Hell Volume 1 via Eleven Seven and Sony Music Entertainment Australia. The deluxe and standard editions of the album have already shot to the top of the iTunes metal charts in Australia at #1 and #2, and are sitting just outside of the top 10 on the overall iTunes chart. The album follows three prior RIAA  gold  certified  releases  for  sales  exceeding  500,000  copies:  The  Way  of  The  Fist (2007), War  Is  The Answer (2009) and American Capitalist (2011). Cumulative single sales have now exceeded over 4.5 million.
Five Finger Death Punch's brand new single, "Lift Me Up" (featuring Rob Halford of Judas Priest), is currently #1 on the Active Rock charts in the US for a second consecutive week. This is the eleventh consecutive Top 10 radio hit for Five Finger Death Punch, and the band's second #1 track following "Coming Down" achieving the milestone in 2012. Guitarist Zoltan Bathory shares, "It feels like the perfect storm. With the single 'Lift Me Up' (feat. Rob Halford of Judas Priest) being #1 during the week of the new record's release date, we are feeling a lot of love, a lot of support and a lot of anticipation from everyone. The band is equally excited because this is our best work to date and we can't wait for the fans to hear it."
Alongside Rob Halford of Judas Priest, special guests on the new album include: rapper Tech N9ne on an unexpected cover of LL Cool J's "Mama Said Knock You Out," In This Moment's Maria Brink on "Anywhere But Here," Jamey Jasta from Hatebreed on "Dot Your Eyes And Cross Your Teeth," and Max Cavalera of Soulfly on "I.M. Sin."
The band is entering their final week co-headlining the 2013 Rockstar Energy Drink Mayhem Festival alongside Rob Zombie. THE WRONG SIDE OF HEAVEN North American headline tour will follow, kicking off September 15th at the Aftershock Festival in Sacramento. Escape The Fate and Miss May I support, with Gemini Syndrome opening the show.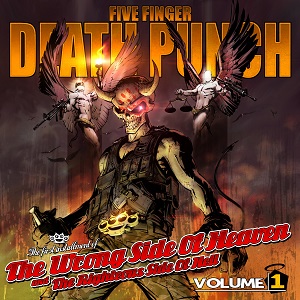 Album Track By Track webisodes, check out the links below:
WEBSITE:  www.fivefingerdeathpunch.com
FACEBOOK: www.facebook.com/fivefingerdeathpunch
TWITTER:  @FFDP