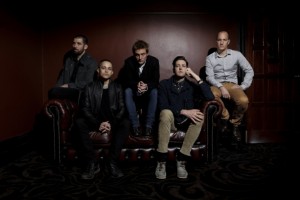 Perth's adored post-hardcore quintet
Eleventh He Reaches London
will reveal their third album, Banhus via
Hobbledehoy Records
on
October 4 2013
. The next moody volume from the triple guitar wielding Goliath will be accompanied by some very welcome, long-awaited tour dates.
Banhus is an Old English word meaning 'body', literally translating as 'bone-house'. The album's title and lyrical themes of existence, misery and death are captured in sonic form across seven songs of despair that feature Eleventh's most introspective material to date, and its hardest-hitting. Three years were spent writing the album, and a year was spent in the studio using techniques never before adopted by the band. Banhus is Eleventh He Reaches London's most ambitious work yet.
This is not 'safe indie music' or 'blissed out psych'. Banhus is raw, organic, intricately detailed and layered with melody. This is a band that has shared stages with acts as diverse as The Dillinger Escape Plan, Converge, ISIS, Cult Of Luna, Against Me!, Boris and Les Savy Fav, and garnered several nods from WA's illustrious WAMI Awards. Banhus will be a gift to eager old fans, and a fascinating ride for unwitting new ones.
LISTEN HERE
Eleventh He Reaches London 'Banhus' Tour
5 October – The Bakery, PERTH
10 October – Tempo Hotel, BRISBANE
11 October – Hermanns Bar, SYDNEY
12 October – Evelyn Hotel, MELBOURNE
13 October – Crown & Anchor, ADELAIDE
Eleventh He Reaches London – Banhus
October 4 2013 via Hobbledehoy Records
 www.facebook.com/eleventhhereacheslondon 
www.hobbledehoyrecords.com