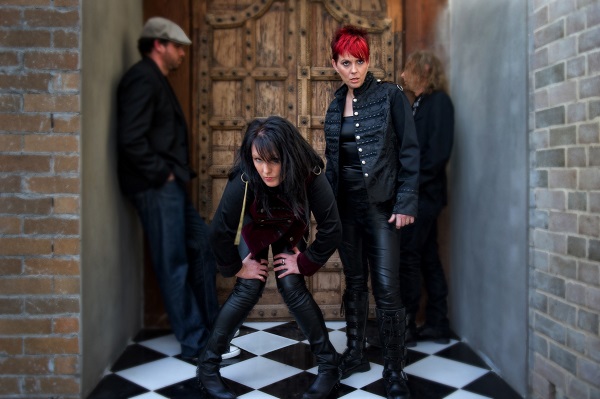 "I think timing in the world works for it now. We're in this world of change and to be changing with it works for us, and it's been surprising to us how much people are picking up on it, and you wonder why things don't work at other times but I think it's just the way the world rolls out, you can't make things happen, the more you want something the further away it gets you know? When you least expect it, when it's your time, that's when it happens and I think that's what's happening for us."
From Tour Release: Diva Demolition just got off their tours with Aerosmith, KISS, Motley Crue and Thin Lizzy, playing to tens of thousands of people nationwide. In August they head out on their 'Miss Adventures' tour with Melbourne based alternative rockers – Bellusira. Diva Demolition will release their highly anticipated album, produced by Craig Porteils, 'Like It Too Much,' which is a snapshot of the past twelve months of their wild musical ride, their relationships and new insights into life.  Good straight Rock 'n Roll with a taste of cherry pie.
We had a chat with Kylie from Diva Demolition about the band, their debut album, touring and especially touring with the likes of KISS…
So to start off, can you give us the short version of the Diva Demolition story and how you came together?
Partnerships are always interesting and they come from a long journey, and I suppose the Diva Demolition partnership is me and Sherree and we've been playing together for many, many years, going on eight and that's a long time in the rock world let's face it, bands come together and split up and come together in that time. We originated in Adelaide and we were an all-girl band for some time, about three years ago we moved to Brisbane and the all-girl band struggled and we had to make money to release the third album, which was recorded but not paid for, so we went hard here in Brisbane and I think we played more shows than we had anywhere, ever, in 2012, but four of those shows we played with Doc Neeson, and people saw us at that show and we got signed up. Our alter ego was reinvented I guess, we got away from the all-girl thing and we renamed ourselves 'Diva Demolition', kind of a similar situation to the Flowers / Icehouse thing, we had an album called 'Diva Demolition'. A few people gave us advise even before we were signed up, we met up with Ross Wilson one night and he listed to our CD and loved it, and he sort of said you need to reinvent yourselves now and do this and that and that's how we sort of came about.
After being around in bands for quite a while, what is it about Diva Demolition that works?
I think timing in the world works for it now. We're in this world of change and to be changing with it works for us, and it's been surprising to us how much people are picking up on it, and you wonder why things don't work at other times but I think it's just the way the world rolls out, you can't make things happen, the more you want something the further away it gets you know? When you least expect it, when it's your time, that's when it happens and I think that's what's happening for us.
For those that have never heard you before, how would you explain the sound of the band?
Aussie rock but with a chick twist I guess.
Your debut album 'Like It Too Much' is released on August 2nd, how excited are you to get it out there?
Oh very excited, it's been a long time coming. Well we've been playing the songs around for about a year now and some of them have a history and some of them are brand new as well, some of them are very, very new and we're excited as it's been the ride of our lives getting to this point, so it's a good time to release the album. We couldn't do it any earlier as we've been too busy…
On that… you've had some amazing support slots with the likes of Kiss, Mötley Crüe, Aerosmith and more. How was that experience for you?
Oh, you know it's like watching television in many ways as you're watching your idols but they're in real life, it's like you're in some sort of television show *laughs* and I don't know if that actually happened, I could wake up tomorrow and it could've been a dream.
No, it happened, I saw you open for KISS and Motley Crue in Sydney…
You did? It was real? Well I'm relieved to hear that, because it's a bit like that, once something's gone you're onto the next thing and like wow, you have these memories and say 'Jesus Christ, that just happened', now I didn't actually see Jesus Christ, because that would be something indeed if I did see Jesus Christ, but it was KISS, that's kind of like rock religion. Gene was my crazy uncle for like three weeks. *laughs*
Did you pick up any tips from watching those bands play?
Yes… that the work just gets harder and harder and harder, what happened there is I came off the biggest tour of my life, I'm exhausted after it, you know what they did, they just went onto the next tour and they've done another one and another one after that. You know what it taught me, get ready to work harder and harder and harder to be successful because these guys have got this brand happening and it's this ongoing this. Gene and Paul and the members that have been with them for years and years, much longer than everyone remembers Peter Criss and Ace Frehley and these guys have probably been in the role longer than they were, but they just tour and tour and tour, and it's not an easy thing to do, these giant costumes and make up and people everywhere, it's a circus. They're performers and they're very professional and it's not the party that everyone thinks it is either, it's just hard work.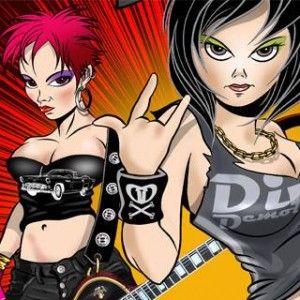 I saw you guys play here in Sydney and reviewed it which you posted on your site, thank you, now for a crowd of rockers out there, you guys did a great job, but were you nervous playing for a 'Motley Crue' for lack of a better term?
Yeah we had this plan before we even got on tour of what we'd say if people booed us and stuff, because we're from Adelaide and to be a support for a big band in Adelaide you've got to be ready to take it. We had a few plans *laughs*, if people said 'Boo, Boo' we were going to go 'Boobs, Boobs yeah, love those boobs' *laughs* and if they said 'Go Home' we were going to say 'Oh are you from Adelaide too?' and working out these sorts of things as we never knew what we were going to get *laughs* we just had no clue. Were people going to like what we do? We didn't know, as it's a scary position to be put in. I lost five kilos just thinking about it, no joke.
Is there anyone on your hit list that you want to play with?
I'd really love to do one of the female idols, I'd love Suzi Q, she's a bass player, I'm a bass player and we'd love to support her around the country. Joan Jett was close and it never happened. I love The Baby Animals, they were my cup of tea when I first got into music, and the Superjesus not long after that, that's eighteen or so years ago when I started getting into them… to be doing something rock chick now is amazing, because, of course Magic Dirt, but I don't think we do good service to our rock chicks here in Australia, I think a lot of them do it very hard. I go into this and I think what's in it for me?
'Rock n Roll dream' is a great track; do you feel like you've been living just that?
Yeah, art imitates life, I'm so glad I wrote that song, if Alice Cooper comes through we're in and he does, we're looking forward to that tour *laughs*and Bon Jovi, we toyed with that idea and we hoped it would happen, but it was never going to happen. *laughs* There's a bit of a rock resurgence coming through again and eventually we'll be cool…
Now you have the 'Miss Adventures' tour coming up with Bellusira, how much fun is that going to be?!
It's going to be an interesting tour, there's no doubt about it, it's a pretty strenuous tour, we've got no time for rest, we're flying around, so its early flight and a bit of stuff going along with it, like I'm trying to stuff in Sydney with young rock chicks coming up to tie it in with the tour. It's all going to be done in a month… we thought about adding some more dates on Thursdays and Sundays, but we're at that stage where we need jobs, we can't just exist on this, it's difficult, we do all sorts of things to try and make ends meet, so ironically we just have to do Friday and Saturday nights so that everyone's lives are still on. We've come to an interesting point in our career about members and stuff too, Shez and I are ok when it's just the two of us, but the concept of a band is different as well… and Ricky of course our second guitarist is off on tour with The Dead Daisies, so we're hitting this as a three piece, so we'll miss Ricky, but the songs work, it'll work.
Does everything feel like it's settling in now for you?
No, the extremes are extremes because of what's happened and how you live your life and what your expectations are our expectations were a lot less a year ago, but whereas when other people also have expectations of you, you have to work harder to meet them, but your own expectation of you can forgive your own failures if you know what I mean *laughs* we want tit o go well and so do many people, and really I guess when one thing I've sort of learned with life is that if you never aim for higher heights, you never have the failures, and it's a very safe way to do nothing. A lot of people scoot around on that area and don't take risks or opportunities, just to be safe, but when you take a big opportunity or a risk that's put in front of you that you can't say no to, like touring with KISS *laughs* and Aerosmith, and having the opportunities to be signed up to a record company… we used to be an indie pub band and were comfortable with moderate success, but when the bigger successes come, the bigger expectations come and that's hard to deal with in your real life as well, as you've still got to do your job and all that sort of stuff, and it's a big risk.
What's next for the band?
Well we're going to keep touring for the rest of the year, a lot more live shows, there's a lot of regions that people want us to come here and there, and there's a lot of pissed off people because we're not in Newcastle, and even a discussion of Bathurst tonight. You'd be surprised where people have come to see KISS and they've seen us, it's fantastic, what an amazing start to our career here as a band in Australia, I couldn't ask for anything better. We've been exposed to people that like rock music from all ages, from teenagers and you'd be surprised how many teenagers are there because their parents love KISS so the teenagers by default they're there *laughs* and we've got a real cross section of people who are tuning in and listening, it's really good. We finished the tour in Mackay and that's our biggest fan base by a long shot, well everywhere else we played first or people were trying to get there on a school night or they're trying to buy merch before they go in, so we probably played to between two and six thousand people each night we played in the cities, but in Mackay everyone was there early, there was twenty one / twenty two thousand people outdoors and it was massive and so that is a real market for us, being here in Brisbane we're going to work that as much as we can.
Essential Information
From: Brisbane, Australia
Sounds like: Aussie Rock and Roll
Band members: Kylie Cowling – Bass / Vocals, Sherree Newton – Guitar / Vocals
Website: www.divademolition.com
Latest release: 'Like It Too Much' (MGM / Spitfire Music)
Catch Diva Demolition on tour in Australia with Bellusira at the following dates:
Friday August 2 – Factory Floor, Marrickville NSW
Saturday August 3 – ANU Bar, Acton ACT
Friday August 9 – Tempo Hotel, Brisbane QLD
Saturday August 10 – Coolangatta Hotel, Coolangatta GC
Friday August 30 – Enigma Bar, Adelaide SA
Saturday August 31 – Esplanade Hotel, St Kilda VIC
Sunday September 1 – New Market Hotel, Bendigo VIC