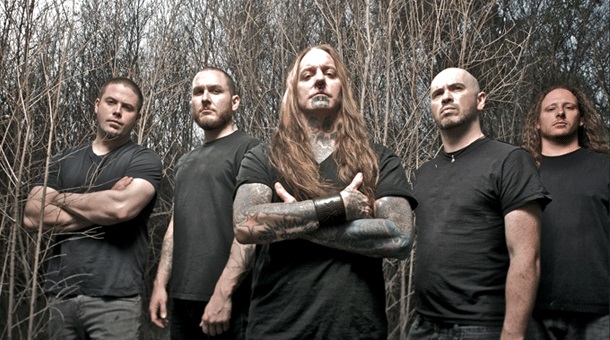 "If you're a DevilDriver fan you're gonna love it, if you're not, it may turn you around and if you've never heard of us, as soon as you've heard this you'll want to go back in the catalogue, so I'm very proud of this record."
DevilDriver are back with a new album titled 'Winter Kills' and trust me, this one is brutal. The band have always worked off the notion of work hard, rock harder and kick as many asses as possible in the process, and they never fail to disappoint in that regard and with this album they've taken it that one, maybe two steps further. The band is renowned for relentless touring which they have done since their beginnings and their live performances and circle pits are as legendary as their music and with this album, all I can say is, if you're in that pit, be ready…
We had a great chat with main man Dez about the creation of the new DevilDriver album 'Winter Kills', as well as why he cancelled their last Australian tour and what needs to happen for them to return oh and a sneaky question about the future of Coal Chamber…
I have to start by saying that the album is a monster, so congratulations on it.
Thank you very much, we've been getting a lot of positive feedback and when you work hard it means a great deal.
Are you looking forward to getting it out there for the world to hear?
I am definitely, I mean people have only heard one track so far, and right now I'm sawing at the bit, I just really want to get that thing out.
The title of the album is 'Winter Kills' is there a story behind the name that you can share with us?
Oh there's a lot of stories behind it, but basically I love the rebirth of things, I love the way Winter comes a long and everything just does out and then Spring comes along and Summer comes and it's the rebirth of many things in my life right now. For one it's the rebirth of my headspace, I'm in a great headspace right now, the band has a new fulltime bass player, we've kind of really come into fruition as song writers and we've captured now what I feel is our best record and if you go back over my records of old interviews you'll never hear me say 'this is our best one' you may hear me say it's different or whatever, but I think 'Winter Kills' is our best record. If you're a DevilDriver fan you're gonna love it, if you're not, it may turn you around and if you've never heard of us, as soon as you've heard this you'll want to go back in the catalogue, so I'm very proud of this record.
So was there a specific inspiration behind the album or the songs on it?
Well 'Winter Kills' to me is also a kind of killing stroke and I think this is a theme for us and around other bands, it's kind of one of those killing stoke records where it's going to make people stand up and take notice. The musicians I have played it have all been extremely caring and gloating over it, not just because they're my friends, but because they think they can appreciate what we've done. So, look, on many different levels 'Winter Kills' just makes sense, we're with a new label as well, so there's a rebirth there, the feeling within the band is just an unbelievable killer feeling at the moment so there's a great vibe. You know, all of those things wrapped up together kind of make the title.
Did you do anything differently recording wise this time around?
Well most definitely, the band went to Florida to record at Audio Hammer with Mike Lewis and had an amazing time, they captured a lot of magic moments, I myself have a home studio now, after almost twenty years in the business it just got so difficult for me to be away from home for five to six weeks and record anymore. You would think that something like that, displacing you or putting at odds with your surroundings would actually make the art better in metal, but not really, it really takes away from it, so that was different. This record is mainly first tracks on vocals, if I didn't hit it the first time around we would stop it for the whole day and start the next day because I wanted to capture a really live vibe, that's why it's very stripped down, not a lot of stacking of vocals, and a very raw vibe. Musically I think the guys got incredible tones, came to the table with great arrangements and a heavy groove, we put a lot of hook in the record and it's just one hell of a record. We worked really hard.
You mentioned that you worked with Mark Lewis again, what is it that he brings to the band to help create the perfect end result?
Well he's an all-round musician, he's a great guitar player, he totally understands drums, bass, he's a writer as well, he doesn't really write with us but with other bands, so he understands arrangements, he knows how to get the best out of all of us because we've worked with him before, we worked with him on 'The Last Kind Words' and worked with him on 'Beast' as well. So the guy knows what he's doing and he knows how to get the best out of me, we had a really good working arrangement, being here in my home studio where everything was really magic and lightning in a bottle and really captured quickly, from the first moment we put up the microphones to see what tone we were going to use vocally, that was done in ten minutes, the first track 'Ruthless' that was recorded in fifteen minutes, it was just in and out. A lot of musicians will spend three or four hours in a track and stack and stack and stack the vocals to get heavy, we didn't do that, we kept it real raw and tried to capture the energy of the moment, almost like we were recording on tape, but we didn't have the time to record on tape otherwise I would've done that as well.
Maybe next time?
Maybe, we'll see… the home studio thing is good because it takes a little bit of that edge off, you don't want to burn up money in the studio and Mark loves California so if he got a day off because I said 'Look man it's not vibing' then he would love it, he would just got into LA and see some friends, so we had a god time.
You've had a solid album release every two years without fail, are you conscious to ensure that happens?
Well I think actually over three years is too much, between two and three years is almost a necessary. When I was younger you'd get an album a year or more most of the time and I don't see why musicians can't put out an album a year? With my touring schedule it's almost impossible, but it should really go back to that. If you want to be prolific as an artist, if you want to really capture your fan base after they've listened to your record for a year, year and a half they want to hear something new and something more. I will definitely push on the next release to have songs maybe left off that can maybe once a month after the seven or eight month has passed after the record is out, to put out different songs once a month just to keep people intrigued you know?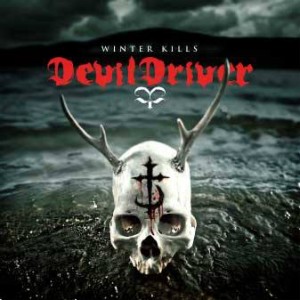 At just over ten years as a band now, how have you personally seen the band evolve over that time?
Well our first guitar player left after on a few years because he hated touring *laughs* and I totally understand that as he's a homebody, and I relate to him, I'm a loner, a hermit, socially awkward kind of guy. Give me a microphone on stage I'm good, but backstage with more than ten people I feel claustrophobic, so I understand why he bowed out of that. I watched our long time bass player leave, actually get let go due to alcohol really ruining his life and we didn't want to be part of that anymore and for him to really straighten himself out. So what I've realised is that the band has grown and matured at such a level to get different people, when Evan left we got Mike Spreitzer in and that absolutely immensely grew the band's sound because me and Mike we vibe on a lot of stuff from goth to metal, and now getting Chris Towning in on a permanent basis is incredible, he's bought a fire to the band, he's a straight edge cat, he's incredible live, he's a great player and we didn't use him for this record as we had most of the tracks written. So nest time around I have no doubt we're going to get a ferocious record because Chris is going to be doing some writing duty as well, and he's a damn fine writer. So, over the time I've seen members come and go, had us mature together as friends and we've bonded over logging millions and millions of air miles and on the road we're honed in live and on this record, and this record is a very focused record, and we're a very focused band at this point in our career and it's going to be inspiring over the next year or two to see what happens.
I do have to ask, can we expect to see you in Australia anytime soon?
Absolutely I'd love to come down, but I don't make a move in Australia without speaking to my brother AJ Maddah so it's really up to him in the end but that would be great. I'd love to do Soundwave, DevilDriver always has a great time coming down and I have a great time coming down and I'd love to come do a headline tour, I think it's long overdue for DevilDriver to come do a headline tour in Australia, so there you go.
Of course you were due to come on a headline run but had to cancel that…
It's the first time I've ever cancelled a whole tour actually, due to pneumonia, I was extremely sick, I'd come off a tour and only had two weeks between tours, went to a Doctor, he said you've got water on your lungs, you've got pneumonia, if you get on a plane you're going to die. So at that point my wife looked at me and said you've got to do what you've got to do and I cancelled the tour. I've never done that in my life, I'm the kind of guy that plays when I'm sick, I can be sick for a wekk when I'm on tour and I never cancel shows, it's just not in my nature, so I apologize to everybody that was going to come out to those shows. But we'll be back.
Well there's sick and then there's dying, so we completely understand…
Yeah I felt horrible for about a week, literally so tired that I couldn't get up the stairs in my house and I was doing yoga one morning with my wife and I was so winded, so I went in and got X-Rays on my lungs and he said absolutely not, you're not getting on a plane with air pressure. I had to kind of listen to the doctors you know?
While we're here can I just ask quickly about the status of Coal Chamber?
Well we took it around the world, we took it to Australia, we actually started down there, took it to South America, took it to the United States where we did between two to three thousand people a night, it was incredible. We went over to the Uk to download, did a bunch of other festivals throughout Europe and now it's done for now. I really wanted to revisit it, it ended so horribly that I wanted to revisit it in a good way and I had a great time doing it and revisiting the songs that made me when I was younger, however just like an old pair of shoes, you only want to put them on once in a while, so that's where I'm at with that right now. So there's nothing further on the books for Coal Chamber, no we're not writing a record at this point or even talking about it, as a matter of fact I haven't even talked to the guys after I came off eleven days ago, I'm in DevilDriver world and I'm very focussed on that right now.
2013 is over half way done now, what does the remainder of the year have in store for the band?
A lot of touring, I'm doing a lot of press right now for the record which is really inspiring as well, we're getting ready to go overseas. We're going to do some festivals, a week from now we start rehearsals in Los Angeles then we fly over and we do eighteen dates, I got back to New York to do press for about five days where my wife will meet me, we'll have a good time in the Big Apple, then I fly back and I've got ten days at home, then I start the United States for two months the off for Christmas, and then hopefully going into the next year powering through. I know we're going to log a lot of air miles as well.
Well we all know that February is Soundwave time, so fingers crossed…
Well fingers crossed definitely, like I said I don't make a move in Australia without talking to AJ, so he'll call me, he knows what a new record cycle is like so he knows what's up, that's family, so we'll make the call together him and I. I would love to come down there, I always have a good time, you guys know I'm from California, so it's much the same. If I can go to sound check and then go and catch an hour of surfing before the show, that's all the world to me.
Essential Information
From: USA
Band members: Dez Fafara – vocals, Mike Spreitzer – guitar, Jeff Kendrick – guitar, John Boecklin – drums, Chris Towning – bass.
Website: http://www.devildriver.com
Forthcoming release: Winter Kills (23rd August – Roadrunner Records Australia) – Check out our review HERE