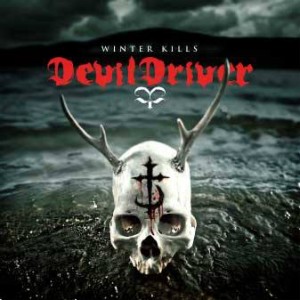 I'm awake, I'm awake!! Sorry, if I was in any way dozing, I am no longer as the new DevilDriver album 'Winter Kills' begins, so does my treatment for the mini heart attack I had as my volume was up all the way… my fault, but at least I'm alert now. Welcome back DevilDriver!
'The Oath' is the one that tried to kill me, but it's welcomed, it's brutal, yes a word that's over used, but it fuckin' is, so deal with it. This is HEAVY and so in your face that you're like 'hey, get out of my face' but what a song, and what a way to start an album that I know will kick my ass three ways from Sunday! 'Ruthless' continues on with its riffs and Dez singing like he means it, which I love about his style, he absolutely loves what he does and this band is his baby and it shows. Early on I want to mention the production, as they have once again worked with Mark Lewis who has done the last two releases, as he has helped create this wall of sound here and if you truly listen closely you can hear all the parts, some of them intricate and pivotal to the song. Listen to 'Desperate Times' for example, so much going on but whoa…
The title track, 'Winter Kills' you know within seconds what you're in for, and as I've just opened up a circle pit in my lounge room I'll be back in a minute… yeah well that was no fun by myself… but let's just say when this is played live that I see many more than one person crazily running around in a circle and bashing into random sweaty people. Ahhh metal… 'The Appetite' which was the first single taken from the album is up next and this one showcases some great guitar work and as the song asks, "Do you have the appetite?" well, do you?  Needless to say it's big, but in saying that, I truly can't envision the next track being a piano ballad, so this whole album is big, it's loud it's heavy and it's what you want from a band like DevilDriver.
Oh whoa, 'Gutted' well aren't you just the heaviest one yet! I don't even have words to type about this one other than I feel like if I say I didn't like it that it would break my fingers. Luckily I did like it and I live to type another day! 'Curses and Epitaphs' takes the production up a notch again as this one is a monster, and as far as the music go, this is just a wall of sound! Continuing to kick my ass through tracks like 'Caring's Overkill' and then 'Haunting Refrain' which sounds like it could be a ballad, right? Yeah well guess what it isn't… a ballad. Intro, build up, BOOM… take THAT not a ballad. The killer guitar solo on this one makes it a winner and the lighter I would've held high I've now used to set fire to things* as I feel that's what I should do.
Only a couple to go before the surprise 'Bonus Tracks' and 'Tripping Over Tombstones' is up and you guessed it, it's mega, but the surprise on the album comes in the form of 'Sail' which is a cover of an Awolnation song, and you could say it's the 'cleanest' song on the album, but with the DevilDriver spin on it. Interesting choice for a cover, but hey, it works, so why not. If you listen to the original and then this, well, let's just say, um… actually, I don't want to listen to the original anymore, be gone version I don't like, this is now a DevilDriver song.
Bonus Tracks are always an interesting thing as there's always the 'Oh man, that should've been on the album, why wasn't that on the album?' from people, but I can tell you right now why these two tracks weren't on the album and were added as bonus tracks, because the previous eleven tracks were all so awesome that these weren't needed up there. So as a bonus to those that get them, you get 'Shudder' and 'Back Down To The Grave' and be happy there are more songs to add to the eleven you got on 'Winter Kills'. But in saying that 'Back Down To The Grave' is close to, if not my favourite track I've listened to tonight, so whatever version gets you this song, go find it!
So is this DevilDriver's best work yet? In my opinion, yep, Winter Kills? Nope, Winter Killed!
*= no fires were lit in the writing of this review.
Check out our interview with Dez HERE
Essential Information
From: USA
Produced by: Mark Lewis
Release date: 23 August 2013
Record label: Roadrunner Records Australia
Website: http://www.devildriver.com
Track Listing:
The Oath
Ruthless
Desperate Times
Winter Kills
The Appetite
Gutted
Curses and Epitaphs
Caring's Overkill
Haunting Refrain
Tripping Over Tombstones
Sail
Shudder (Bonus Track)
Back Down To The Grave (Bonus Track)