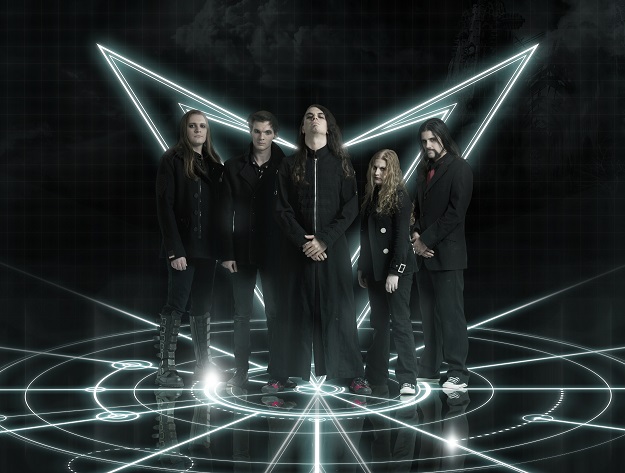 "I remember us starting out being a band as well, we would sort of jump at the opportunity of having a touring band have us play, and some of the bigger acts are doing that already with some of the more established acts like us around Australia, so definitely something we want to consider and maybe the next big run around Australia will feature just that."
From tour release: Perth's most brilliant metallers of the progressive kind, Voyager are bringing their much anticipated live show to Brisbane in support of their heralded new album. The Meaning Of I. They came with Children of Bodom, they came with Alestorm and now they are coming for you.
They will be officially launching The Meaning Of I at Brisbane's Crowbar in Fortitude Valley on Friday, August 23 with The Matador in support. Voyager will also be appearing at the Melbourne instalment of this years highly anticipated Progfest on Saturday, August 24 at the Espy.
We chatted to Voyager front man Danny about the bands next couple of shows in Brisbane and Melbourne, how they want to help new bands by letting them open for them, as well as the prospect of new music from Voyager, and his hatred of Indie Pop…
So next Friday you're hitting Brisbane, for the first time…
Well technically for the first time as headliners… we've been there as the supporting act for Children of Bodom and Alestorm previously, so it's a first time for us properly.
I love that you've opened the support slots to aspiring bands, what was the idea behind doing that?
Well in the past having known what it's like to be an up and coming band and how difficult it is to get support in the scene, one of the things we've been trying to do over the last few years is trying to encourage young and upcoming bands to submit their stuff and have the opening slots for someone who's a bit more established like Voyager. So it gives them an opportunity to play for a wider audience and gives them a little bit of a breakthrough as well into what's really a tough market unless you're in it already, so that was really the catalyst behind that.
Out of interest, did you have many apply?
Yeah we did, we had a barrage of really, really good talent from Brissy, so lots of good stuff happening there, and I guess it was just a matter of collating and sitting down with the rest of the band as to what may be suited and what may not be. There was a couple of bands I thought were really excellent but probably not suited to what we wanted to achieve, definitely a really, really large array of talent and we managed to choose some really good bands I think.
Have you thought about doing the same thing around the country on your next run of dates?
I think so; I think it's a really good way of doing. I remember us starting out being a band as well, we would sort of jump at the opportunity of having a touring band have us play, and some of the bigger acts are doing that already with some of the more established acts like us around Australia, so definitely something we want to consider and maybe the next big run around Australia will feature just that.
After that you head to Melbourne to headline Progfest, an awesome thing for Australian metal, how chuffed are you to be a part of it?
Very, very chuffed, it's been going for a couple of years now and the numbers have been steadily increasing, it's such a good way to be a part of a music festival that embraces progressive music. There's a whole variety of acts there which I think makes it such a good event, there's your thrash gigs, there's your death gigs, there's your grindcore or whatever, but this is just tagging it all together and presenting it as a big package, so yeah, very, very chuffed indeed.
Well do you have plans for more Australian shows anytime soon?
Yeah we definitely want to; I know Adelaide is screaming out for us which is always nice. I guess the nice thing about having people on your back constantly saying 'why aren't you touring here?' is you get that nice warm fuzzy feeling of people actually wanting you there. So I would say that after a bit of a hiatus of writing and recording the new album, I think we'll probably be back early to mid next year to do a full proper run of Australia.
 'The Meaning of I' has been out for a couple of years now, any chance we can expect a new album soon?
Probably, and I know generally when bands say this we need to take it with a grain of salt and say we'll add another five months to it, but I'm hoping early next year. We've pretty much written the album, of course things come to us as we go, but generally the pre-production is already done and hopefully we'll be going into the studio in the next couple of months to record it and then mixing, mastering and getting the artwork together and all that stuff, so I'm assuming early next year fingers crossed. No, we've been pretty good, every couple of years we've churned one out, which is what any good prolific band should be doing I think.
Has anything inspired you lyrically over the last couple of years that we can expect to hear within the new material?
'The Meaning of I' was very introspective in a 'how am I viewing the world?' sort of stuff, and at times a bit sort of self-indulgent admittedly , but the new stuff is a lot more positive, there's still a lot of this exploration stuff about looking at the world with a sense of wonder, there's also on this album some storytelling, maybe some political commentary as well, so it's definitely going a direction that's more positive and not as doomy and gloomy as the last album.
With a nice pop song thrown in for good measure?
No, although there is one song on there that is really pop and people are just going to go we love this or what the hell are they doing, but it's going to be on there… *laughs*
How hard is it to be a metal band in Australia?
I think it's really, really, really hard, simply because we've got that label of Metal, and even though you've got a new generation of metal heads who aren't the vest wearing, long haired, type of Waken open air supporters that you generally associate with metal, you've got a very mixed crowd. Still I think it's very, very difficult, as soon as you've got that label attached to you people think we're not touching it… you've got the commercial radio stations, even JJJ sometimes won't touch it. It's a miracle that bands like Karnivool and Parkway Drive have made that sort of inroads into that JJJ market, but it is still very, very difficult. There's still that stigma attached to it and basically unless you re label yourself as rock it's really difficult.
Even then, being a rock band is hard these days…
It is really hard, it's really difficult, I mean Indie Pop is the way to go, and some of the stuff I've listened to on JJJ I just go, oh my god, it's just talentless rubbish and there's so much of it and it's awful and the bands that are really talented and doing something that is accessible to a whole lot of people if they just gave it a chance, but they're not out there more.
Do you have plans to head overseas again anytime soon?
Definitely, we just came back from Indonesia, we did the Hammersonic festival there, playing in front of 10,000 people who were all sober, which was really amazing, not used to that from a metal festival. Hopefully we'll do another small Asian run next year and then hoping to rekindle our friendship with the US where we left off a couple of years ago, actually last year where we left off with Rhapsody of Fire and do another tour there. Europe is also definitely on the agenda, I think it's something that's probably been in the pipeline for far too long, we were in Europe in 2006 and 2008, but I think a more extensive tour is on the cards because I think Europe is slightly yelling out for us, which is nice.
It's been a good fourteen years or so as a band now, what's been the biggest lesson you've learned as being a part of Voyager?
It's really, really hard work to play original music, and don't ever expect the red carpet to be rolled out, expect things to be done by you and not someone else, and just work hard and plug away at it and when things get tough and you think oh god is this all worth it, you'll get that email that says 'your music has helped me through the last year' or whatever. We've had tonnes of emails like that and every time we get one, I think it is worth it, it is worth all the heartache and the money you spend and all the horrible things that come with being in a band, it all makes up for it. I think apparently it's like having a child, people say it's really good and really hard, I'm kind of hoping it's the same sort of thing *laughs*
So from the start, how have you personally seen the band grow to where you are now, do you feel like a different person now or has it just naturally evolved?
I think it's just naturally evolved, I don't think we ever sat there and said we're going to evolve into a different band. We started out very Power Metal-esque but moved away from that to create our own sound, I think with 'I Am The Revolution' we found the true Voyager sound, continued that with 'The Meaning of I' and will be continuing that sort of thing on the new album as well. The main thing that's always stuck with us is we want to be catchy, we want catchy melodies and they are our absolute focus of what we're doing. A lot of the new stuff is more groove based, but I think that's a natural development of the band, I don't think there's ever been a forced let's do more pop or whatever, it's just been more natural.
I did see a press photo of you guys with a Keytar, does this still get a run on stage?
Oh totally, that was a gift that was given to me by a couple of my closest friends a couple of years ago and it's become an absolute corker of not only a stage prop but it's made my playing so much easier. I used to have a rack of two massive, heavy 16kg Korg Tritons and with this Keytar which is basically this awesome plastic thing from 1989, the benefit is that you lift it up and people go nuts and I can actually play it as well and just prance around the stage with it as well. So it's definitely changed the band in some ways, I think especially live because it's such an entertaining when you're running around with this big red thing all over the stage.
Please tell me you've busted into Funky Town once or twice?
We have busted into Funky Town, absolutely and I think our signature medley which I think we're going to do on this little run as well it's going to come out and be an 80's / 90's extravaganza.
What does the rest of the year have in store for Voyager?
A lot of writing, a lot of pre-production, a lot of continuing where we are now in terms of refining the songs and jamming the songs and making sure they are all finished human beings, then going into the studio and recording it and having it mixed and mastered and hopefully delivering a product which will hopefully top the last one.
Essential Information
From: Perth, Australia
Band members:  Daniel Estrin, Simone Dow, Alex Canion, Scott Kay, Ashley Doodkorte
Website: http://www.voyager-australia.com  and www.facebook.com/voyageraustralia
Current release: The Meaning of I
Catch Voyager on tour in Brisbane and Melbourne:
Voyager: Live At The Crowbar – Brisbane Friday, August 23
Tickets are now available via Oztix HERE
The Official Facebook Event Page HERE
Voyager will also be appearing at the Melbourne instalment of this years highly anticipated Progfest on Saturday, August 24 at the Espy.