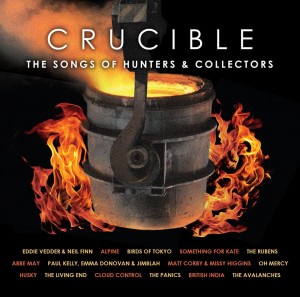 Whether you've worshipped at their altar in the past or were too young to have witnessed them live, Crucible – The Songs of Hunters & Collectors is a revelation and a proud tribute to this great and important band.
Formed in Melbourne in 1981, Hunters & Collectors became an integral part of Australian music culture through their unique songs and sounds and legendary pub gigs. They took us on an incredible journey as they evolved from an experimental post-punk/agit-funk collective with up to a dozen members into a streamlined and visceral rock and roll outfit that made a profound connection with audiences across the country. The Hunnas, as they became known, featured a powerful blend of guitars, drums, bass and brass, fronted by Mark Seymour's intense vocals and presence.
Disbanding in 1998, Hunters & Collectors left behind a legacy of great rock and roll moments, memories and a proud catalogue of recorded music, including nine studio albums, three live albums and numerous EPs and singles.
Over the past eighteen months, fan/critic/A&R exec John O'Donnell has been curating the album Crucible – The Songs of Hunters & Collectors.
"It has been an exhilarating journey of reinvention and rediscovery," says O'Donnell, "as a wildly diverse range of artists have stepped forward with passion and creative zeal to record interpretations of fourteen equally diverse Hunters songs. From the more obscure corners of the band's catalogue such as 'Alligator Engine', 'The Slab (Betty's Worry)', 'Dog' through to the classics like 'Throw Your Arms Around Me', 'Holy Grail' and 'When the River Runs Dry', established artists like Eddie Vedder & Neil Finn, Paul Kelly, The Living End and Something For Kate have paid respect while newer acts like The Rubens, Alpine, Matt Corby and Abbe May have gone digging for their own truths in these amazing songs."
CRUCIBLE – THE SONGS OF HUNTERS & COLLECTORS
TRACK LISTING:
1. Birds of Tokyo – Talking to a Stranger
2. Eddie Vedder & Neil Finn – Throw Your Arms Around Me
3. Matt Corby & Missy Higgins – This Morning
4. Oh Mercy – The Slab (Betty's Worry)
5. Alpine – Hear No Evil
6. The Living End – Say Goodbye
7. Paul Kelly & Emma Donovan (featuring Jimblah) – True Tears of Joy
8. The Rubens – Holy Grail
9. Husky – Blind Eye
10. Something For Kate – When the River Runs Dry
11. The Panics – Alligator Engine
12. Abbe May – Dog
13. British India – Do You See What I See?
14. Cloud Control – Still Hanging 'Round
15. The Avalanches – Stalking to a Stranger (Planets Collide Remix)
"I have to say, it is deeply rewarding for me as a writer to know that beyond the years and all the hard work that was done in the crucible of the Australian suburbs, the songs of Hunters & Collectors have reached the cream of Australia's talent, great singers and bands young and older… who have stepped up to record the best of what we delivered in those pubs so many years ago. I am honoured by the respect they have shown. Songs are what we share, and sharing itself is crucial to our identity as a people"  – Mark Seymour – Hunters & Collectors
"I, along with the cream of great musicians from all around this country and beyond have been given a wonderful opportunity to come together and pay our respects.  And what an utterly amazing legacy it is, revisited and reinterpreted by their admirers more than 30 years from where it began and for the generations of music fans that will follow."  – Michael Gudinski – Chairman of The Mushroom Group
CRUCIBLE – THE SONGS OF HUNTERS & COLLECTORS
30 songs – featuring 15 stunning tributes and 15 original recordings
Released FRIDAY SEPTEMBER 27 on Liberation Music
Pre-order available from Friday morning 9 August: