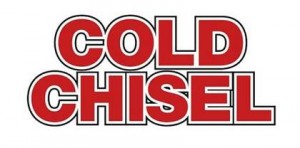 One of the most iconic catalogues in Australian music will be brought into a new era with Cold Chisel announcing the formation of their own label imprint and a change of distributor in Australia and New Zealand.
It's been over 35 years since Cold Chisel signed a recording contract with WEA (now known as Warner Music) and since that time the band has sold over six million albums. The rights to all of Cold Chisel's recordings recently reverted to the band for the first time so they have now decided to form their own imprint, Cold Chisel Music. They have also decided to shift their distribution to the Universal Music Group in order to inject a fresh energy into the marketing and promotion of their music. This will be effective from October 1, 2013.
While the group acknowledges their long and fruitful association with WEA/Warner Music, they feel that after all these years it is time to begin a new chapter in their extraordinary career.
Cold Chisel's unparalleled catalogue of classic Australian songs has struck a deep chord with multiple generations. As a result their record breaking Light The Nitro tour was seen by over 300,000 fans across Australasia in 2011. Their 2012 album No Plans peaked at No. 2 on the national ARIA Album Chart and was certified Gold within weeks of release.
"We're proud of all the albums we've made and the impact the band has had and we're keen for people to keep discovering Cold Chisel's music", said frontman, Jimmy Barnes. "We think that having our own label will give us the best shot at doing that".
"Having our own imprint will give us complete control over how our recordings are presented to people over the coming years", explains keyboardist and principal songwriter, Don Walker. "Ian, Phil, Jim, Steve and I always liked to do things our own way so this feels like the right next step for Cold Chisel".
Cold Chisel's imprint will not seek to release recordings by anyone other than the band itself. It will release the band's complete existing catalogue and new Cold Chisel releases are eventually expected to flow under this new structure. The most anticipated of these would be a live recording of the band from their most recent tour and potentially some new recordings on which the group recently began some work. More detailed announcements will be made about these new releases over coming months.
"So many words come to mind when talking about Cold Chisel: Legendary, Trailblazers, Powerful, Passionate, Songsmiths, Live Titans, Cultural Icons … and bloody brilliant," said George Ash, President of Universal Music Asia Pacific. "We feel honoured and privileged to be working with Cold Chisel as they launch their own label and for the first time manage their incredible recordings themselves. The songs of Cold Chisel have been an important part of our lives and it is with huge pride we look forward to supporting the band in the re-launch of their catalogue across Australia and New Zealand. If this wasn't a media release I'd be shouting expletives of joy … what a band, what a legacy and what an honour for us all at Universal."