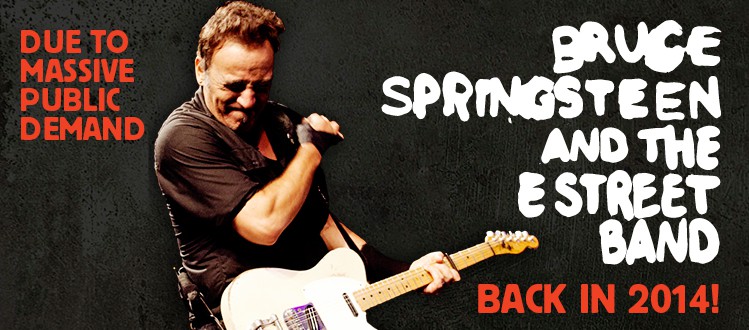 BRUCE SPRINGSTEEN AND THE E STREET BAND – ANNOUNCE FEBRUARY/MARCH 2014 AUSTRALIA & NEW ZEALAND DATES. (INC. FIRST EVER SHOWS IN ADELAIDE & PERTH!)
WITH SOME VERY SPECIAL GUESTS: HUNTERS & COLLECTORS REFORM FOR SPECIAL MELBOURNE ONLY SHOW,
JIMMY BARNES – AUCKLAND ONLY, DAN SULTAN – MELBOURNE & HUNTER VALLEY ONLY
After delivering in March 2013 what many critics and fans declared the 'greatest rock and roll show on earth,' Bruce Springsteen and the E Street Band have announced they are headed back to Australia and New Zealand in 2014 for their most extensive tour of our shores to date.
The 2014 tour includes Springsteen and the E Street Band's first New Zealand show in more than a decade and their first-ever visit to Perth and Adelaide, with the Australasian dates kicking off at Perth Arena on Saturday 7 February.
Bruce Springsteen and the E Street Band brought the Wrecking Ball tour to Australia earlier this year on their first tour Down Under in more than a decade, performing three hour plus shows in Sydney, Brisbane, Melbourne and at Victoria's iconic Hanging Rock.
Said Springsteen's long-time manager and producer, Jon Landau:
"Our shows in Australia earlier this year were among the very best and most satisfying of our whole 128 show tour.  The crowds were tremendous, the fans as warm, friendly, and welcoming as we could ever hope for, and the quality of the performances, as virtually every reviewer commented, were spectacularly high.
"From the moment we finished the second show at Hanging Rock on March 31, we have been working on a plan to return next year.  Among other things, we wanted to expand the number of places we play to include the Hunter Valley, Perth and Adelaide, with a trip to Auckland, as well.  Those venues are in addition to the new dates in Sydney, Brisbane and Melbourne.  In other words, this will be our most far reaching tour of Australasia ever – and Bruce Springsteen and the E Street Band are planning to make it their finest."
Managing Director of Frontier Touring, Michael Gudinski said:
"The March Wrecking Ball tour was one of the most talked about for years and was without doubt not just a career highlight for me but an absolute inspiration. To see Bruce and the E Street Band perform over the course of three hours or more was a truly unbelievable experience.  The tour wasn't even over before there were discussions about a return and I'm so thrilled that of anywhere in the world they chose here to return to.
"It's also a huge honour that Frontier is not only a part of bringing Bruce and the E Street Band back so soon, but that for the very first time Adelaide and Perth will have concerts, while Auckland will have their first in over a decade.  Add to that a special Hunter Valley show, and this tour is shaping up to be even bigger and better than the March one."
Springsteen and the E Street Band's marathon performances, infectious energy and ability to captivate audiences did not go unnoticed with the Wrecking Ball tour being awarded the 2013 Helpmann Award for 'Best International Contemporary Concert' and both fans and critics heralding it as the tour of the year:
'Sometimes a show takes the breath out of your lungs and leaves you speechless. In awe. Unsure how to articulate what you just witnessed. Bruce Springsteen and the E Street Band is one such show.' – Sydney Morning Herald
'It is going to be tough for anyone to beat Bruce Springsteen for the tour of the year.' – The Daily Telegraph
'This is the legendary E Street Band and nobody can keep up with them. Nobody can come close. Mark my words – they're the best there is… Bruce Springsteen is the greatest performer I've ever seen and if you pass up a chance to see him live; your life will be poorer for it.' – Brisbane Times
'After a ten-year hiatus Bruce Springsteen has returned to Australia to deliver the latest instalment in what really is the greatest rock and roll show on earth… An important artist of his or any generation, Springsteen remains possibly the most vital front man of the modern era. Long may he run.' – The Australian
Frontier Touring is also thrilled to announce that Australian music legends, Hunters & Collectors will be reforming to be special guests at Springsteen and the E Street Band at the Melbourne AAMI Stadium concert.
It has been a fifteen long years since the legendary group disbanded after firmly making their mark on the Australian music industry. Hunters & Collectors brought their unique brand of pub rock onto the global radar with modern classics like 'Throw Your Arms Around Me', 'Talking to a Stranger' and 'Holy Grail', collecting an induction into ARIA Hall of Fame along the way.   In 2009 the band reformed for a one off special performance at the fundraising concert event 'Sound Relief'.
Additional special guest at Bruce Springsteen and the E Street Band's Melbourne and Hunter Valley shows will be Australia's favourite rock & roll soul man Dan Sultan.  With ARIA Awards for Best Male Artist and Best Blues and Roots album, three AIR Awards, four Deadly Awards, an #1 AIR chart debuting album already to his name, there is no doubt that this highly anticipated third release is going to be something special.
The Rubens will be sharing the stage with Bruce Springsteen & The E Street Band once more at their Hunter Valley show, after opening the show at their Hanging Rock performance earlier this year. The band have had a whirlwind year including a gold-certified debut album that landed at #3 on the ARIA album chart and an impressive touring schedule across Australia, Europe and the United States.
Continuing the musical tour de force that they established on this year's Wrecking Ball tour, Jimmy Barnes will be special guest for the Auckland Mt Smart Show. As proven on the Wrecking Ball tour, Barnes' explosive vocal performances and powerful collection of rock classics are the perfect match to Springsteen's expertise on the live stage.
Bruce Springsteen's seventeen studio albums have sold 120 million records worldwide, with 65 million records in the United States alone. He has been a recipient of the Kennedy Center Honors and performed at halftime at the Super Bowl.
He has been the recipient of 20 Grammy Awards, two Golden Globes, an Academy Award, inductions into the Rock and Roll Hall of Fame, Songwriters Hall of Fame, New Jersey Hall of Fame, and the American Academy of Arts and Science.
In celebration of the news that Bruce Springsteen and the E Street Band are heading to Australia and New Zealand, it has just been confirmed that the critically acclaimed documentary film Springsteen & I will return for special encore screenings in select cinemas across Australia and New Zealand between August 19-21. Giving fans one #LastChance to experience this unique movie created for the fans, by the fans on the big screen, tickets to strictly limited encore sessions will be available from www.springsteenandi.com
Tickets to the 2014 Bruce Springsteen and the E Street Band tour go on sale Monday 26 August (check local times below).   Pre-sale tickets are available from Wednesday 21 August via www.frontiertouring.com/brucespringsteen
BRUCE SPRINGSTEEN & THE E STREET BAND
FEBRUARY/MARCH 2014
Frontier Members pre-sale via www.frontiertouring.com/brucespringsteen
Wednesday 21 August to Thursday 22 August (or until pre-sale allocation is exhausted)
(Pre-sale times are staggered per show.  Visit the website for more details).
General public on sale from Monday 26 August (see times below)
Fri 7 Feb        Perth | Perth Arena                                       (All Ages)
Ticketek.com.au | Ph: 132 849  [on sale at 9am local time]
Tue 11 Feb     Adelaide | Entertainment Centre                (All Ages)
Ticketek.com.au | Ph: 132 849 [on sale at 12 noon local time]
Sat 15 Feb      Melbourne | AAMI Park                                (All Ages)
with special guests Hunters & Collectors and Dan Sultan
Ticketek.com.au | Ph: 132 849 [on sale at 9am local time]
Wed 19 Feb    Sydney | Allphones Arena                           (All Ages)
Ticketek.com.au | Ph: 132 849  [on sale at 10am local time]
Sat 22 Feb      Hunter Valley | Hope Estate                        (All Ages)
with special guests The Rubens and Dan Sultan
Ticketmaster.com.au | Ph: 136 100 [on sale 10am local time]
Wed 26 Feb    Brisbane | Entertainment Centre                (All Ages)
Ticketek.com.au | Ph: 132 849 [on sale at 12 noon local time]
Sat 1 Mar        Auckland | Mt Smart Stadium                     (All Ages)
with special guest Jimmy Barnes
Ticketmaster.co.nz | Ph: 0800 111 999 [on sale at 9am local time]
www.brucespringsteen.net | www.facebook.com/brucespringsteen | www.twitter.com/springsteen
www.frontiertouring.com/brucespringsteen | www.facebook.com/frontiertouring |