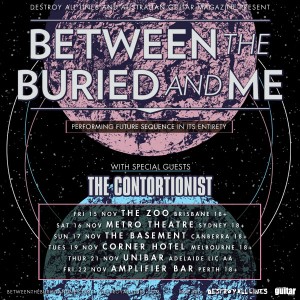 Destroy All Lines and Australian Guitar Magazine Present
Between The Buried And Me Performing 'The Future Sequence' In Its Entirety – Plus Special Guests The Contortionist
November 2013
Between The Buried And Me have confirmed they will be returning to Australia this November! The band will play their ambitious release The Parallax II: Future Sequence in it's entirety.
The critically acclaimed release is described by Tommy Rogers (vocals, keyboards) as 'A conceptual journey that takes the listener to worlds that seem familiar and worlds that make you scratch your head.'
With influences ranging from metal and old progressive rock to jazz and fusion, the band can be delicately taking the listener on a psychedelic trip via spaced out melodies and then rip their head off with a cacophonous roar the next creating a world that's both schizophrenic and violent yet beautiful and sublime seemingly at the same time.
"The group's ability to layer long, melodic arcs over squibs of dissonance has never been more surgical and soulful," Alternative Press
Joining BTBAM are US Prog Metal alchemists, The Contortionist. Combine Rush, Dream Theater, Cynic and their touring buddies and add a dose of their own personality and you get these guys. They create a frenzy of warped time signatures, percussive mathematics, spider-fingered fretwork, dazzlingly atmospheric keyboards and arresting vocals. In short, a stunning, virtuosic group of musicians who have been shattering the boundaries of conventional heavy metal since their inception in 2007.
With both bands sharing the one stage, Australian fans are sure to get their Prog fix this November. One can only imagine how many notes will be played each night..
Tickets on Sale: Thursday 11 August 9.00am
TOUR DATES
Friday, 15 November: The Zoo Brisbane 18+
Tickets from www.destroyalllines.oztix.com.au 1300 762 545 and all Oztix outlets
Saturday, 16 November: Metro Theatre Sydney 18+
Tickets from www.metrotheatre.com.au 02 9550 3666 www.ticketek.com.au 132 849 and all Ticketek outlets
Sunday, 17 November: The Basement Canberra 18+
Tickets from www.destroyalllines.oztix.com.au 1300 762 545 www.moshtix.com.au 1300 438 849
Tuesday, 19 November: The Corner Hotel Melbourne 18+
Tickets from www.cornerhotel.com 1300 724 867 or the Corner Hotel Box Office
Thursday, 21 November Unibar Adelaide Lic AA
Tickets from www.moshtix.com.au 1300 438 849 and all Moshtix outlets
Friday, 22 November Amplifier Bar Perth 18+
Tickets from www.destroyalllines.oztix.com.au 1300 762 54 Mills, 78's, Planet Video or Star Surf
www.destroyalllines.com / www.facebook.com/BTBAMofficial / www.facebook.com/thecontortionist