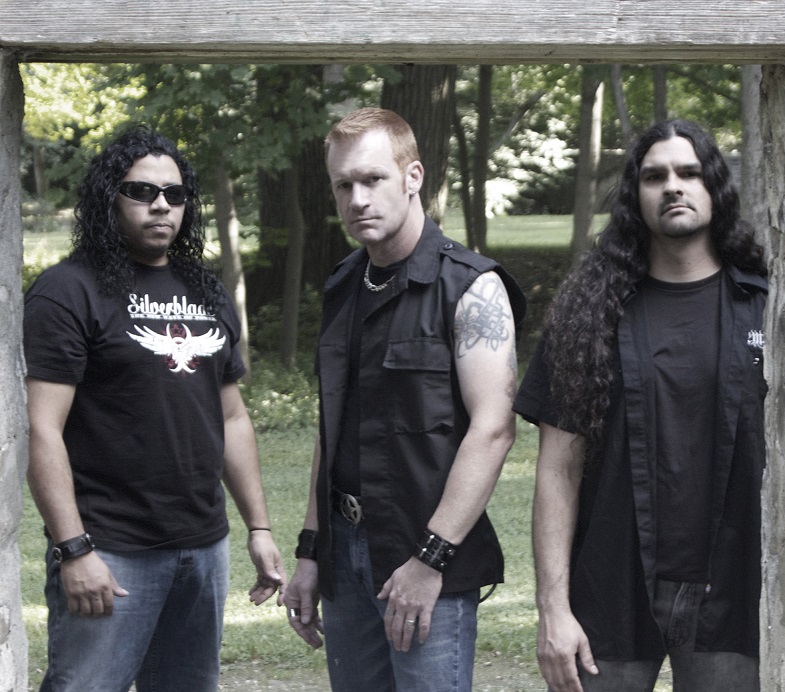 From Bio: Ashes of Ares is a band which represents the culmination of experiences, trials and tribulations of founding members Matt Barlow, Van Williams and Freddie Vidales. Within months of their departures from the iconic metal bands ICED EARTH and NEVERMORE, the trio came together with a renewed drive to create a sound which is a true collaboration of their personal influences, ideas and visions. Armed with the knowledge acquired through years of the writing, touring and recording cycle, and with the support of an army of loyal fans across the globe, Ashes of Ares is poised to carve out a new legacy and stand alongside those who have helped pave the way.
In one of the best Q and A's I think we've ever gotten back, check out Ashes of Ares as they tell us about who they are and what they do…
Let's start with the basics; can you please give us the abridged version of the Ashes of Ares story, how you all came to be and the decision on the name of the band?
FV: Matt and I wanted to work together after we were out of Iced Earth.  We contacted Van whom Matt had known for a long time and he liked our ideas, so we went for it.  Matt came up with the name and we all liked it because it has different meanings for us.
Can you now please introduce each band member and give us a rock 'n' roll fact or myth about each of you?
FV: I'm Freddie Vidales though if anyone knows of me it's probably as a bassist, but I've been playing guitar longer than bass.
MB: I…am Inigo Montoya!  You killed my father!  Prepare to die!  Actually, I am Matt Barlow.  I like to sing, but not dance!
VW: I'm the guy who hits the things with the things. I got to sit in on an interview with Manowar along time ago and they told me how King Diamond put a curse on the band, then years later got the chance to tour with Merciful Fate and totally forgot to ask King about that…
So all coming from established bands, what was each of you able to bring to Ashes of Ares to make the combination work and produce the end result?
FV: We're all very similar musically and have the same goals, so I think we've all brought the same ideas to Ashes of Ares.  We've all been in stressful situations before, and it's great now that things seem to happen effortlessly.
MB: I agree that we all have the same goal in mind in making solid Metal music.  Our differences, just help to make this a true collaboration and adds to the unique quality of the record.
VW: It's so much fun to play with these guys, we laugh more than anything else so that's great for the soul and makes everything we need to do that much more easier.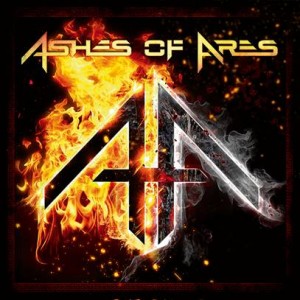 The album is released next month, so let's get some people excited, if you could use only five words to describe it, how would you do so to get people interested into wanting to take a listen?
FV: Fury, Thrash, Emotion, Maiden, Slayer
MB: Life, Death, Love, Hate, Heavyefinmetal
VW: Headbang, lighters, Sing along, Groove, Rock
I'm always curious with a self-titled album, what was the idea behind calling it simply 'Ashes of Ares'? Also the bands logo and imagery for the album, is there a story behind the logo and cover art of the album?
VW: The second album will most likely have a name, but since we are new we felt just the name is all that is needed. When Tarzan meets Jane he said "Me Tarzan"…he didn't say "Me Tarzan, King of the Jungle".. ya know?  The Cover also conveys this thought as it is the symbol of the band. The fire represents a new beginning in a way and the half that is sort of burned out represents the past. We are both parts.
In terms of your song writing, what do you consider to be the most important ingredients that make up an Ashes of Ares song?
MB: I just think it is important for the songs to have good hooks.  It must have something for the listener to really grab onto, and not want to let go. 
Both lyrically and musically, what or who is the main inspiration/influence in the result that has ended up on the debut?
FV: Musically I just drew from my influences in the various genres of metal.  After listening to my favorite bands for so many years, I can't help but write music along those lines.
The album is chock full of metal, but I particularly enjoyed the big power ballad 'The Answer', is there a story behind that song in particular you can share with us?
MB: Well, in the last couple of years, I have attended more funerals than I ever wanted to.  I heard a lot of songs that are often used at funerals, and I always came away a little more depressed than when I went in.  I just wanted to write a tribute to those who have passed before us, and something that makes us all feel OK about saying good-bye.
So, you have a run of dates in Europe coming up, how has the material been going down at live shows and just what can people expect if they come to see you play?
FV: We've only played live once so far at Rock Hard, but it seemed to go over well, especially since no one had ever heard us.  People can expect a lively, hard and heavy show.  We want them to get involved by singing along and becoming part of the show.
Just because it'd be remiss of me to not ask, do you think we could see you in Australia anytime soon?
FV:  I would love to return to Australia.
MB: Thanks for rubbing it in Freddie!  Yes, I'd love to go to Australia…for the FIRST time.
VW: I've been to Oz a couple o times and I would love to return so bug your local promoters and maybe we can come sooner than later. I LOVE OZ!
Lastly, here's a chance to gaze into your crystal ball and see the future.  In the next year, Ashes of Ares will:
1.  FV: be working on a second album
2.  MB: enjoying the fruits of our labor and spreading the jam of METAL!
3. VW: Having fun wherever or whatever we may be doing.
Essential Information
From: USA
Sounds like: Heavy Metal
Band members: Matthew Barlow-Vocals, Freddie Vidales-Guitar, Van Williams-Drums
Forthcoming release: Ashes of Ares (September 6th – Nuclear Blast)
Website: http://www.ashesofares.com