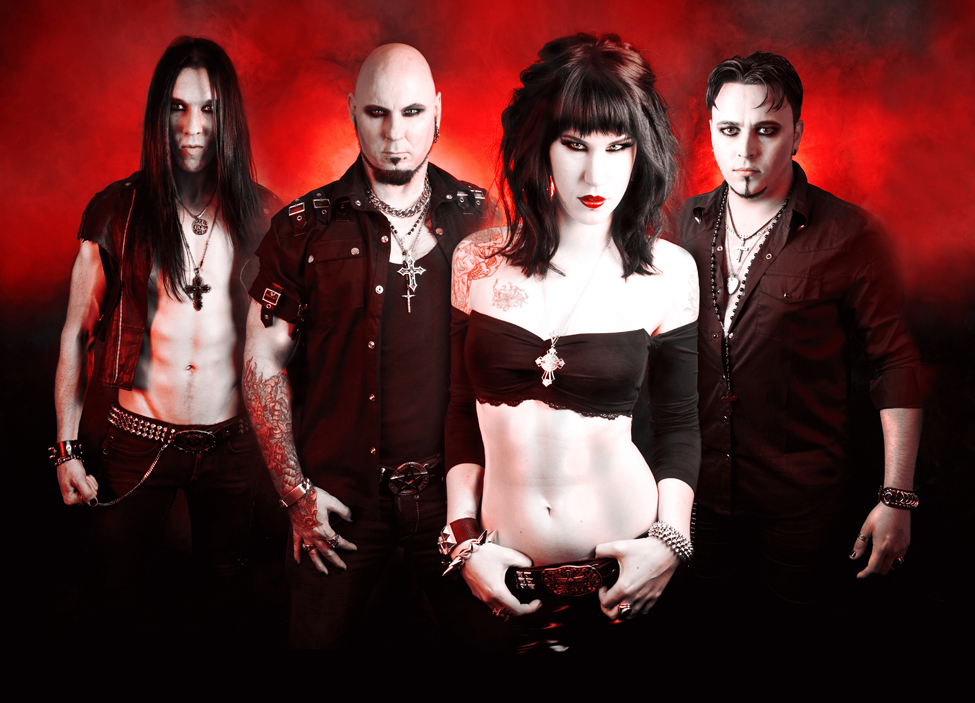 From Bio: Having survived the Mayan Apocalypse of 2012 and with the bands line-up finalized, As Angels Bleed really had no choice but to abandon the sanctuary of Hell's Gate and bring their brand of symphonic vampiric metal to the stages of the world. Joining Valhallian vocalist Avelina De Moray and shred guitarist Von Lehmann on their odyssey will be drummer extraordinaire Frankie Macri and bombastic bassist Jack Savage.  If you only ever do one thing between now and your "end of days", be sure to experience the full impact of As Angels Bleed live. Your immortal soul will thank you
We had a great chat to Avelina of As Angels Bleed who introduced us to the band, their sound, imagery and the creation of their amazing debut self-titled album.
For someone who has never heard of you before, what's the best way to explain the sound and style of As Angels Bleed?
OK, symphonic, gothic metal with bombastic gothic themed production with melodic female vocals, so anyone that enjoys Nightwish or Lacuna Coil should definitely check us out.
Influence wise musically, who stands out for you as why you do what you do?
Definitely Type O Negative, I remember listening to 'October Rust' for honestly about two years and playing it over and over and over again and just finding new layers in their production and just going this music is crazy, it's energetic and it's really calming and it had a lot of layers and we knew that we wanted to make music as calming or deep production wise as that. Maybe Nightwish as well, so yeah Nightwish have been a big influence for us s well, and when you put on the record, it's like 'whoa, it's not the normal four piece rock and roll, it's really deep, and I always talk about the layers, but what a lot of people mention to us when they say they've listened to the record, they've listened to it four or five times and they're like 'wow, I've never heard that church bell before or the church organ' and I think that's really special that you can just put it on.
I've been doing just that, listening to it over and over for a bit now and it just sounds like you've been doing it forever…
Yeah *laughs* we're taken back when people say that, but at the same time a lot of people don't actually know that it's technically our fourth album… Von and I produced two or three other albums that never got released when we were kind of searching for our sound, I think that's what makes us a little bit special, I agree, our first album sounds like we've been doing it for a very long time but it's also very pre meditated if that makes sense?
So what steps did you take to ensure it was as perfect as it can be for what you wanted to release?
*laughs* really I think we just got lucky… we wrote one song from memory, I think it was three years ago when we were song writing, I think it was 'Desire' and we came across something that we just knew was special. All the other songs were a little bit more like the Finnish band 'HIM' a little more pop orientated, but when we wrote the opening riff to 'Desire' which was a little more Nu-metal, we said 'we're onto something here'. Also I think when I stopped trying to copy other vocalists as well and go with maybe my limitations, that's a good way to say it, like I don't have the range of the girl from Nightwish, so when I stopped trying to do that and work within my comfort zone the music got better as well as I found that I was writing songs that were way too high that I couldn't sing, and it kind of stressed the sound a bit, but as soon as we came down and were in my strengths that really helped the song writing as well.
When writing or creating the album, you said it was three or so years, how did the songs come together that has become the end result of the album, was it just a process?
*laughs* definitely, a process and re process and re process, we kind of like were initially inspired like me personally by movies, Von is more on the gothic side. Lyrics first usually, and then I found that I'm more a melody person where Von is a more lyrical person which really helps, because I can write lyrics as well but I'm a little bit, I don't know how to explain it, but Von just looks like he's been attacked by an alien when he writes lyrics, they just pour out of him, it looks like he's not actualy doing it where as I need to think about it a little more. A lot of our songs have a theme in the lyrics, it's very important that our songs have a theme in them before we start song writing, and then we base the song around the vibe, I always like to quote my favourite movie 'The Castle' that Australian one, when the guy says 'It's just about the vibe of it, you know?'
So it's all about the vibe and we produce and re produce and that's kind of why it took so long as well, because we have a home studio we have the luxury of writing songs as we didn't have a band at the time as well, the song might only be a bare shell and then we put it in the computer and start messing with the production, and we might get to the 50% mark and go nah, we don't like this and completely reinvent it. For all of the songs of the albums, I could probably sing you two alternate choruses for each song *laughs* and two weeks we left for Florida to mix with Mike Lewis, 'Bloody Kisses' which is going to be the next song we do a video for, has another two choruses that I obviously don't prefer as we were writing things right up to the point where we said 'fuck, we need to stop now because we're going to America to mix this mother fucker you know?'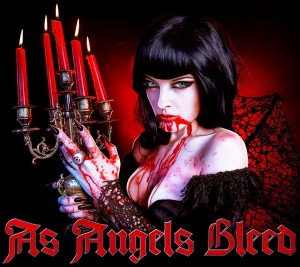 You mentioned you took it to the USA to mix, how did this trip help to shape the album into what it's become?
I think the main thing was the sonic sound of it, it puts us up there on the same level as some of our favourite bands sonically, I think production wise the guys were really blown away with what we did and they just sat back and mixed it, they said it was quite easy because the files were so neatly prepared, they were like 'oh my God, you guys are overly prepared' they were kind of more used to working with DevilDriver and Trivium where they completely produce the song, but we came with a finished product and they just had to mix it. So they enjoyed that, but they were a little bit like 'wow we don't really need to do much' and were in awe a little bit, or maybe pissed off *laughs* dependant on what mood they were in, with the amount of tracks the we kind of threw at them. I think Mike Lewis thought we were actually joking when we were speaking to him about mixing the album because we just went to him to get the guitars re-amped in the beginning and we sent him a few songs and he said 'wow this shit's really cool, I'd love to mix it for you' and that's how it all started. We said yeah there's 120 sometimes 150 tracks per song and he's like 'yeah that'll be cool' and then we went over there and he said 'I thought you were being sarcastic' and we were like 'Nah…' it was very cool. So to be able to sonically give it that European sound we wanted and to go over there and get that big sound you'd hear on a HIM or Nightwish album and then put on our and have it stand up.
Oh I would've lost money if you'd asked me where you guys were from as I thought you were from Europe…
Oh thank you, that's like the biggest compliment to me. I'm not in any way ashamed to say that I'm Australian and maybe like we're the first band in the country to produce and album like this in this genre *laughs* I can't think of anyone else that's doing gothic metal, and a lot of the comments we're hearing as well, in all of the reviews are pretty much like 'you wouldn't think that these guys are from Sydney Australia'
So was it easier or harder than you thought it would be in putting it together?
Definitely harder, I know a lot of people say music, yay you're having so much fun… but there was a lot of torment and blood put in to this album, like I'm really impatient, I did not think it would not take this long, and hopefully the next album that we've started working on won't take as long *laughs* we've worked out our sound now, so we don't have to write another three albums and scrap them before we write our second one because I'll be like forty *laughs* but everything will come quicker, the whole process of writing, it was cathartic and everything and once we found our sound and once we started to mix it ourselves for a year and eventually abandoned that idea and contacted Mark and that took another six months, and then we went over there and we didn't end up getting the mix done while were in Florida and it took him another year and a half to get the files back to us, there was a lot of waiting and then we put the band together and there was more waiting *laughs* so I'm just sick of waiting, so I'm just glad it's out there now, and today actually we're released our first video clip and it's getting some great feedback and it's really exciting as it's the first time the word has seen the band. We did photos, I did the photo shoots for myself, I'm the photographer, I did the album cover and did all the art for the band and that's given the band an identity and really separated it and look really professional, but no one's seen the band and that's really important as if they like a band they go straight to YouTube you know, up until today we didn't have that so that's exciting.
Tell us a bit about the book you've created to compliment the album and songs?
Yeah sure, that a lot of blood, sweat, literally, went into that, it's 64 pages of basically every artwork I've made over the last three years. The idea is that the album is kind of conceptual with the vampiric themes and lyrics throughout it, so we wanted to have something that fans could have in front of them as they're listening to the album, so the idea is that you put on the album and you've got the soundtrack and the imagery as well which is what it's all inspired by, so if you're listening to 'Carfax Abbey' there's an artwork that I've done inspired by the same thing that was actually inspiring the music, so there's just a really uncanny consistency through both things and that's what the fans see as well. Our manager said recently, he used to manage INXS, he said this is something Metallica would so *laughs* and you've release this big book on your first album. It looks amazing, leather bound and silver on the front, I'm really proud of it and I'm a little bit outdone for what I'm going to do on the second album *laughs* I'll keep you posted.
How important is the artwork and imagery as a part of the music in your world?
Well it actually started with the music and then the album took so long to complete that the art started as a hobby, so you could say that it was an offshoot of the music and why they complement each other, but it's just another extension of creativity, if I'm not recording or writing, I have to do something creative, and it's going to be based on shit that I'm into, which at this point in time happens to be vampires. It might be flowers next week or whatever *laughs* but they're all entwined, and if you look at our house as well you'll see how it's all decorated with vampire art everywhere and it's a big part of our life. It's not something where we just get dressed up for Halloween and wear black, I've always got my makeup done, my whole wardrobe is black, it's just who we are in the art and the music is just an extension of Von and I at this point in time. It's definitely a theme, not many bands have a theme these days…
Are you gigging anytime soon so people can come and check you out?
We've already done two Sydney shows, we're planning to hopefully do a Melbourne show soon, we're not sure about the other states yet, I think we're going to do Sydney more frequently and then work our way around, but at this point in time the next big thing is the 'Bloody Kisses' video, we're planning something special for that, the one we just release today was just footage of us *laughs* much like the limited edition book, it started with this little idea and just grew and grew and grew, like the video we released was simply supposed to be a little lo fi video of us in the rehearsal room *laughs* and just turned into this very cool looking video clip, it actually looks so professional that we couldn't just call it us in a rehearsal studio *laughs* it would be like 'what the fuck? This is how they look in the rehearsal studio?' but the 'Bloody Kisses' one is going to be the really artistic one to really back up all the imagery that has been presented with my art work and you know, the type of video that someone that listens to the album would expect to see from this band.
What does the rest of the year have in store for you?
The first things again is the video clip, I can't tell you the location yet as I don't want anyone to steal it and also we don't have permission yet *laughs* but that will be the main agenda. Doing a lot of press and hopefully pushing it overseas a little, as the release is so new so hopefully trying to build up a little more online presence and a following, trying to target Europe as well, more shows, no dates just yet but more shows. Von and I have already started working on the next album so that will be our next point of focus after the video clip and the shows as we're pretty keen to get our second album out quite quickly.
Essential Information
From: Sydney, Australia
Sounds like: Gothic Metal
Band members: Avelina De Moray – Vocals, Von Lehmann – Guitars, Jack Savage – Bass, Frankie Macri – Drums
Website: http://www.asangelsbleed.com