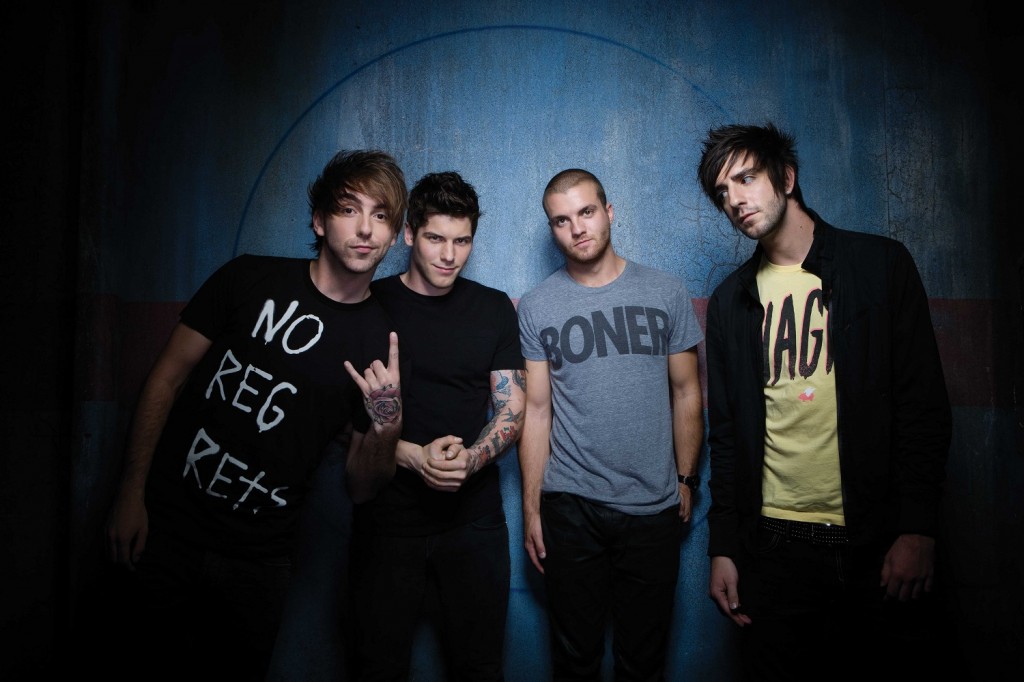 "Our live show is our focus point, and I think it's the truest form of ATL. We have the best time playing in front of people, and our goal is to always make people feel like they're a part of the show, not just watching it, but existing as a part of it."
The pop / punk / rock 'genre' is one that we love here at MTRBWY, through bands like Bowling For Soup and New Found Glory, bands that nail it to perfection, and along with another, oh look, it's All Time Low. These four guys have taken the ball and run with it, and hopefully one day they'll bring it back as they just keep going. Their last album 'Don't Panic' was killer and their live show is not only entertaining but it's also one of the best you'll see out there, did I also mention it was entertaining?
We had the opportunity to have All Time Low front man Alex Gaskarth answer some questions for us ahead of their Australian tour all about the tour, what's around the corner, bitchin' cover songs and the fact that we should all chip in to buy him a cheeseburger when he's in town… who's in?
Of course you're heading back to see us for the second time this year, what keeps you coming back to Australia and when are you looking at buying property to stay?
We keep coming back because the response to our band keeps getting better every time. There's been an insane amount of support from everyone down under and we're just happy we get to come and hang out so regularly. I'd buy a property but everything is SO EXPENSIVE down there. I can barely afford a cheeseburger.
Your show is always fun to be a part of, with the banter intertwined between songs catchier than the common cold; do you feel that your stage show helps to allow people to see all sides of All Time Low and what you embody as a band?
Yeah, I'd say so. Our live show is our focus point, and I think it's the truest form of ATL. We have the best time playing in front of people, and our goal is to always make people feel like they're a part of the show, not just watching it, but existing as a part of it. The crowd is like the 5th member of the band, for sure.
So, what can we expect this time around at the shows compared to your last visit?
Well, we're going to play some songs we haven't played in Australia yet, and beyond that, it's going to be a long, headliner set, as opposed to the shorter festival set we were playing on Soundwave.
We love you here as you'd know by the sold out signs that constantly get hung up when you visit, why do you think it is that All Time Low and Australia go hand in hand?
We like to party. Australians like to party. It's a no-brainer.
'Don't Panic' has been out for about nine months now, are you now possibly starting to panic about how you can top that killer album?
Haha! Not yet. We've got a few aces up our sleeves going forward!
But seriously, have you guys been working on new material that we may expect to hear sometime soon?
Aces. Sleeves. Secrets.
There was some talk that you were working on a new live album / DVD to follow up 'Straight to DVD', is that something that is still in the works?
Absolutely. We've always wanted to make the sequel to STD, it's just finding the right moment to really hone in and put all the collected footage together, along with a story that goes beyond the "origin" story of the first one. I think next time around we'd like to focus on how much the band has grown internationally, and really show off the footage from all around the world.
You know, this is probably the corniest question ever, but if I don't ask it I'll kick myself and that would hurt and I'm not keen on that, so here we go… Has there been an All Time High for All Time Low in your ten years as a band that you can share with us?
I don't even know if I can name one single moment anymore. We've had so many incredible high-points in this band, where we've reached a goal we set years prior. But with us, it's always onto the next one– We celebrate in the moment, then we put our minds to what we want to achieve next. It's been a really solid philosophy thus far!
So let's look back over the last ten years and the evolution of the band, what has been the most notable change that you've seen take place in your time together so far?
I'd say it's been focusing in on what this band is really all about, and I think that is bringing people together through our live shows. Our shows have such a good energy, and I feel like it's an environment for people from all walks of life to come together and rage on a level playing field; no bullshit, no judgment, just good times!
Now on the flip side, let's get out the crystal ball and make some predictions, so, in the next ten years All Time Low will…
1.Defeat the villain.
2. Get the girl.
3. Save the world.
For a bit of fun I like to ask some bands that if you could cover one song for your set, a song that no one would ever expect to hear you play, what would it be and why?
Definitely Break Stuff by Limp Bizkit, because Limp Bizkit.
Lastly, after you leave Australia, what does the rest of the year have in store for the band?
We're heading out in the states with A Day To Remember, Pierce The Veil and The Wonder Years on the House Party Tour. It's gonna be an amazing time, and it'll pretty much wrap up the yea for us. Tickets just went on sale recently, and it's kicking ass, so we're all really looking forward to it!
Essential Information
From: Baltimore, USA
Band members: Alex Gaskarth, Jack Barakat, Rian Dawson, Zack Merrick
Website: www.alltimelow.com
Latest release: Don't Panic (Hopeless Records/We Are Unified).
Catch All Time Low in Australia at the following dates – TICKETS ON SALE NOW (what's left of them)
WEDNESDAY 28 AUGUST – BRISBANE, THE TIVOLI – All Ages
www.ticketek.com.au
FRIDAY 30 AUGUST – SYDNEY, UNSW ROUNDHOUSE – Licensed All Ages – SOLD OUT!
SATURDAY 31 AUGUST – MELBOURNE, BILLBOARD – 18+ – SOLD OUT!
SUNDAY 1 SEPTEMBER – MELBOURNE, BILLBOARD – Under 18 – SOLD OUT!
SECOND AND DEFINITELY FINAL SHOW
MONDAY 2 SEPTEMBER – MELBOURNE, BILLBOARD – 18+
www.oztix.com.au / www.ticketek.com.au / www.moshtix.com.au
TUESDAY 3 SEPTEMBER – ADELAIDE, HQ – Licensed All Ages – SOLD OUT!
Presented by Soundwave Touring