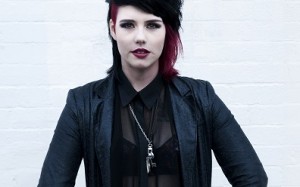 Aimee Francis today announces the "Losers Game" single and national tour. Aimee and her band are about to embark on her second tour of Australia in support of "Losers Game". The tour includes 4 shows at AllPhones Arena, where Aimee and her band will be playing to the boisterous crowd in the Auditorium before the Pink shows.
Twenty-three year old Francis hails from Sydney's inner west and has already established an impressive musical resume having toured the world with the likes of Pat Benatar and Steel Panther and warmed the walls of iconic venues including The Viper Room (US) and The Whisky a Go Go with her rebellious rock anthems. She returns to Australia with a new tune in tow in the form of "Loser's Game" – a rock lullaby about lost love.
Recorded at Sydney's Electric Sun Studios, Aimee had an amazing time recording the single, "Stevie and I stuck like glue and after a few hours of getting our heads around the kind of production we wanted for the song, it was basically a couple of days of half sentence conversations because the other person could finish the others and we were completely on the same wavelength. I am so happy with the results. Losers Game looks at the cynical side of love, which is actually the opposite of me … the total romantic. I guess the wonderful experience of break up and all the levels of emotions that go with it – sadness, anger and maybe some sort of resentment and the questions". Check it out HERE:
Independent and self-managed, Aimee Francis has recently been chosen as a finalist in the International Songwriting Competition for her song "Control", and was approached to write Equestrian Australia's 2012 London Olympics theme song, "Dreams".
After a whirlwind trip of the USA earlier this year where Aimee performed several shows alongside South By South West (SXSW) and scooping an endorsements by Gibson Guitars, D'Addario strings, Planet Waves and Orange Amps, the Melbourne-born singer will kick off a national Australian tour this September in support of her single "Loser's Game".
"I am really excited to hit the road. I have My new band are all PHENOMENAL (and are eyecandy – crowd can thank me later). I think this has been the most focused and ready that I've ever been and we are up to 20 – odd dates on the tour which makes me reaaaaaaaally reaaaaaally giddy. Bring it." Aimee Francis.
"Losers Game" is available from iTunes on Tuesday August 13 or free via download card at any of Aimee's live shows below:
September 1,2,4,5: AllPhones Arena Foyer, Sydney, NSW (As part of P!nk's TRUTH ABOUT LOVE tour)
Saturday, September 7: Fitzroy Hotel, Windsor, VIC
Wednesday, September 18: Newcastle University (12pm), Newcastle, NSW
Wednesday, September 18: Cambridge Hotel, Newcastle, NSW
Thursday, September 19: Port Macquarie Hotel, Port Macquarie, NSW
Saturday, September 21: Rics Bar, Brisbane, QLD
Friday, September 27: Musicman, Bendigo, VIC
Saturday, September 28: Jetty Bar, Glenelg, SA
Sunday, September 29: Grace Emily, Adelaide, SA
Friday, October 4: Bahas, Rye, NSW
Saturday, October 5: The Espy, Melbourne, VIC
Sunday, October 6: Albion Hotel, Albury, VIC
Sunday, October 13: Ellington Jazz Club, Perth, WA
Thursday, October 17: The Court Hotel, Perth, WA
Friday, October 18: The Elliot St Bar, Bunbury, WA
Saturday, October 19: Oktoberfest – Duckstein Winery, Margaret River, WA
Saturday, October 19: The Swan Basement, North Fremantle, WA
Friday, October 24: Frankies, Sydney, NSW
www.aimeefrancis.com , www.facebook.com/aimeefrancismusic , www.youtube.com/aimeefrancismusic , www.twitter.com/aimee_francis