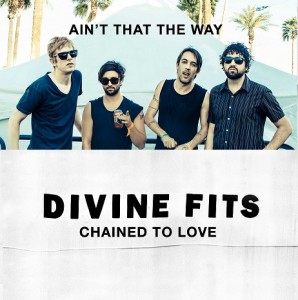 Thanks to our good friends at Jaden Social, we have two copies of the new Divine Fits double A-side vinyl single to give away.
These two new tracks from Divine Fits, "Ain't That The Way" (written by Britt Daniel) and "Chained To Love" (written by Dan Boeckner) were produced by the multi Grammy Award winning producer Joe Chiccarelli (The White Stripes, The Raconteurs, The Strokes) at the legendary Hollywood recording studio, Sunset Sound (Tom Petty, Rolling Stones, Van Halen, Beck) back in March of 2013.
Divine Fits are a relatively new project from Britt Daniel (Spoon), Dan Boeckner (Handsome Furs, Wolf Parade) and Sam Brown (who's destined to be the "other guy" in the band, even though he was in punk heavyweights New Bomb Turks).
The double A Side – is out now and available HERE
The vinyls are a limited edition run that will be autographed by the band.
To win one of the two copies of the single, simply send us an email to mtrbwy@maytherockbewithyou.com with the subject line of 'Divine Fits Giveaway' and include your name and address and we will then randomly pick the two winners who will be notified via email.
Entries open:  Saturday 6th July
Entries close:  Sunday 14th July
Entry is open world wide!
Good luck!