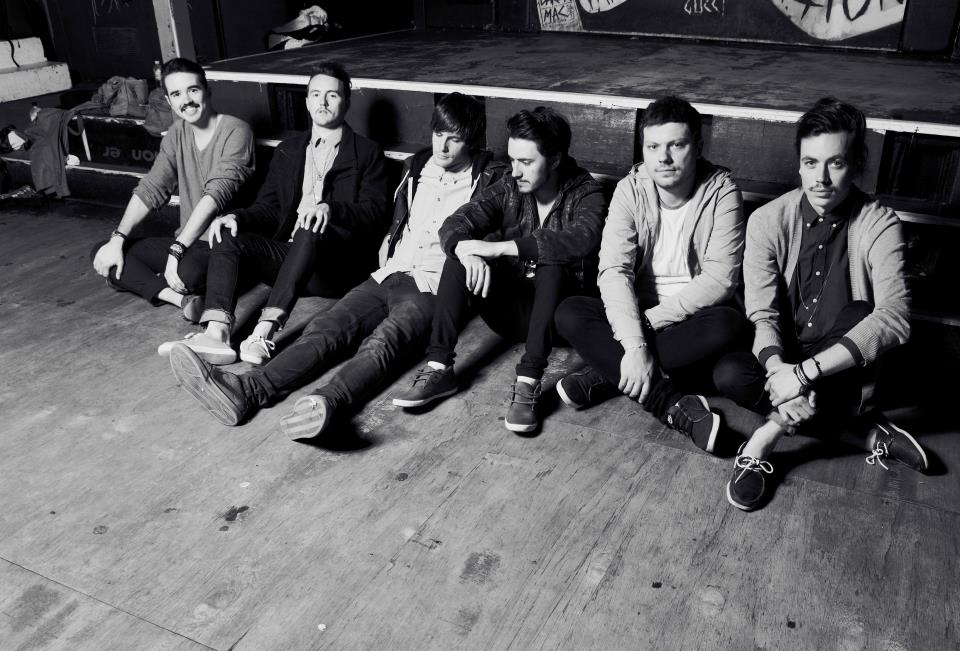 "For me I think the concept is more to do with when you add 'un' as a prefix, when you add 'un' in front of a word, you actually look at it and gain a new perspective on the word and it has a different meaning. So for me 'Unimagine' is to kind of deconstruct where you are and build out of that."
From press release: Australia's Hands Like Houses burst onto the scene in 2012, releasing their debut album 'Ground Dweller' to rave reviews.  The band has toured the USA with bands like Pierce The Veil, Sleeping With Sirens, Attack! Attack! and We Came As Romans.  Driven by rich lyricism and melodic, emotive vocals, the band presents a complex and finely crafted mix of guitar and electronics, drawing from a broad range of influence including Thrice, The Receiving End of Sirens and Closure in Moscow.  One listen to 'Unimagine' and it's clear that the ?rst album was no ?uke. If the band felt any pressure they channelled it and used it as a motivator when they entered the studio with James Wisner. From start to ?nish, 'Unimagine' is anthemic, driving and catchy.
In St Louis with a day off between Warped shows we had a chat with Hands Like Houses front man Trenton about their new album 'Unimagine' as well as their time on Warped tour and when we can expect to see them back in Australia for their own shows…
Still relatively new to the rock scene, for someone who hasn't ever heard of Hands Like Houses, how would you best describe the band's sound?
Ooh I hate that question… *laughs* We're a rock band, we try and make music that's loud and interesting and heavy without being necessarily aggressive or angry, typically people who are clued into music in general we say maybe like a heavy Panic! At The Disco, but we try and avoid the genre question just because we make music and it's a cumulative result of everything we listen to, so we're a rock band.
Your new album 'Unimagine' is released this week, what inspired the songs that have made the cut on the end result?
Pretty much life in general that we've experienced in the last eighteen months, we've learnt a lot being on the road touring, and about ourselves and about our relationship within the band, so I think it's become a thing about that. Every song has got a place from where it's come from, but all in all it's about learning about finding a concept about six or eight months ago about finding happiness in your own experience. So, for me personally it's reconciling and being engaged and doing the band thing that requires more time than I probably have in a twenty four hour day, three hundred and sixty five days a year, so just trying to reconcile those two that could go in very different directions and still keep my sanity and my happiness together, and I guess my own personal journey with that would be that a lot come from that understanding and help some people seek perspective on their own unique circumstance in being more confident and growing out of that.
The title itself is intriguing, what's the meaning behind 'Unimagine'?
Yeah it's very much to do about what I just said about the concept behind it and the expression that the results came from, for me I think the concept is more to do with when you add 'un' as a prefix, when you add 'un' in front of a word, you actually look at it and gain a new perspective on the word and it has a different meaning. So for me 'Unimagine' is to kind of deconstruct where you are and build out of that.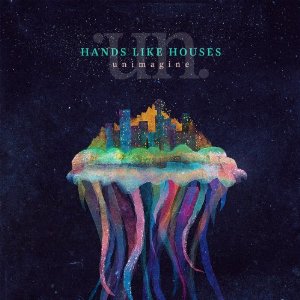 There's been no mucking around between releases, what was the idea behind getting a new record out so quickly when you only released your debut last year?
Well truthfully, even though we only released 'Ground Dweller' last year we'd actually finished it the year prior to the release and we started recording it two years prior to the release, so 'Ground Dweller' was a very long and drawn out process of getting written, so by the time we had it out, we felt like we wanted to keep writing like we did, well not with the same intensity, but we were still writing away and wanting to put stuff together and it just worked out. We had the opportunity to write over the summer at home and then go straight into record, so while it may feel like a short amount of time between 'Ground Dweller' and 'Unimagine' for us the period of two to three years we've grown up a lot, learned a lot and wanted to move it forward and keep taking it on.
So what if anything did you learn from making your first album that you put into the creation of 'Unimagine'?
I think so, one thing I've always been proud of is on 'Ground Dweller' we had so much going on but I did feel like every part had a melody of its own, like every sound and every lead guitar line and keys lick and bass line, for me every piece felt like it had a sound of its own, but when all squished together some of that got lost, so I think that's what we wanted to do this time to be smarter is to give those parts room to shine, room to breathe so the song as a whole can come out so it wasn't so intense. So I think that was probably the biggest thing we learnt was to try and do it better.
Did working with James Paul Wisner help the band to define the sound that became the band?
I think he helped control it and I guess define is a good word for it. He had a lot to say about it with some parts and he helped to simplify some parts that became a little crowded, and I think just showed us a lot about song writing and refining techniques to make it listenable, to make it not predictable but still natural like everything flows into each other. Like you said, that breathing room he had a lot to say specifically about working out that breathing room.
You're currently out on the Vans Warped Tour in the States, how are the shows going so far?
They've been fantastic, we've had fairly consistently good responses, obviously every day changes a little bit as they change their schedules every day so you're not consistently clashing with the same band every day of the tour, so it keeps it fair and keeps from people rocking up at the end of the night as well so it means people are there all day as your favourite band could be playing anywhere from 11:40am to 8:50pm. So yeah it's been a fairly consistently good, we had a few hot days in the middle which got pretty awful. *laughs*
And hanging out with some fellow Aussies in Tonight Alive must be pretty cool?
It's great, we got to tour with them last year and we made friends with them pretty easily, but not to assume just because we're Australians, but we got on with them pretty well and they're some of our best friends now and we love hanging out generally. There's at least one of us hanging out backstage every day, so it's a great to have some familiar accents around as well especially so we don't keep getting 'Oh I love your accent!' *laughs*
Over the course of the band's existence and all the tours you've played and bands played with, do you watch these bands and pick up on techniques that you have now adapted to Hands Like Houses?
Certainly yeah, Pierce The Veil in particular because we've done a couple of tours with them now in The UK and the Collide With The Sky Tour in The US and it's particularly more their attitude towards their stage show and production and everything, and obviously they're phenomenal musicians as well as are all the bands we've toured with from day one. Especially when you make friends with bands and you pay attention to the finer details and you seeing the same band play every day, you find even if you don't necessarily love the band so much and there have been a couple of bands like that that we haven't loved musically as a whole but I've still seen things that they've injected in there and try and do well and things to enjoy, so it is a cool way to experience music and I think it has helped the way that 'Unimagine' came together.
What about touring plans for Australia, anything in the works at the moment?
We definitely do, we're just waiting on the last few details to come together to lock it in, it's taking a little longer than we want, but it's a very specific tour that we're looking forward to and we just can't wait for the last piece of it to fall in place. It'll be this year, early spring we're hoping to be back on the road and then again towards the summer. We're going home after Warped and we're doing a few shows before we do anything else. We definitely want the time at home and we can't wait to play some shows.
It's amazing that a band from Canberra of all places has done what you have, so if you had to pick one highlight over the last year what would it be?
Hmm… tough one… there's a handful of shows that come to mind… I think I might say coming out to, we had a show on the 'Collide With The Sky' tour in LA at the House of Blues which is a massive venue, we'd seen the line around the block and getting up there and even though the room wasn't completely full at that stage as they were still getting people through the door it was still two thousand people in there and more than we'd ever played to before, and just having that in front of us was just 'wow this is crazy'. Sure they were going to see Pierce The Veil *laughs* but playing in front of that sort of audience was so so cool and I think would definitely be a highlight for me. I mean there's been a number of shows that have had the same impact where you walk out on stage and it's like wow, we're doing something crazy here.
With 2013 now over half way done, what does the rest of the year have in store for the band?
Truthfully I'm a little bit nervous as we haven't really got anything locked in, we've got a few possibilities here and there between three continents, but we're just trying to get the album out and once that's out in a few more places hopefully that will help us to lock the last few details down. We don't have anything locked in yet so it's a little nerve wracking but we are intentionally waiting until the album is out to let that do a little bit of the talking as well.
Essential information
From: Canberra, Australia
Check them out if you like: Rock
Band members:  Trenton Woodley – lead vocals, Matt Parkitney – drums / percussion, Jamal Sabet – keyboards, Matt "Coops" Cooper – lead guitar, Alex Pearson – rhythm guitar, backing vocals, Joel Tyrrell – bass, backing vocals (Since 2008)
Website:  Official Facebook
Forthcoming Release: Unimagine (July 19 – Warner Music Australia)
Check out the details of the now announced Tonight Alive Australian tour featuring Hands Like Houses…
Comments
comments