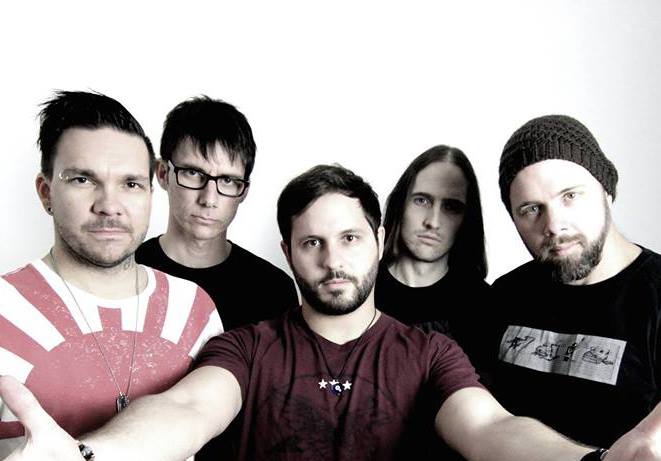 Bio: We're a rock band from Brisbane. We've all been in and out of bands for a while. Somewhere along this journey, some of the music we were involved in had become not quite as fun as what it once was. Maybe when you become more concerned about which radio station will play your 'genre' or whether you get to the chorus of a song within the first 30 seconds, there's a chance that you've begun to miss the point. With The Butterfly Effect in a state of flux in the wake of Clint's departure and both Thousand Needles In Red and A Family Of Strangers at the end of their respective release and tour schedules, the circumstances had conspired to have us all be simultaneously asking, 'what now?'
The answer arose at the hands of ex-Kate Miller-Heidke bassist and A Family Of Strangers guitarist Nathan Moore, who just happened to have a swag of sexy, sleazy bluesy riffs lying around doing nothing on his hard drive. The timing and opportunity being too serendipitous to ignore, the last few months have seen us bashing those riffs into a bunch of rocking, rollicking songs.
We had The Given Things answer some questions for us about the band and we proclaim them one of our Best Things You've Never Heard…
Let's start with the basics; can you please give us the abridged version of the story of how The Given Things came to be and where the name came from?
A group of friends who had all played together in various bands over various time periods decided they were such good mates, they should form a band together and hang out some more doing what they loved. The name is just a name. Steve came up with it, we all didn't hate it so it stuck.
Can you now please introduce each other and give us a rock 'n' roll fact or myth about each of you?
Clint – vocals. fact: he's taller than he appears on stage
Glenn – guitar. fact: falls asleep and never spills a drop
Steve – drums; can outdrink anyone but only on his birthday
Nathan – guitar. fact;  can perform backward rolls on stage without missing a note
Brenton – bass. fact: would be nude at all times if society didn't frown on it.
The band is a nice collection of accomplished musos, did the meeting of the minds and talents make The Given Things fall into place somewhat easy?
Yep, it was a pretty creasy experience. We had the idea for the band and within weeks we had it rolling.
Obviously when someone like Clint takes vocals people will associate it with The Butterfly Effect, so how have you set out to ensure that he's now the singer in The Given Things, is it a case of letting the music do the talking?
It's just such a different style that comparisons are few and far between. Clint also sings differently now so in The Given Things it's about emphasising different parts of his range that people aren't as used to hearing.
Can you give us five words that you feel sum up the sound of the band perfectly?
Slinky, dirty, distorted, dark, fun
You've released your EP, so, in putting it together, did you have a message or intention that you set out with to introduce the band to us?
No, music is mostly about inspiration and not intention for us. Creatively, you ride the horse in the direction it wants.
From it you've released 'Red Sky' as the debut single which is a ball tearer of a track, is there a story behind the song that you can share with us?
It was originally called Dance of the Overexcited Rum Pig. Sums it up nicely I think.
In terms of your song writing, what do you consider to be the most important ingredients that make up a song by The Given Things?
Big riffs, big choruses, 3 part harmonies, it's got to make your neck work and give a goofy smile.
Both lyrically and musically, what or who inspires/influences your music the most?
Nothing and everything. Creativity is not premeditated for us. There's never any discussion about what something should be before it exists. it either rocks or it sucks. but we take everything that we've ever listened to and mush it up in a blender and then send it back out into the world.
Touring wise, you're been playing a few shows to launch the EP, what can people expect if they come out to one of your live shows?
Head banging, collisions, sweat, smiles, nudity
Are there plans to work on a full length album in the near future?
Full lengths are so 2007. EPs all the way for us now, keeps it fresh.
For a bit of fun, say you get the chance to open for any artist in the world, who would they be and why?
We're not fussy, we'll open for anyone. How about Pink? That'd be fun playing 48 arena shows…
Lastly, here's a chance to gaze into your crystal ball.  In the next year, The Given Things will:
1. release EP
2. tour
3. repeat
Essential information
From: Brisbane, Australia
Check them out if you like: Rock and Roll
Band members:  Glenn Esmond – Guitar, Clint Boge – Vocals, Nathan Moore – Guitar, Steve Pope – Drums, Brenton Page – Bass
Website:  http://www.thegiventhings.com/  and https://www.facebook.com/TheGivenThings