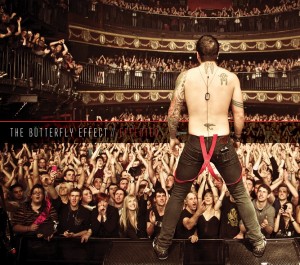 A twelve year career, 200,000 record sales and over 500 shows would be an epic dream for any young band. For The Butterfly Effect it was their reality, but behind the music, festival shows, international tours and the gold records, holding it all together was a challenge far greater than any band photo or press release could convey.

Twelve months on from the departure of singer Clint Boge, The Butterfly Effect are releasing "Effected", a warts-and-all documentary, coupled with an epic six-camera shoot of their very last show from Melbourne's Palace Theatre in a collector's 2 DVD set to mark the closing of this tumultuous chapter in the band's career.
"There are some gnarly stories you know," said
Boge
on the DVDs release. "There was a lot of sh#t that went down- a lot of arguments, a lot of f#ck you and knifing and all that sort of sh#t. It certainly wasn't pretty in the end."
The documentary
pulls no punches
, documenting the inside story of the band's rise to success and the events leading up to Boge's departure. Coupled with their
stunning last show
including all their hits and some very special moments, this set is
a must-have for both fans and those wanting a rare and intimate look
behind the curtain of the music industry.
"If nothing else, our fans know that we're always honest and we went into this DVD wanting to really lay it out on the table and tell the whole story. If we're going to open a new chapter of The Butterfly Effect story, it's important there are no secrets and this is a real opportunity for fans to see what the pressures of being in a touring band can do. It's not all drinking lots of beer and getting your c#ck out…although there's a lot of that in there too," said drummer
Ben Hall.
Pre-orders for "Effected" open today via www.tbedvd.com (with deluxe options including limited edition prints and pre-release screening tickets) before being unleashed on August 9.