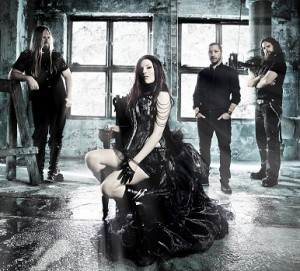 Sirenia will be touring Australia for the very first time. One of the pioneer Symphonic Gothic Metal artists, Sirenia is the complete package; they have that captivating female fronted Symphonic sound, they have that mystique and aura about them with both atmospheric keyboards, guitars and music score while being able to enlighten and uplift the listener with sheer beauty, and they most certainly have the look that captures the attention of the genre and industry in general.
Sirenia will perform tracks off their stunning and very recent new release 'Perils Of The Deep Blue', they will also perform a comprehensive selection of Sirenia tracks across their discography. Maestro band member Morten Veland has guided and orchestrated Sirenia to be one the artists at the very top of this genre and along with the breathtaking appearance and vocals from front lady Ailyn, Sirenia is a must for any fan of the likes of Nightwish, Within Temptation, Tristania, Epica and After Forever to name only a few.
Sirenia will only be performing two exclusive shows; one in Melbourne and one in Sydney. They will be supported on both shows by two excellent Australian artists; Ne Obliviscaris and Orpheus Omega. This just may be the one and only opportunity to see Sirenia live in Australia.
There will be on offer a STRICTLY limited VIP meet and greet fan pack pass available for these shows and the limited fan pack, which is heaped with Australian only exclusive items, is the ultimate way to cap off a fantastic end to the last few weeks of the year. This fan pack Meet & Greet pass is obtainable from Metal Massacre Online; www.metalmassacre.com.au
Official Tour Trailer HERE:
TICKETS ON SALE Thursday 1st August (Early bird: metalmassacre.com.au)
Ticketing outlets Thursday 15th August
Friday 13th December – The Corner, MELBOURNE (18+)
Tickets: www.metalmassacre.com.au / www.cornerhotel.com
w/ NE OBLIVISCARIS + ORPHEUS OMEGA
Saturday 14th December – The Factory Theatre, SYDNEY (18+)
Tickets from www.metalmassacre.com.au / www.factorytheatre.com.au
w/ NE OBLIVISCARIS + ORPHEUS OMEGA
SIRENIA's New album ''Perils of the Deep Blue'' in stores NOW! Or on iTunes HERE: