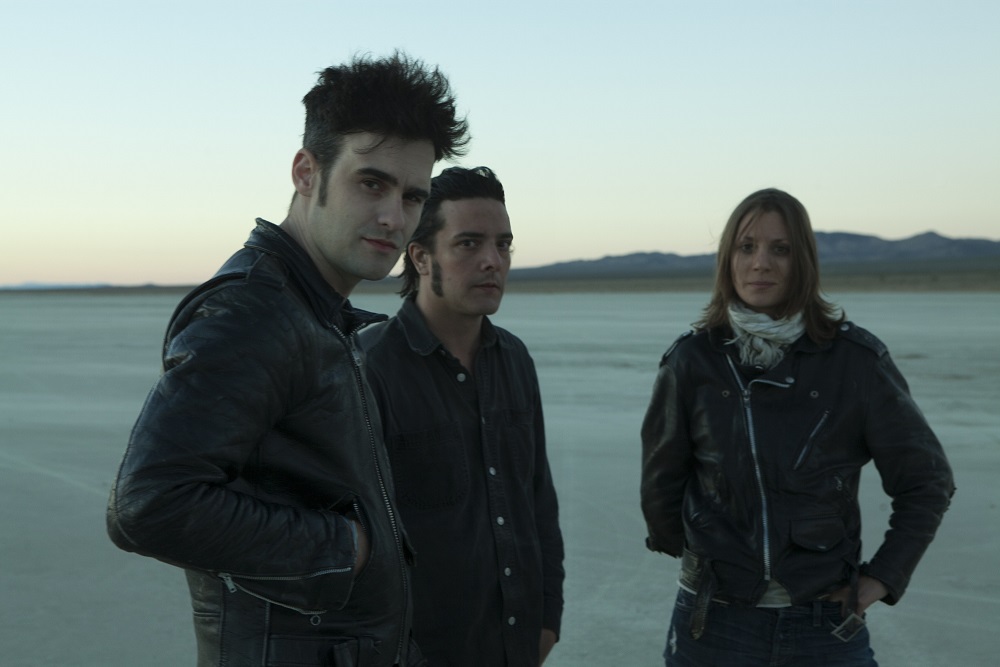 "Yeah I mean I hope it's just that we try to stay true to as much as we can a three piece band without very much to hide behind, and it forces us to be a band, and play off of each other and not reply on things on tape and pyrotechnics and plastic rubber balls and all the rest of it so it's a simple show, there's not much to it, but that's kind of the beauty of it"
From Bio: For 15 years, Black Rebel Motorcycle Club has carried the torch for true rock and roll. The latest edition of the firebrand rock troupe, sees them at their most dynamic. Their sixth studio album, Specter at the Feast, ventures  into  diverse  sonic  territory,  delivering  their  most  ambitious  offering  yet.  It's  an  album  of impossible dichotomies;  opposing  sounds  amalgamate  into  a  seamless,  entirely  coherent  package,  that rumbles with driving rhythms, and soars with skyward-arcing guitar howls
On their way back to Australia for the Harvest Festival in November, we chatted to BRMC bass player Robert about 'Specter at the Feast' as well as Australia and what they don't need to be the best live band out there…
Let's start with the music, so in the three years since 'Beat The Devils Tattoo', what inspired and shaped the songs that became 'Specter at the Feast'?
The fear of I suppose three years of not doing anything *laughs* we had to get into some trouble, or at least some trouble musically otherwise it would come out in different ways. It keeps us sane you know? I think especially at that time it was hard for all of us and we used that time of getting together as a way to exercise those demons and get the feelings out and get all of that energy out of us and just put it somewhere and hopefully to some good use… but, I think we all toured a lot on 'Beat The  Devils Tattoo' and we actually had a lot of things that we worked on on the road during that tour but we ended up throwing all of that away and starting from scratch. There is a lot going on in our world and we wanted to kind of reflect as much of that as we could rather than going into old territories.
You've been very vocal and open about the passing of your father and your dealings with it, not to harp on it, but how did you airing a lot of it publically help you?
No, not at all *laughs*… talking about that, we knew it was inevitable that people were going to be asking us about it, and it's fair because it was a big part of… we didn't really write the songs about that experience, but that loss was very big to us, my father played a big part in the band, and not just for me, for everyone, so it was important to acknowledge it and to not hide it or make it a taboo subject because people are going to want to dig around for it no matter what, so it was more or less turning into the blow you know? When in doubt just drive head on into traffic *laughs* I'd rather know where it's coming from than get sideswiped you know? But people have been rather respectful because of that, I've been surprised with the questions are all rather understandable and valid and it definitely did shape the album, so it's worth acknowledging.
I was intrigued by the short film series you released in parts prior to the album being released, what was the idea behind doing that for this release?
Well we've always kept our cards pretty close to our chests as far as our personal lives, we've never made a documentary or anything about kind of behind the scenes, we've put out a couple of live DVD's but we weren't really into the personal retrospectives and things. We just felt like it was over ten years it was probably a good time to let a little bit of light in and show people a little bit more of our lives in some way without going too far, so it was kind of us putting our pinky toe in the water and *laughs* deciding one day to maybe risk a little bit more, go a little bit deeper with that. We're kind of old fashioned, we like that there's a little bit of mystery and acknowledging that the music is where we hope to keep the focus and not make it about us as people, we hope we create something that's more interesting than we are individually *laughs* that's the dream at least, it's a lofty one, well actually it's not that lofty, more middle shelf kind of loft *laughs*
Tell us how surreal it was returning back to Studio 606 where you hadn't been for over ten years since your debut release, did that in any way give you a kick when recording the new album?
We never really planned on it, we always like to write songs outside of the studio, so once we get there we know what we're doing, and it was by chance that we were trying to decide where we were going to do some tracking and Dave Grohl contacted us about the documentary he was making on everyone that had recorded on that board at Sound City, so we thought we were just going to go in and answer a few questions for his film because you know we recorded the first album there. As soon as he got us in he was like 'Ah fuck it, let's just try writing a song and record something on the fly and we'll have that as part of the film' and we thought it was a rather odd idea coming from someone like Dave Grohl to just like completely riff on a recording with us without a song or a plan but it was kind of really exciting to go into the studio and just start jamming and whatever we came up with at the time. It only took a few minutes and it just clicked and out came a song and then from that came 'what are you guys doing right now?' and we told him we were about to record a record and he said 'You have to do it here, you've gotta make it here' he really wanted to keep the board alive now that he'd had it in his own studio and so he wanted it not to just be a relic and something people made a documentary about but something that people made new records on and kept it going, kept it breathing. It was really cool, it was completely unexpected and once we started recording that song with him we realised it was actually exactly what we needed for capturing the kinds of songs we were going for this time, this time in particular these songs had a larger landscape sonically than our last album which was more, let's just put three microphones in a room and get some drum sounds with a bunch of fuckin' attitude and these songs definitely weren't lending themselves to that, there were much more dynamics.
We're also here because you are heading back to Australia for The Harvest Festival, and being to Australia before, what can we expect this time around?
*laughs* Well, I guess we have seven times the amount of music that we had the first time we showed up there *laughs* well more diverse I guess, we'll try and play a little bit of everything for people that have been waiting a while, we usually try and play a little bit of each album just to put a little more colour and time and space between it, but no pyrotechnics or inflatable bubbles to roll around in front of the crowd, we're kind of a simple rock band, we don't like to fuss it up too much.
You were last here for a different festival, that being Splendour In The Grass in 2010, what is it that you enjoy about playing these larger festivals down here?
Um… not a lot *laughs* the only thing I love is when it clicks, and the idea of celebrating music together with people is kind of the dream you know? But there's a lot of festivals that don't get it right and it kind of feels like this buffet counter of things that people just pick and choose from and it can be far from the show you're trying to create or the feeling you're trying to get across, but when it happens and things come together right it can be what everyone dreams that music can be, it's this thing that everyone shares from all walks of life and we come together with an anthemic charge you know, it can be something very… I don't know… I'm pessimistic sometimes, I really want them to be that and I don't subscribe to festivals in general, I think they need to strive for that. It takes as much of the bands as it does the people to meet half way with that, so I don't know if that answers the question? *laughs*
So is there any chance of some sideshows while you're here for Harvest?
We're trying to work that out, yeah… we're trying to work some of those out, it's kind of cool when you can shift gears and play some club shows and go back and forth, each one usually helps the other, but we'll see, we'd love to spend as much time as we can there. Some other writer was asking me about that, for us we always look at it like if we can make it to Australia or make it to Japan or that side of the world, there's never a guarantee you're going to get invited, and there's never guarantee it's going to happen. You can pretty much guarantee that when we put out a record we'll play our own home country or hometown in the States and we can probably get to Europe, even if we fuck it up and no one likes it *laughs* we can still get there, but we can't get to that part of the world unless we're doing something half way right and it's always a really good feeling to get there. It's just different, I guess were not a super big band, so we still have to work for that, I guess some bands maybe get the key to the city *laughs* or the world and they can go wherever they want but it's always a special thing for us to get down there so it's pretty good.
I have friends that say your live show is one of, if not the best they have ever seen. What do you think it is about your music and show that allow that kind of praise?
It's just better than other things I guess? *laughs* that's the only reason *laughs* I'm just mucking around… Yeah I mean I hope it's just that we try to stay true to as much as we can a three piece band without very much to hide behind, and it forces us to be a band, and play off of each other and not reply on things on tape and pyrotechnics and plastic rubber balls and all the rest of it so it's a simple show, there's not much to it, but that's kind of the beauty of it I hope, that it doesn't need to be too complicated to connect with people.
We are out of time, so thanks for your time today and we look forward to seeing you in November…
Yeah very cool, appreciate it.
Essential information
From: Los Angeles, CA, USA
Band members:  Peter Hayes – Vocals / Guitar, Robert Levon Been – Bass / Vocals, Leah Shapiro – Drums
Website:  http://blackrebelmotorcycleclub.com
Latest Release: Specter at the Feast (Out Now)
Catch BRMC at Harvest Festival this November:
Sunday November 10: Melbourne, Werribee Park
Saturday November 16: Sydney, The Domain
Sunday November 17: Brisbane, City Botanic Gardens
TICKETS ON SALE: NOW
AVAILABLE FROM