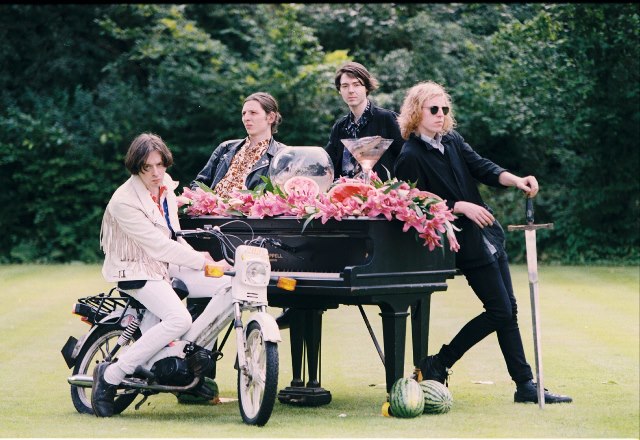 From tour release: One of the UK's most exciting new bands, rock quartet Peace, is gearing up to tour Australia for the first time, playing east coast shows throughout September. Being nominated as BBC's Artist of 2013 and NME's Best New Band is just a start for these four young upstarts from Birmingham.
Peace released their debut album 'In Love' in March 2013.The album was produced by Jim Abiss (of Adele and Arctic Monkeys fame). The recording is a meticulously crafted collection of riff-based pop and heart wrenching ballads that stands in a spectacular lineage of British greats.
Having developed their stage presence plugging away in Birmingham, playing gigs for their friends and causing havoc in the local indie discos, the foursome will be performing at major festivals across the globe including Glastonbury, T in The Park, Summersonic, Reading and Leeds, Electric Picnic and Bestival before taking their sound to Australian audiences.
We had Peace answer some questions for us, check them out!
To start, I have to ask, it's simple, it's effective, but the how did you decide on 'Peace' as the name of the band?
It was a fairly easy decision. We all agreed mutually that it felt right.
You're heading to Australia for the first time as a band this September, what should we expect to see at your shows when you hit our shores?
Some form of magic.
Besides the shows, what's the one thing you're looking forward to about coming Down Under?
The puggles. Echidna Puggles.
For someone who hasn't had the privilege of hearing you guys, how would you best describe the sound of the band?
Sometimes loud, Sometimes quiet. Beautifully confused.
You released your debut album 'In Love' earlier this year to huge praise in the UK, how does that feel as a band to get the kind of accolades you received?
It goes down very well.
With only your EP Delicious out prior, going in to making the album did you do anything differently for the album and its creation compared to your EP?
Not particularly. I guess we were a bit more streamlined in getting what we wanted.
You worked with Jim Abiss as producer, best known for his work with Adele and Arctic Monkeys, what did he bring to the table that you may not have thought of doing for the album?
He was the first person to show us what we actually sound like. He got us to play in a room & then played it back to us & was like "voila".
 'Lovesick' is a great catchy track from the album that's for sure, is there a story behind it that you can share with us?
I didn't think it was a good song at first. I guess that's a story.
Influence wise, who would you sight as your major influences in what helped to shape the band?
I have no idea. We all like too much to really go into it. It's a real mindbender.
You've graced the stage at a number of festivals in your time together, but in particular how was it playing at Glastonbury?
Glastonbury was great. Bit of a box ticked I guess.
Being together for four years now, what do you feel you have learned in this time together as a band?
Zilch. Still searching for the answer.
Lastly, what does the remainder of 2013 have in store for Peace?
More of everything.
Essential Information
From: Worcester, England
Sounds like: Indie Rock
Band members: Harry Koisser – vocals, guitar, Samuel Koisser – bass, Douglas Castle – guitar, Dominic Boyce – drums
Website: http://www.peaceforeverever.co.uk/?
Catch Peace in Australia this September at the following dates:
Friday 13 The Eagle Bar, LA TROBE UNIVERSITY (Bundoora Campus)
Tickets from latrobesu.org.au, www.bigtix.com.au
Saturday 14 Northcote Social Club
Sunday 15 Northcote Social Club
Tickets from northcotesocialclub.com
Tuesday 17 ZIERHOLZ @ UC, Canberra University
Tickets from oztix.com.au, uclive.com.au
Thursday 19 The Bar On The Hill, Newcastle University
Tickets from oztix.com.au, bigtix.com.au
Friday 20 The Unibar, Wollongong University
Tickets from oztix.com.au, bigtix.com.au
Saturday 21 Oxford Art Factory
Tickets from moshtix.com.au, oxfordartfactory.com
Monday 23 The Zoo, Brisbane
Tickets from oztix.com.au, thezoo.com.au