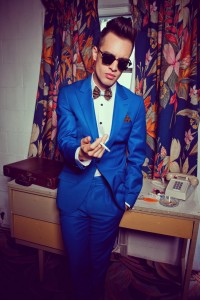 Fueled By Ramen/Decaydance recording group Panic! At The Disco has announced early details of their anticipated new album.  Too Weird To Live, Too Rare To Die! arrives on Friday 4 October.  The album – Panic! At The Disco's fourth studio effort and first new release since 2011 – will be preceded by the darkly anthemic first single Miss Jackson.
Produced by Butch Walker (Fall Out Boy, Weezer), Too Weird To Live, Too Rare To Die! sees the band paying homage to their Las Vegas roots via a glittery sonic approach inspired by their ever-increasing collection of vintage and modern synthesizers.  While jam-packed with high-energy songs, the album also features Urie's most open and introspective songwriting to date. Simultaneously celebratory and cathartic, Too Weird To Live, Too Rare To Die!  is Panic! At The Disco at their distinctive best – personal, potent, and utterly irresistible.
"I had these sounds in my head," says Urie, "I just had to figure out how to get them out. So I just kept writing, writing, and writing until eventually we had all these songs and I was like, 'This is it. This is the record I want to make.' I knew it would happen, and finally it's here."
Released in 2005, Panic! At The Disco's platinum-certified debut, A Fever You Can't Sweat Out remains one of the biggest selling debuts in Fueled By Ramen history.  Singles like the smash, I Write Sins Not Tragedies, earned the band international acclamation and a fervent fan following around the globe, also receiving a number of major honours including multiple Grammy® nominations and the prestigious MTV Video Music Awards "Video of the Year" prize for the I Write Sins Not Tragedies video.
Panic! At The Disco's acclaimed second album, Pretty. Odd. arrived in 2008, debuting at #2 on SoundScan/Billboard 200 and #1 on the ARIA album chart upon its initial release.  The album's popular success was matched by a wave of critical applause, with NME declaring it "a victory for artistic ambition over cynical careerism, one of the feel-good psych-pop albums of the year."
Panic! At The Disco returned three years later with Vices & Virtues. The album – which features the platinum The Ballad of Mona Lisa and Ready To Go (Get Me Out Of My Mind) – made a spectacular chart entry upon its March 2011 release, entering the ARIA album chart at #6.
www.facebook.com/panicatthedisco
www.twitter.com/panicatthedisco
www.myspace.com/panicatthedisco