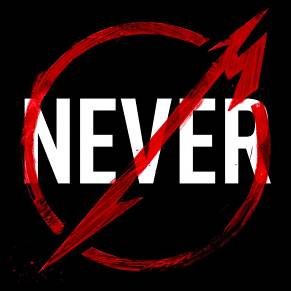 Metallica yesterday revealed the details of Metallica Through The Never (Music from the Motion Picture), the soundtrack companion to the forthcoming groundbreaking 3D feature film, Metallica Through The Never. The two disc CD set will be released on Blackened Recordings/Universal Music in Australia on September 20th and highlights last year's career spanning sets at Rexall Place in Edmonton and Rogers Arena in Vancouver, where the band filmed all performance footage featured in the film.  The soundtrack is available for digital pre-order tomorrow and both the CD and digital album will be available on 20thSeptember at all retailers.  There will also be a vinyl edition of the soundtrack album available in both 33 1/3RPM and special limited numbered 45RPM versions later in the spring.
"Let's hear it for the old school soundtrack!" said Metallica's Lars Ulrich. Not only are we beyond psyched about our movie coming your way shortly, but the fact that we get to share the music directly in all these formats is way fuckin' cool."
Metallica Through the Never stars Metallica, one of the most popular, influential rock bands in history. In this music-driven, 3D motion picture event, award-winning filmmaker Nimród Antal immerses audiences in a bracing, raw and visceral cinematic experience with spectacular live performance footage of Metallica's most iconic songs — created exclusively for film — combined with a bold, narrative story featuring imagery drawn from the band's trailblazing iconography.
Dane DeHaan portrays Trip, a young roadie sent on an urgent mission, during Metallica's roaring live set in front of a sold-out arena.  The film features dazzling pyrotechnics, the most elaborate live-performance stage ever built and state-of-the-art 3D photography, captured using up to 24 cameras simultaneously. Hopscotch eOne will release Metallica Through the Never in Australia and New Zealand on October 10, 2013 in selected cinemas & IMAX® Theatres for one week only!
Metallica Through The Never (Music from the Motion Picture)
Disc 1
1.       THE ECSTASY OF GOLD (LIVE)
2.       CREEPING DEATH (LIVE)
3.       FOR WHOM THE BELL TOLLS (LIVE)
4.       FUEL (LIVE)
5.       RIDE THE LIGHTNING (LIVE)
6.       ONE (LIVE)
7.       THE MEMORY REMAINS (LIVE)
8.       WHEREVER I MAY ROAM (LIVE)
9.       CYANIDE (LIVE)
10.   …AND JUSTICE FOR ALL (LIVE)
Disc 2
1.       MASTER OF PUPPETS (LIVE)
2.       BATTERY (LIVE)
3.       NOTHING ELSE MATTERS (LIVE)
4.       ENTER SANDMAN (LIVE)
5.       HIT THE LIGHTS (LIVE)
6.       ORION (LIVE)
Formed in 1981 by drummer Lars Ulrich and guitarist and vocalist James Hetfield, Metallica have become one of the most influential and commercially successful rock bands in history, having sold over 3 million albums in Australia, 110 million albums worldwide and playing to millions of fans the world over. They have scored several multi-platinum albums, including 1991's Metallica (commonly referred to as "The Black Album"), which is the best selling album in history of Soundscan scanning 16 million albums in the United States alone.
Their latest album, Death Magnetic, was certified platinum after only two weeks in the ARIA album chart in October 2008, becoming their fifth #1 album in Australia and debuting at #1 in 31 other countries. Metallica have also garnered numerous awards and accolades, including nine Grammy Awards, two American Music Awards, and multiple MTV Video Music Awards, and were inducted into the Rock and Roll Hall of Fame and Museum in 2009.
The band have had five headlining tours of Australia, the last in 2010 being their biggest yet. They were recently in Australia as the headline act of Soundwave Festival in February and March this year.
 'Metallica Through The Never (Music from the Motion Picture)' is released on September 20
View the trailer for 'Metallica Through The Never'here.
http://www.metallica.com | http://www.facebook.com/Metallica
http://www.hopscotchfilms.com.au/films/coming-soon/metallica-throughthenever/