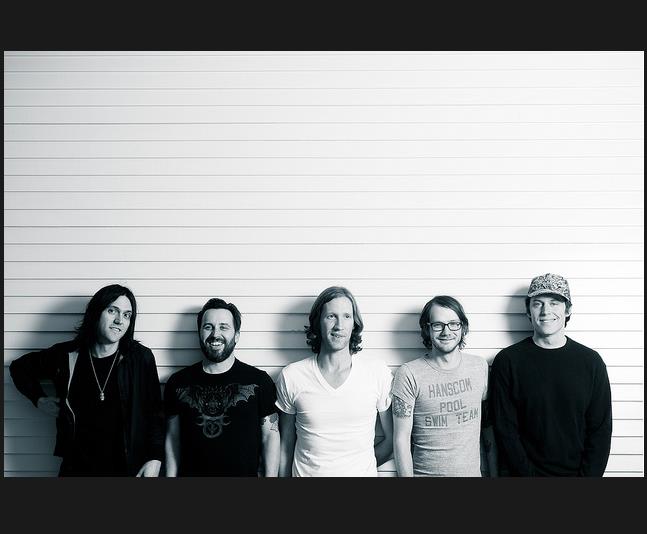 "I'd say its loud social commentary, I've heard a lot of people say anthemic when they describe it, but I don't know, I think it just sounds like loud, angry, catchy commentary."
From Bio: Desaparecidos is a rock band featuring Conor Oberst (vocals,guitar) Landon Hedges (bass guitar, vocals), Matt Baum (drums), Denver Dalley – (guitar) and Ian McElroy (keyboards). The band formed in 2001, released one album (2002's Read Music/Speak Spanish), and broke up shortly thereafter. In 2010, Desaparecidos reunited to play The Concert for Equality in Omaha.
We chatted to guitarist Denver Dally about the band and their 'reformation' as well as their music, their plans for Australia and the future…
OK for starters I need you to say the band name for me…
It's De-Sa-Par-A-Cidos…
Ha ha I was nowhere near it…
You know, we probably say it wrong too, but that's the way we see it phonetically, like night and day… day sa par a cidos… *laughs*
I guess there are many out there that may not have heard of the band, so how would you describe the musical stylings of the band?
I'd say its loud social commentary, I've heard a lot of people say anthemic when they describe it, but I don't know, I think it just sounds like loud angry catchy commentary.
This is your first time coming here? OK, so for a laugh, what's the thing you're most excited to do in Australia other than play shows?
Yeah Conor's been there a bunch of times with other bands but for the rest of us it's all of our first times as individuals let alone as a band. Oh man, I'm actually going to take some time extra after the tour to hang out in Byron Bay and just explore for a bit, but I'm just excited for anything… I will say, every Australian that I've met so far, as I got a Bali quite a bit, and living in New York, every single one has been some of the best most fun people to be around, so as I think as I'm excited to see the geography, I couldn't be more excited to get to hang and party with people. Girls in particular but the guys are really cool too.
As you just mentioned, you're heading to Australia for the first time as a band for the Harvest festival, so give us your best sales pitch as to why people should come and see you play…
I mean I don't know it's always so weird to try to sell yourself, but we all just sing very serious songs, with very serious issues and subject matter but at the same time we're all just really having fun, it's just a really loud cathartic thing and it's just so fun to just kind of leave everything on stage, but I think as much fun as we have and as good as everything sounds thanks to our crew, I think that half of it is the audience as well, like we had this album that has really gotten passed around in circles and downloaded and has had kind of a decade to get spread and people really, really get into it and really sing along and just kind of go crazy and then we feed off that and then they feed off that so it's just this kind of loud, sweaty, chaotic fun time.
So perfect for a festival environment?
Yeah exactly… we've done a few here in The States and it went over really well, we played one in LA and there was something like 25,000 people, 75 bands and we played with some amazing bands, but a lot of people said that that was the performance of the festival and some of the live photos made, I can't remember if it was Spin or Rolling Stone but their top live shots of the year, so people seemed to enjoy it too, not just us I suppose.
You guys were really only a band for a year back in 2002, but in that time released a couple of EP's and an album, what happened?
Yeah we had a very, very bleak… we had that album our only album so far and two tours basically and then kind of went our separate directions and worked on different projects. Never under bad blood or anything, we just all kind of got busy working on other things, especially Conor with Bright Eyes. Now the timing's right and we're back at it.
A ten year break is unheard of really, so what brought you all back together?
We talked about playing together for years and it was always like a scheduling nightmare and then in 2010 this benefit concert came around and we all had some free time and it all just worked out, so we played this show with no expectations and we just had so much fun and everybody just clicked and it felt like we picked up from where we left off, we hadn't missed a beat and I think that really motivated us to go back in full force and be a band again because it was just so fun and we just enjoyed it so much and I think a lot of times that aspect can get away from bands and it becomes more of a job or more of an obligation. I don't know, things can get lost with all the things that come with being a touring band and I think this is like a fresh start but at the same time among some really old familiar friends and was just kind of this ideal way to start over new in a way.
With so long apart, in coming together what were you all able to bring to the band that had not been there prior?
The main overwhelming thing is that I think each person has just becomes a better musician from ten years ago from late teens early twenties, and like I said earlier, having a really solid crew that is doing all our sound and our monitors and all that sort of thing overwhelmingly, I just think that everyone is just a tighter musician and we just sound the tightest we've ever sounded. It's fun to still have that chaos element and energy flying off the stage and guitars breaking but at the same time being able to hit the notes like you're supposed to basically.
You've released two singles this year, but are there plans for more music?
Da… I think there's another 7" in the works, and we're going to continue to write and I don't think any of us want to say there'd definitely an album coming because we don't want to force anything or promise something, we just want to keep writing and when the songs are there we plan to release an album, but we don't want to force something basically. I think it's all headed to a new album and there's definitely another 7" on the way.
With Conor in Bright Eyes and all the members including yourself with Statistics, doing side projects, is the band something that will stick around or is it a case of fun when it can be done?
I think we're all just seeing what happens, we all want to continue it and be in the band and we're all having so much fun doing it and to us that's the most important thing. I think as long as all those elements are there it'll continue, but everyone does have other projects and stuff that at some point they're going to need to address , tour or support or whatever but I think we're all planning on continuing this and having fun like we are.
So other than Australia what does the remainder of the year have in store for the band?
Right before Australia we're doing a tour of the US, we've done an East Coast tour and a West Coast and now we're doing Middle West, we're going through the Mid-West to the South and then over to Los Angeles and play a couple of shows there, so there's that. Then we come to Australia, then we've also got some time to just hang out and just work on new stuff and just kind of have band practise and see what happens. I think as much fun as touring is and it really is a blast, we really do just enjoy going down to the band room and just making noise and hanging out and having some laughs.
Well hopefully you can keep doing that for a little while longer…
Yeah, I hope so…
Essential information
From: Omaha, NE, United States
Check them out if you like: Loud, angry, catchy commentary rock
Band members:  Conor Oberst – Vocals / Guitar, Denver Dalley – Guitar, Ian McElroy – Keyboards, Landon Hedges – Bass / Vocals, Matt Baum – Drums
Website:  http://www.desaparecidosband.com
Catch Desaparecidos at Harvest Festival this November:
Sunday November 10: Melbourne, Werribee Park
Saturday November 16: Sydney, The Domain
Sunday November 17: Brisbane, City Botanic Gardens
TICKETS ON SALE: NOW
AVAILABLE FROM
http://www.harvestfestival.com.au/