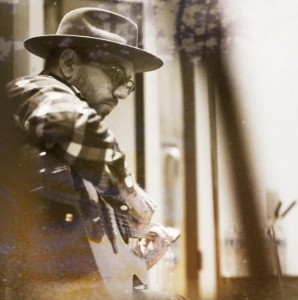 Following the announcement earlier this month that Canadian musician, Dallas Green – known better as City and Colour – would be visiting Sydney and Melbourne to promote the release of his new album The Hurry and The Harm, (June 2012, Dine Alone Records) the news also spread that during his stay he'd be announcing details of a full national tour later in the year. Chugg Entertainment can now confirm that City and Colour will be returning to Australia and New Zealand this November for a national run of shows in venues varying from intimate 650 capacity theatres to 10,000+ capacity outdoor amphitheatres.
The tour begins in Sydney with two shows at the State Theatre on Sunday 24th & Monday 25th November, then Newcastle's Civic Theatre on Thursday 28th November, Brisbane's Riverstage on Saturday 30th November, before heading to Canberra on Monday 2nd December for a show at the Royal Theatre. Continuing on to Hobart for a Theatre Royal show on Wednesday 4th December, then Perth's Belvoir Amphitheatre on Saturday 7th December, the Thebarton Theatre in Adelaide on Tuesday 10th December, before heading to Melbourne on Saturday 14th December at the Sidney Myer Music Bowl. The tour will finish up in New Zealand with a show at The Civic in Auckland on Monday 16th December and then Wellington's St. James Theatre on Wednesday 18th December. Exclusive tour merchandise add-ons will be available through .
Green has a long and beloved history with his dedicated Australian fans, one that is more than reciprocated. With a back catalogue of four diverse albums to draw from, Green finds himself playing to sell-out audiences on each visit. A significant rise in widespread popularity seen not only by the record timing in which his shows sell out, but also the passion with which his fans talk about him; each time further cementing his foothold in the Australian market.
Green's style oscillates between a stripped back sound garnering introverted beauty and a dynamic punch of pulsing rock arrangements. His hauntingly clear vocals display a sheer emotional range, bookended by extensive guitar-driven instrumentals.
His latest offering The Hurry and The Harm – debuted at number #4 on the Australian ARIA charts (May 2012, Dine Alone Records) following his previous album Little Hell's achievement of gold status in Australia. The Hurry and The Harm is the first City and Colour album recorded outside of Canada. He recruited an excellent team of players to round out the songs, including Jack Lawrence on bass (The Raconteurs, The Dead Weather), Bo Koster on keys (My Morning Jacket), Spencer Cullum Jr. (Caitlin Rose) on pedal steel and both Matt Chamberlain (Pearl Jam, Fiona Apple) and James Gadson (Bill Withers, BB King) on drums.  Green once again found great kinship in producer Alex Newport, who has worked with such varied and dynamic artists as At The Drive-In, Death Cab for Cutie, Bloc Party and The Mars Volta (and more notably with Green on Little Hell). The resulting album is a journey through a state of mind, exploring everything from Green's struggles to leave his previous band (Of Space and Time) to his distaste for gossip media (Commentators).
We can also confirm that opening each night for City and Colour, will be local talent, Husky. Following nearly two years of touring the world, Husky changed pace this year and spent most of 2013 in the hills behind Melbourne, creating a new album. Their performances with City and Colour will see the debut of much of this brand new work.   Husky's debut album, Forever So, is out now everywhere and their sophomore release is expected early 2014.
This tour will be the biggest tour to date and Green's 9th tour in Australia. A brand new backing band will accompany Green, including Jack Lawrence (The Raconteurs, The Dead Weather), Dante Schwebel (Hacienda, Dan Auerbach), Doug MacGregor (The Constantines) and Matt Kelly. Spending more than three weeks in Australia, it's not just the Canadian native's opportunity to trade a cold winter for warmer weather, but testament to Green's commitment to his fans, as he tours across the nation; stopping in all the major cities as well as those often missed. If these shows are as highly anticipated as his previous tours, tickets will not be available for long.
TICKETS FOR ALL SHOWS ON SALE WEDNESDAY 24TH JULY, 9am (local time) details of outlets HERE
Tour Dates:
Sydney – State Theatre on Sunday 24th & Monday 25th November
Newcastle – Civic Theatre on Thursday 28th November,
Brisbane – Riverstage on Saturday 30th November
Canberra – Royal Theatre on Monday 2nd December
Hobart – Theatre Royal on Wednesday 4th December
Perth – Belvoir Amphitheatre on Saturday 7th December,
Adelaide – The Thebarton Theatre on Tuesday 10th December
Melbourne – Sidney Myer Music Bowl on Saturday 14th December
New Zealand
Auckland – The Civic in on Monday 16th December
Wellington's – St. James Theatre on Wednesday 18th December