Sydney's flagship band, burlesque and DJ spectacular, BLACK CHERRY, returns on Saturday 20th July with its trademark thrills and debauchery! With more live music than ever before, BLACK CHERRY invades the many stages of The Factory Theatre with a theatre of raunch and resonance in the most scintillating winter warmer you'll ever get your hands on!
Leading the live music assault is REGULAR JOHN. Unflinching, commanding and sublime, Regular John effortlessly synthesise the spines of 90s shoegaze, 80s post punk and 70s prog rock in a fierce and fascinating modern beast of sound. See the rapturous live show that earned these Sydney boys the favour of American college radio, with single Slume being added to over 160 stations, with album Strange Flowers earning the title of triple j Feature Album in 2012 and a nomination for Album of the Year. Next up are Victorian duo JACKSON FIREBIRD. Mounting an explosive charge on the Black Cherry stage, thrusting their dirty as hell riffs and triumphantly tight beats in your face without shame or decorum. This two-man garage band know exactly what you need and how to give it to ya – which is why Melbourne's Cherry Bar gave Lady Gaga's party the boot in favour of Jackson Firebird's residency last year!
MELODY BLACK have captured the hearts and fists of head-bangers everywhere, a dirty dark fusion of Kiss doing Alice Cooper doing Manson – get ready for a bastardised ballroom blitz! Fronted by Johnathan Devoy (ex-JERK), Melody Black put on one hell of a ball-bustin', throat-tearin' live show! The thrills are bolstered as LOS CAPITANES bid the people a triumphant farewell…for now! Don't miss the electric energy, badass horns and outright musical mayhem of the highest degree of that await you in the powerhouse live show of Australia's leading ska/rock/punk/reggae band, Los Capitanes!
Attacking from the south are KING OF THE NORTH, with such an aggressively infectious and inconceivably massive sound you'd be forgiven for thinking they had more manpower than a red-blooded two piece – all hail! FLYYING COLOURS (Melbourne) meld sonic guitars, lush harmonies, swirling psychedelic melodies – they're pure shoegazey, post punk psychedelia.
HOWLIN' STEAM TRAIN (Melbourne) are a rollicking, relentless, rip-roaring cocktail of rock & roll, soul, boogie and whole host of other sonic delights you can't quite pigeonhole. They'll make you dance, they'll make you cry – all aboard the dance floor with Howlin' Steam Train! To round out the extravagance, PAPA PILKO & THE BINRATS bring their brand of wild western blues and slick swingin' rock & roll…with horns! Fronted by the manic maestro Cyrus Pilko, this arresting 7-piece are fast gaining a reputation as a standout act in the Sydney live scene. Catch both bands in the brand spankin' SWINGIN' SWAMP SHACK (Factory Floor) along with DJs JACK SHIT (FBi Radio) and BLACKBEAR (Mother and Son) who are guaranteed to whip the crowd into a frenzy!
The merriment continues with the spectacle, the artform – Burlesque! Featuring such fierce femmes and lovely ladies as KELLY ANN DOLL, Australia's swing-dancing burlesque pocket rocket; ROSIE RIVETTE and MEMPHIS MAE tearing the stage up as Bettie Page versus Tempest Storm; The astounding aerial stylings of LAURA LA REYNA; Plus blonde bombshell CHERRY BLOSSOM
What party is complete without great DJs helping you kick up your heels throughout the night? BLACK CHERRY's rockin' roster includes SOLID GOLD HELL DJs Cutthroat and Demonika, DJ CREATURA NOCTIS (Frankie's Pizza) and the famed BLACK CHERRY DJs (RUBY RIOT and CeeCee)! Finally, get down and dirty on stage with PUNK ROCK KARAOKE, belting out your favourite punk and Oz rock tunes with the help of a sick backing band.
With angel-faced tyrant MC LAUREN LA ROUGE presiding over the debauchery, the revelry will be replete! So break out the pomade, slip on your garters and prepare for the onslaught of sinful pleasures that is BLACK CHERRY.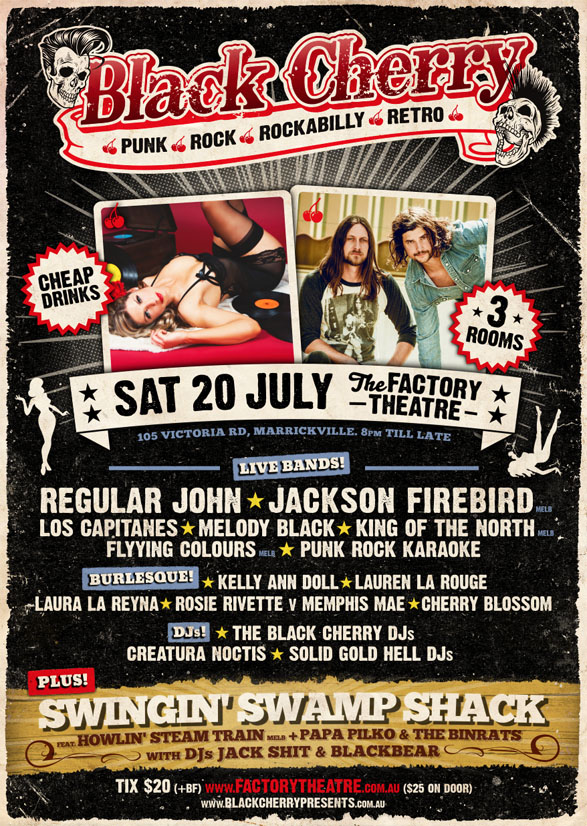 BLACK CHERRY
THE FACTORY THEATRE, MARRICKVILLE
SATURDAY JULY 20
LIVE BANDS
REGULAR JOHN
JACKSON FIREBIRD
MELODY BLACK
LOS CAPITANES
KING OF THE NORTH
HOWLIN' STEAM TRAIN
PAPA PILKO & THE BINRATS
FLYYING COLOURS
BURLESQUE ARTISTS
KELLY ANN DOLL
ROSIE RIVETTE & MEMPHIS MAE
LAURA LA REYNA
CHERRY BLOSSOM
DJs
JACK SHIT (FBi Radio)
BLACKBEAR (Mother and Son)
SOLID GOLD HELL DJs
CREATURA NOCTIS (Frankie's Pizza)
THE BLACK CHERRY DJs – RUBY RIOT & CeeCee
…AND MC LAUREN LA ROUGE!
3 HUGE ROOMS OF ENTERTAINMENT incl. THE SWINGIN' SWAMP SHACK MASSIVE HEATED BEER GARDEN / CHEAP DRINKS ALL NIGHT
KARAOKE BAND / CANTINA MOBIL MEXICAN FOOD TRUCK ON SITE

TICKETS AVAILABLE FROM
($20+bf / $25 @ door):
 www.factorytheatre.com.au/events/2013/07/20/black-cherry-sydneys-largest-rocknroll-burlesque-event