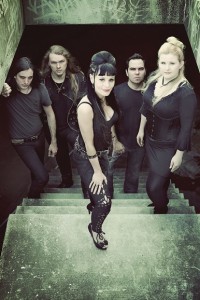 In a final celebration for their debut album 'In Nightfall's Embrace', Brisbane female fronted, symphonic metallers Awaken Solace announce a string of live shows across Australia's east-coast throughout August and September presented by Metal Evilution. In conjunction with the tour, the band is also celebrating a national distribution deal with Green Media | MGM Distribution.
Awaken Solace may be reasonably new to the Australian live music scene having only made their stage debut early last year, however their ascension into the public eye has been fast paced and progressive having already shared the stage with such internationally acclaimed metal acts as Apocalyptica (FIN) and Kamelot (USA/GER/SWE).
Prior to introducing themselves to the public, Awaken Solace spent 12 months writing and recording their 14 track debut album 'In Nightfall's Embrace', a release which features two live choirs and guest instrumentalists, and a bonus symphonium CD comprised of orchestral and vocal renditions of each song.
Now in the early stages of writing for their follow up sophomore album, the band suggests that the tour is their final send off for the current release before focusing on their next epic creation.
'In Nightfall's Embrace' will be available through JB Hi Fi and other leading stores as of 9 August, and encourage fans to place their order for the album if not stocked in your local store.
More details on the tour and where to obtain the album can be found at www.awakensolace.com
TOUR DETAILS:
Saturday 17 August – Sydney | The Valve Bar, Tempe
Saturday 7 September – Brisbane | The Tempo Hotel
Friday 20 September – Adelaide | Enigma Bar, Strike Metal Club Saturday
28 September – Melbourne | The Central Club, Richmond
Comments
comments