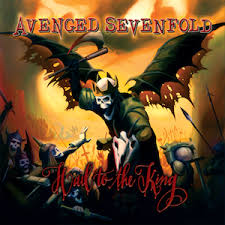 AVENGED SEVENFOLD TO RELEASE SIXTH STUDIO ALBUM 'HAIL TO THE KING' ON AUGUST 23
"Avenged Sevenfold are THE sound and face of hard rock and metal in the new millennium." – REVOLVER
Avenged Sevenfold have officially announced Hail To The King, their sixth studio album, will be released in Australia on August 23, 2013. Produced by Mike Elizondo, Hail To The King is the follow up to the band's 2010 release, Nightmare, which debuted at Number One on the Billboard Top 200 Album Chart, Hard Rock Chart and Digital Chart and #9 on the ARIA chart was also produced by Elizondo.
Avenged Sevenfold's fifth studio album, Nightmare spawned three #1 US, hit-singles Nightmare, So Far  Away and Welcome To The Family.   Nightmare broke radio records and was the most played current song at Rock Radio for all of 2010.  The New York Times called the band "Downright inevitable," while Guitar World hailed "Avenged Sevenfold are the undisputed kings of modern American badass rock and roll.  A worthy successor to Aerosmith, Guns N' Roses and KISS."
Throughout 2010 and 2011 Avenged Sevenfold toured the world nonstop. They have achieved Diamond, Platinum and Gold awards for album sales in nearly a dozen countries and have sold out arenas the world over and headlined some of the world's biggest and most prestigious music festivals.
Avenged Sevenfold made an unprecedented appearance as characters in the Call of Duty Black Ops 2 video game in November 2012.  The game was the biggest selling video game of all time and featured the band's performance of a song written for the game,  Carry On, which then went on to Top the Billboard Monitor chart on January 13, 2013.
Avenged Sevenfold achieved worldwide success with their US platinum 2005 breakthrough City Of Evil, which featured the wildly popular single  Bat Country. The band quickly became known for their spectacular live shows and continues to sell out arenas worldwide. In 2007, their self-titled album Avenged Sevenfold debuted at #1 on the Billboard Alternative, Hard, and Rock Charts and #4 on the Billboard Top 200 album chart. It spawned the singles  Almost Easy, Afterlife, and Scream and has sold over a million units worldwide. In 2008, the band captured their magnificent stage show on Live in the LBC & Diamonds in the Rough, a live CD/DVD which reached platinum sales in the US. Over the years, Avenged Sevenfold has built a fanatical fanbase that includes nearly 14 million fans on Facebook.
Stay tuned for further information on Hail To The King. www.avengedsevenfold.com
www.facebook.com/AvengedSevenfold twitter.com/TheOfficialA7X www.warnermusic.com.au